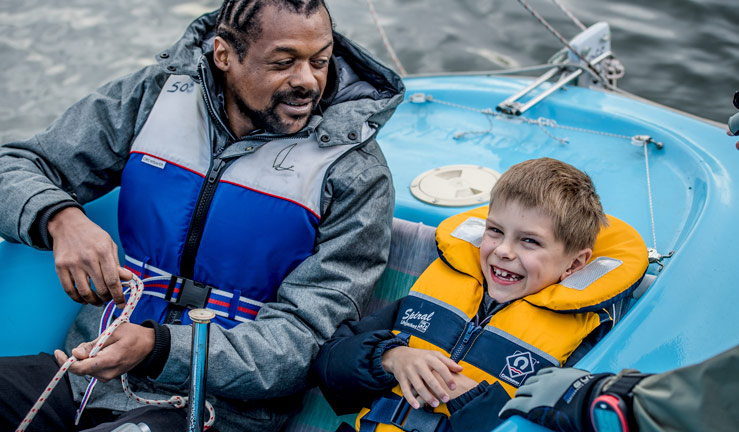 Step 1: Expression of interest
Basic details about you and your project so we can offer some support during the project design phase.
Step 2: Project design
Take the time to develop a strong a project as possible, and to build the trust and relationships with local partners and community organisations you want to work with.
Some tips for this step:
Work with community partners to co-design your project - the insight you gain about the audience you are trying to reach will help you shape the project and make it more likely the audience will engage
Do talk to the local RYA contact we give you - they will have some advice and can help advocate for your project
Do read the

Together Fund questions

and

Together Fund Application Criteria

Focus on true costs of delivery rather than the maximum amount. We expect to reflect the average award across the whole Sport England fund (£3,500)
Your project description is key so do pay attention to the 5 areas we ask you to provide details on: a) the purpose of the funding b) the intended outcomes c) the community partners you are working with d) how the project address the 5 core questions e) how you intend to stay engaged with the audience after the end of the project
The core questions are:
Will this investment impact upon at least one of the four priority audiences and can the organisation demonstrate an existing relationship with the target audience?
Has the requirement arisen as a direct result of this community group or audience being adversely affected

as a result of COVID-19 and/or the cost of living crisis?

What issues does the funding help to resolve in improving access to take part in sport and physical activity for the target audience?
Will this investment help the organisation to recover and grow or continue to survive as a result of hardship? If hardship, you will need to set out in your application how this investment will enable your organisation to continue beyond the immediacy of this short-term investment
Is the project directly funding the provision of physical activity, or if not, how will it support the delivery of physical activity in the immediate future?
Step 3: Submit final project to RYA
Once the RYA receive a final project submission, it will be considered by a panel. The panel are going to meet on a rolling basis, a minimum of once a month, so you can submit your project at any time between April and July
The panel can decide to approve your project, decide not to invest in it or ask for more information. If they ask for more information it is likely because they think it is a good project that may be worth investing in, but that some key details are missing.
Step 4: Project submitted to Sport England
If the RYA panel approves a project it is submitted to Sport England who can reject the project, ask for more information or approve it. We expect to hear a final outcome within 2 weeks of submitting the project to Sport England. Successful projects will be sent final paperwork and will receive monies once the paperwork is completed
Step 5: Project delivery
The fun part. During delivery you are expected to:
Participate in quarterly learning sessions organised by the RYA and 1:1 monthly contact with your local contact
Report on a monthly basis the number of participants reached through the project
Survey participants using tools and templates provided by the RYA
Step 6: Final report
The final report will include details on:
Organisational impact
Community impact
Challenges, successes and leaning
Next steps to deepen connections with the participations