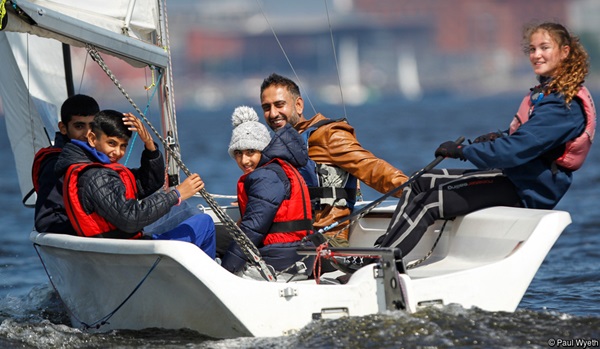 Last month we officially launched the RYA's Equality, Diversity, and Inclusion Strategy 2021-2030 - Charting an Equal, Diverse and Inclusive Course for the Future of Boating, cementing the sport's and the RYA's commitment to developing a culture that celebrates diversity and is free from discrimination and prejudice.
We caught up with RYA Safeguarding and Equality Manager, Katie Loucaides to find out more…
Back in 2016 the RYA was the first UK National Governing Body to achieve the Advanced Level of the Sports Councils' Equality Standard for Sport and since then we have been working towards building a strong foundation promoting equality, diversity and inclusion in all forms of boating.
Last summer we joined other voices from the world of sport to speak out against racism, and in doing so we recognised that more needed to be done to ensure that boating was as inclusive and diverse as we would like it to be.
It was then that we reaffirmed our commitment to equality of opportunity, and we have gone on to develop this new Strategy that will enable us to deliver on that commitment to make recreational boating and competitive sailing accessible and inclusive to all.
With an initial focus on ethnicity in boating, the Strategy has four underpinning objectives:
Change Perceptions – to directly address the way that boating is perceived by both current and potential participants
Change Behaviours – to create an open, fair and equal culture where everyone has the opportunity to flourish in an inclusive environment
Change Experiences – to ensure that any experience no matter how big or small is warm, welcoming, safe and enjoyable, to encourage ongoing participation
Change Reality – to continually improve and actively seek out opportunities to progress the equality, diversity and inclusivity (ED&I) agenda
Through these we hope to build greater equality and inclusivity across the whole recreational boating community. We hope to reach not only our 100,000 plus members but also a wider audience in hopes of offering greater opportunities for all to get on the water.
The Strategy itself details a comprehensive 10 step action plan, each of which aim to drive progress and deliver change through the embedding of best practice, training, positive engagement, and monitoring.
While developing the strategy we have worked with the guidance of a steering group and input from an Ethnicity in Boating Forum comprised of individuals from diverse backgrounds who have made their way in the sport. We also created a Women in Boating working group, working with people across the sector to look at the under representation of women and girls.
Here we hear from Lee Timothy who is an Instructor at Rockley Watersports. Lee shares his experiences of boating in both his professional and personal life.
Speaking of the new strategy Emeritus Professor of Equality and Diversity in Sport and Education, Kevin Hylton, of Leeds Beckett University, said: "It is exciting to see a national governing body of sport being so proactive in regard to equality, diversity and inclusivity (ED&I).
"The RYA has established a high bar in their ED&I strategy by aiming to change perceptions, behaviours, experiences, and realities. They are challenging themselves to make their sport more inclusive and are going the right way about it by moving with insight purposely forward."
Politicians have also welcomed the launch of the Strategy. The Rt Hon Caroline Nokes MP, Chair of the Women and Equalities Committee, commented: "It is extremely important to make boating accessible to all and I commend the Equality, Diversity and Inclusion Strategy produced by the Royal Yachting Association, a professional organisation who are leading the way in ensuring this sport is open to all."
It is a hugely ambitious and exciting plan that we are looking forward to actioning to demonstrate that a person's sex, gender, gender reassignment, marital status, age, ethnicity, disability, sexual orientation, maternity/pregnancy or religion should never be a barrier to participation in boating.
You can read the full Strategy at: RYA Equality, Diversity and Inclusion Strategy 2021-2030