If you enjoy boating, you probably enjoy taking your friends out on your boat to share the exhilaration of getting afloat – especially if those friends happen to have four legs and a fluffy tail.

But before you do it's important to think about the steps you can take to keep your pet safe and happy while out on the water.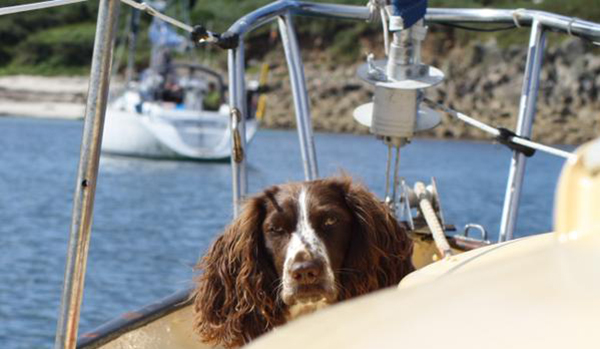 Credit: @kimkimber1
Top tips
Give your pet a chance to get acquainted with your boat before setting off
Always keep plenty of fresh drinking water available
Provide a shaded area – excessive sun exposure causes problems for humans and animals alike
Protect their feet – dogs absorb heat through the pads on their feet and boat surfaces can get very hot in the sun
Keep your first trip short, to let your pet get used to the boat's surroundings and movement
A buoyancy aid can also help keep your pet safe while on the water this applies both on board and on dinghies for trips to and from the shore. Give your pet a chance to get used to wearing its buoyancy aid before actually getting on a boat – and it's a good idea to allow your pet to practice swimming while wearing it too. A buoyancy aid with a light attached to the top will also help you to spot your pet if they take an unplanned swim in the evening.
Pet Travel Rules
The rules for Great Britain (GB) and Northern Ireland (NI) are different.
A pet can only arrive in Great Britain (GB) on a private boat if it is arriving from Northern Ireland, the Channel Islands, the Isle of Man or the Republic of Ireland. Otherwise your pet must enter GB using an approved transport company and route.
Reversing the route and taking a pet from GB to NI or the Republic of Ireland (ROI) may now be less straight forward.
You must give advanced notification to arrive on a private boat in the ROI with a pet onboard and you will need to arrive in the ROI at a designated travellers' point of entry (TPE). At present these are Dublin Port, Port of Cork – Ringaskiddy and Rosslare Port, which (according to Irish Sailing) are mostly off-limits to yachts. The ROI Department of Agriculture is reported to have confirmed that "It may be impractical to bring dogs into Ireland from GB on yachts."
NI is aligned with the EU for pet travel, but has not yet introduced routine checks (we have been formally told that these are delayed until at least 1 October 2021) on the non-commercial movement of pets from GB to NI. Although routine checks have not yet started, the intended TPE (Belfast and Larne) presents a similar access issue to the ROI. RYA Northern Ireland has been working with the (NI) Department of Agriculture, Environment and Rural Affairs and we are encouraged by the response which suggests that they have no objection, in principal, to authorising small ports or marinas as TPE.
As reported at https://www.daera-ni.gov.uk/news/minister-poots-confirms-delay-pet-travel-checks [this could be replaced with our own version of this news article once it has been published], the NI DAERA Minister would like to see a common travel area for pet travel between GB, NI and ROI.
As is the case for the ROI, if you are entering a member state of the European Union (EU) from outside the EU, including from GB, you'll need to do so at a travellers' point of entry (TPE).
Pet Travel Documentation
Credit: Steve Kean
The steps you need to take and the documentation you require differ depending on where you are travelling from and to. Full details for GB are published at https://www.gov.uk/bring-pet-to-great-britain and for NI at https://www.daera-ni.gov.uk/articles/travelling-pets. Links to information relating to the Channel Islands, the Isle of Man and the EU can be found under Entry and Exit Formalities.
Pets may be put into quarantine for up to 4 months, or refused entry if you travelled by sea, if they have not been correctly prepared for travel or you do not have the required original documents. It is therefore advisable to keep a ship's log, noting which ports you have entered in order to avoid problems particularly if you have been offshore but have not made landfall outside the British Isle and Ireland.
Even if you're not planning to make landfall outside the British Isles or Ireland, consider being prepared for one, in case a problem at sea results in an unplanned stop.
Find out more…
The RYA aims to provide members with practical advice on all aspects of boating, ranging from boating with pets and other aspects of boating abroad to legal issues relating to registration, consumer disputes and salvage – to name just a few.
Join today and you can support the RYA in protecting your boating rights and freedoms.
Take advantage of free advice and support on all aspects of your boating, as well as enjoying a range of fantastic personal member offers. Find out more by calling 023 8060 4159, email member.services@rya.org.uk or visit www.rya.org.uk
Further information is also available from the Pet Travel helpline email pettravel@apha.gov.uk or telephone: 0370 241 1710 (Find out about call charges) Monday to Friday, 8.30am to 5pm (closed on bank holidays).