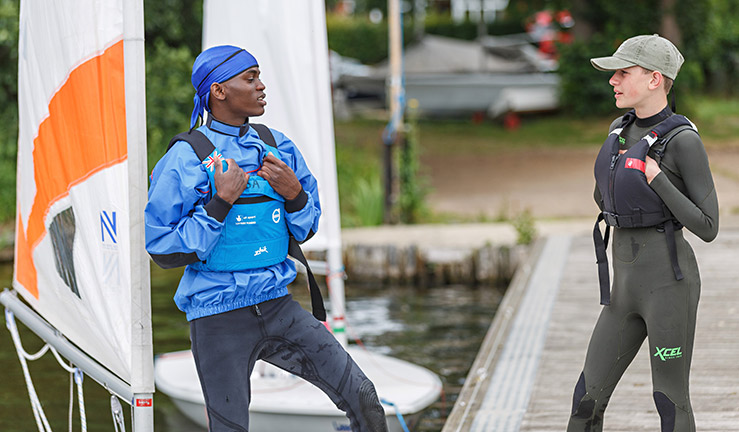 For the last two years, non-profit sailing organisations across England have been connecting with their local communities through projects funded by the Sport England Together Fund.
The RYA has now been awarded a further £195,000 of this National Lottery funding to support venues in England to support communities and organisations affected by the cost-of-living crisis.
A new life after years of suffering
Norfolk Schools Sailing Association (NSSA), a Filby-based Training Centre, were awarded a £1,600 grant from the RYA, to provide sailing lessons to a group of Sudanese refugees as well as providing bursaries for several other individuals.
The six boys had fled to England in 2020, seeking asylum from war torn Sudan amid perpetual civil unrest. They were placed in the care of Andy Goff, a social worker who is also a Trustee and Senior Instructor at NSSA.
"Their journey via Libya had been terrifying, full of unmentionable harm and suffering. They came to England at the heart of covid so after lockdown I wanted them to experience life in the UK as 'regular children' with the opportunities that many others do" he explained.
Andy devised a six-week OnBoard dinghy programme in the hope that the boys gain their Stage 1 course, but they were faced with multiple obstacles to overcome first.
"They couldn't swim so I arranged lessons, but the biggest hurdle was language. None of them could really speak English and we didn't have any instructors fluent in Arabic or their native African languages".
However, with a team made up of one senior instructor, two dinghy instructors plus a safety boat it was possible to give one-on-one instruction including lots of practical demonstration, YouTube videos and a little help from Google translate.
"We quickly learnt that sailing is amazing"
"The first session was a bit scary as the sail made a load of noise and one of us fell in" recalls Mahmoud. "But it was a hot day, and the water was warm, and we quickly learned that sailing is amazing and getting wet is all part of it. It was great to be flying across the water".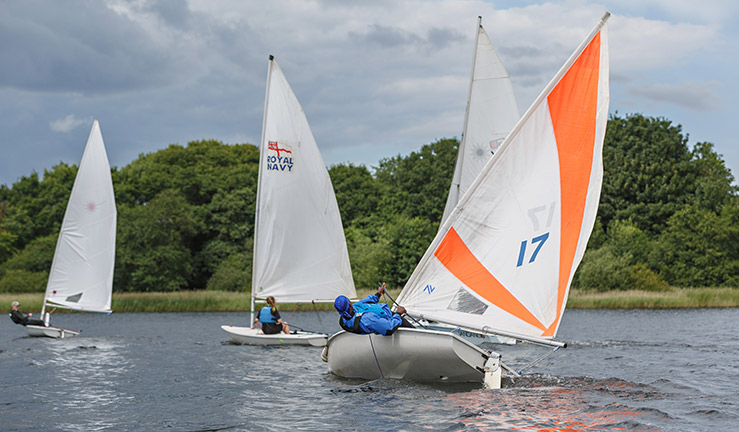 Despite their nervous start the students soon gained confidence and on their final session they showed their social worker what they had achieved.
And sailing wasn't the boys only new skill, they completed Stage 1 with a profound improvement on their English language ability, stronger self-belief, and a growing circle of friends.
Lifechanging work
After the course, half of the students joined the Norfolk team at the National Schools Regatta in Plymouth, gaining the 'Most Improved Sailor award. All three of were also presented with the Safety Award for helping to launch and recover the entire fleet each day.
Two of the students are now completing further courses at Filby, taught in English with Mahmoud taking up the offer of becoming an Assistant Dinghy Instructor. Meanwhile the NSSA has started working with a second group of young refugees from Kurdistan.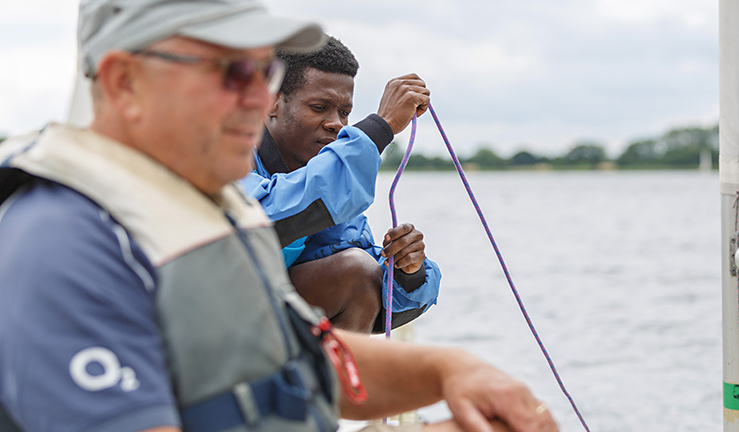 "It's this kind of life-changing work that the Together Fund was designed to empower" explains Hannah Cockle, RYA OnBoard Operations Officer. "Our aim is long term accessibility to sailing and the skills that it can give, leaving a legacy that extends far beyond 'taster days' and short-term initiatives".
The Together Fund
The Together Fund is a continuation of the Tackling Inequalities Fund that was set up by Sport England to help the sport and physical activity sector through the pandemic.
So far, the RYA has allocated £285,000 of National Lottery Funding directly to 39 venues across the UK. We have now been awarded a further £195,000 to support venues in England running programmes which engage with:
Lower socio-economic groups
Black, Asian and Minority Ethnic Communities
Disabled People
People with long term health conditions
Sport England are now also supporting communities and organisations affected by the cost-of-living crisis.
There is no deadline for applications, but projects must be delivered by September 2023 for this current funding round. Find out more information about the Together Fund and if your organisation is eligible.
You can read the full NSSA story in the latest issue of the RYA Magazine.