It follows a successful pilot for aspiring female instructors in 2018/19 which led to nine participants qualifying as RYA Dinghy Instructors and four becoming RYA Senior Instructors.
Following a year on hold due the pandemic, the project is now back on course in 2021 and has seen eight women taking part from Bartley SC, Midland SC, Banbury SC, Earlswood Lakes SC and Staunton Harold SC, comprising three aspiring Dinghy Instructors (DIs) and five aspiring Senior Instructors (SIs). Among them is a graduate of the pilot project now looking to progress from DI to SI.
Online Aspiring Instructor sessions were held during lockdown, then five of the participants attended an on-the-water day at Carsington SC in Derbyshire (pictured), with two since taking an SI course at the same venue and two more planning to qualify as SIs later in the year.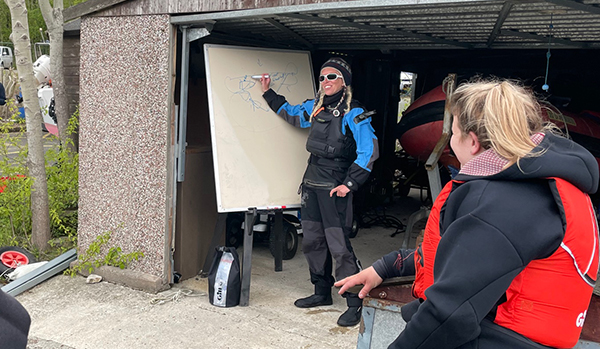 The sessions focus on developing skills and confidence after feedback during the pilot project revealed that participants hadn't previously considered taking the qualifications because they were concerned about whether their instructing or sailing abilities would be good enough.
Project lead Tricia Ordsmith said: "The purpose of the Aspiring Instructor sessions is to understand and remove any barriers preventing people from becoming RYA Dinghy or Senior Instructors. By doing that, we hope they will then go on and want to do their DI and SI qualifications and become female role models within their club, supporting their clubs with growing and diversifying their activities.
"Due to Covid-19 several of the project participants have not been out on the water to sail or to train others for quite some time, so the session at Carsington was an ideal opportunity for them to get out on the water, practice their own sailing skills and, for the aspiring SIs, practice delivering sessions. It was lovely to see their confidence and abilities grow throughout the sessions and they helped and supported each other throughout the day. They also picked up some new hints and tips to use in the future."
Feedback from those taking part included comments referencing how the session had provided reassurance and been a great way to build confidence, meet other women and understand what to expect on a DI/SI course. Other positives referenced by the participants included precise instruction techniques, methods and feedback, and that the online sessions had been a good recap on instructing skills and well planned, structured and succinct.
Participant Emily Castle, of Banbury SC, said the aspiring instructor sessions were brilliant preparation for the SI course: "It was good to be reassured that we at least knew what we were doing and receive some friendly advice and a much needed confidence boost."
Further on-the-water sessions are planned this year so if you are a female sailor who might want to become an RYA Dinghy Instructor or Senior Instructor, contact Tricia here to find out more!