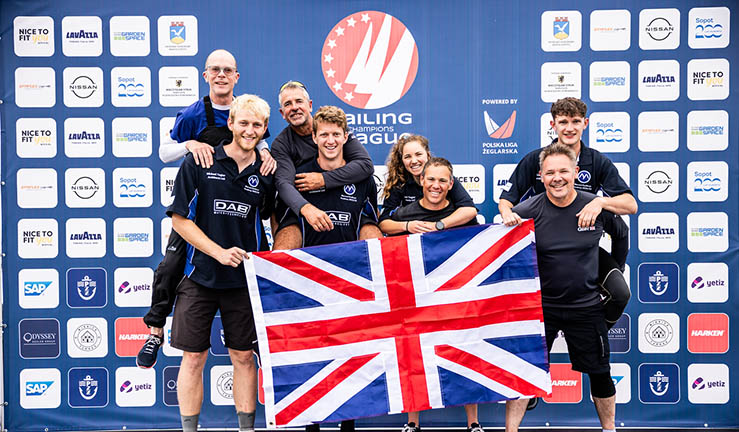 Two British teams have experienced the challenge of taking on Europe's top clubs after qualifying to compete in Poland with the SAILING Champions League.
West Hoe SC and Marconi SC each earned a ticket to represent Britian following their performance in the 2022 British Keelboat League, and were among 24 teams from 11 nations who battled it out in the third and final SAILING Champions League qualifier at Sopot (15-18 June).
Hosted by Polska Liga Żeglarska, Poland dominated the field, claiming the overall win and three of the top four places:
1st YKP Gdynia (POL) - Rafał Sawicki, Piotr Szwoch, Adam Kazjer, Jan Fursewicz
2nd Segel-und Motorboot Club Überlingen (GER) - Michael Zittlau, Jann Mueller, Florian Steidle, Frederik Schaal
3rd Yacht Club Gdansk (POL) - Igor Tarasiuk, Maksymilian Pawłowski, Kacper Olszewski, Jakub Padzik
4th KW Garland Gliwice (POL) - Marek Stańczyk, Tomasz Szymanski, Marcin Spałek, Marcin Kozłowski
The competition was tough with a match racing background for the winning team, including Sawicki, a former 470 sailor and national team coach, European and world championship medalist and ex-match racing 2x Polish champion. The second-placed German team won the SAILING Champions League in 2020; Tarasiuk is the current Polish match racing champion; and Stańczyk is also a former 470 sailor and ex-match racing Polish champion.
Setting the scene on day one, the Polish teams pressed their home advantage in a fluctuating breeze, and with small differences in points and close mark roundings, the incredibly tight competition saw the British teams starting to make progress.
Marconi managed to achieve scores including a 1,2, while summing up West Hoe's day, Tom Low explained: "The racing conditions have been challenging and, as a team, we have been learning with every race. Although we've had some boat handling challenges, we have had some successes on the water, proving that when we sail well, we are easily capable of mixing it up with the best."
In a building breeze on day two, the Polish teams picked up where they left off, scoring bullets. The Brits meanwhile consolidated and got into their stride, albeit as Jack Wardell of Marconi summed up: "Our results are up and down with the breeze."
While Marconi found they could get in the groove as the sea breeze strengthened, West Hoe found their boat speed hampered by the corresponding building chop, with team member Ian Cantelo commenting: "Tough day on the water. Boat handling and internal comms was the focus of our day and if the press boat had been closer, we'd probably have hiked harder!"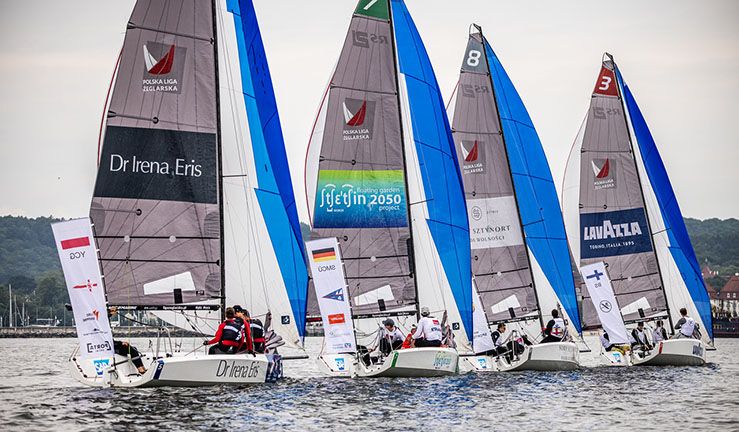 Pictures: SCL / Adam Burdylo
Day three saw the Baltic breeze break down to create tricky racing for many with intermittent light airs, and the organisers swapped beers for fizz on the boardwalk as the teams came ashore.
Marconi struggled to maintain boat speed and position on the starts but took the positives. "While it's frustrating, we know that we are learning much from today's sailing," said David Nickalls.
West Hoe's Tom Low likewise reflected on the challenges, as highlighted in their last race of the day when: "With 20 seconds to go, the little wind we did have did a 90 degree shift and the fleet struggled to make the pin end. Three boats were OCS and immediately everyone tacked onto port."
In a very slowly building breeze on the final day, the Brits fought hard to hold position toward the lower end of the leaderboard, with Marconi SC finishing 18th and West Hoe scoring a second in the final race to remain in 22nd.
Tom said: "The calibre of the competition is so high that any small mistake penalises you hard. We're really pleased to finish the event with our best result though.
"It has been a fantastic experience competing on the international stage against some very good European teams. The organisers have done a fantastic job both on and off the water and the seaside town of Sopot has been a tremendous venue."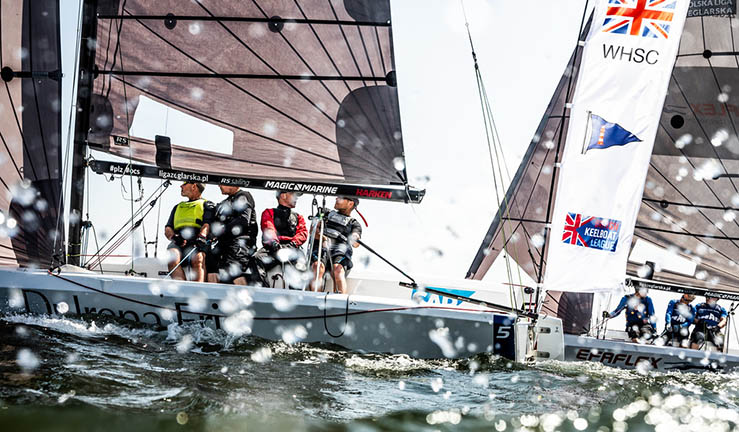 Take part
Could your club mix it with the best club teams in Europe in 2024?
With the motto "THINK Football Champions League - SAIL British Keelboat League," top BKL teams are invited to compete against European clubs which have likewise won their domestic leagues.
As Marconi's Dan Nickalls summed up after competing in Poland: "The British Keelboat League provided us with a really valuable learning experience before taking us through to the SAILING Champions League to compete against some of Europe's top short course keelboat racers."
In Spring, Strathclyde University tackled Qualifier 1 of the 2023 Sailing Champions League at Vilamoura, Portugal, with Royal Northern & Clyde YC competing in the second qualifier in Berlin, Germany, followed by the West Hoe and Marconi teams at Q3 in Poland.
Although non of the British teams have qualified for the Sailing Champions League 2023 final in Travemünde, Germany (22-25 July), the Sailing Champions League has provided a unique opportunity to compete against and learn from Europe's most successful clubs.
The British Keelboat League will be sending four teams to compete in the Sailing Champions League 2024, plus a Women's team and a Youth team – with qualifying determined by performances at this year's British Keelboat League events over summer.
Next up is the BKL Sailability Championship at WPNSA, 1-2 July, followed by Royal Corinthian YC at Burnham-on-Crouch, 22-23 July, and Rutland SC, 19-20 August. The Women's event then takes places at the Royal Southern YC, 9-10th September, followed by the finals at the end of the month.
Find out more and enter at www.britishkeelboatleague.co.uk