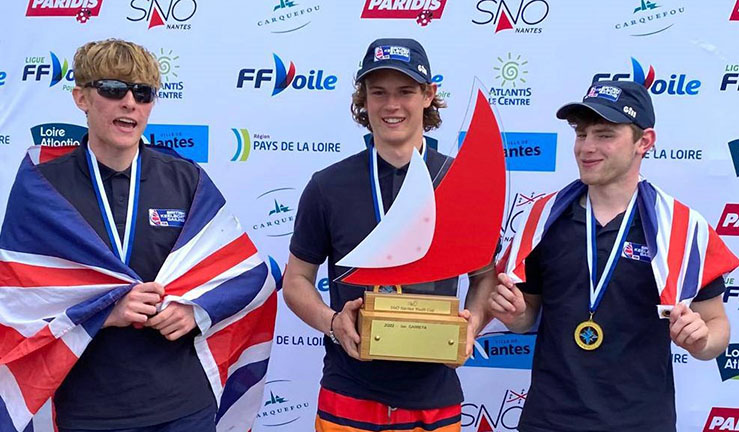 Britain's Ben Tylecote, Terry Hacker and Jamie Tylecote have claimed victory at the EUROSAF Youth Match Racing European Championship in France.
The trio from Rutland Sailing Club mastered the conditions and the competition across the 4-day event hosted by Sport Nautique de l'Ouest, Nantes, 28 April-1 May.
Ten teams from across Europe battled it out on the Erdre River in J/22 keelboats, with often challenging breezes ranging from zero and light airs up to 15 knots.
Bringing together the best European match racing sailors under the age of 23, the entry list included three teams ranked Top 50 in World Sailing's Match Racing Open Rankings.
A good couple of days saw the Rutland team win 7 of their 9 races in a full round robin. The Gold group round robin then only saw two races for each team, with two wins for Tylecote.
The combined results from both round robins put Tylecote's team into first overall.
Choosing top French match racing skipper Ian Garetta as his opponent for the semi-finals, a tight 2-2 scoreline then led to a one-race shootout – with Tylecote winning a place in the finals on the finish line, having given Garetta two spins after a big port-starboard and luff.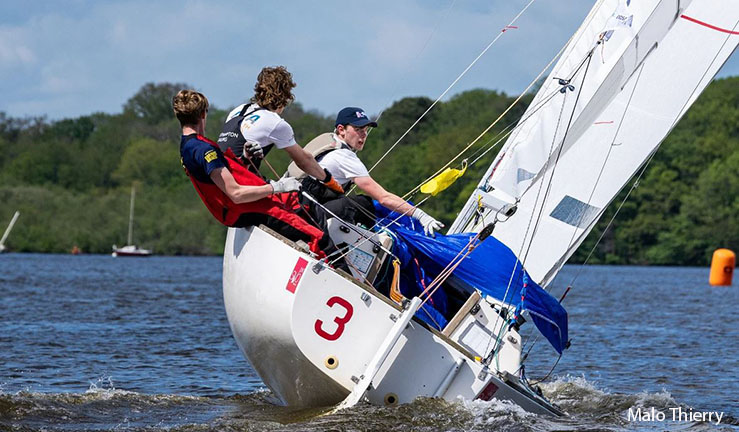 Finals
In the first race of the finals against Ange Delerce (FRA), Tylecote's team had better time and distance on the start and stayed in the lead until the finish.
The second race was similar until the wind died and flicked, with spinnakers up on both legs, then on the final downwind Delerce overtook as the breeze filled in from behind.
Taking up the story, Ben says: "Following a protest which decided the race result would stand, it meant the scoreline was 1-1. However, as the wind dropped again it wasn't possible to run another race and we were then over the time limit. It went to tiebreak and as winners of the round robin we won!
"It was a fantastic event at a very friendly club and there was great camaraderie between the teams. It was a shame we couldn't get a full finals but we had some awesome racing against an incredibly high standard fleet across the four days. Thanks to all the competitors for making it a truly epic event."
Ben added that the team had benefited from being able to train together thanks to funding from the John Merricks Sailing Trust, which enabled their home club Rutland SC to acquire two RS21 keelboats last year.
Women's World Match Racing Champion and Olympian Kate Macgregor, who provided pre-event online support to the GBR teams, said: "It is a fantastic achievement for Ben, Jamie and Terry to win the EUROSAF event. As a new team they have really shown their potential and will be ones to watch on the match racing circuit in the future. Congratulations!"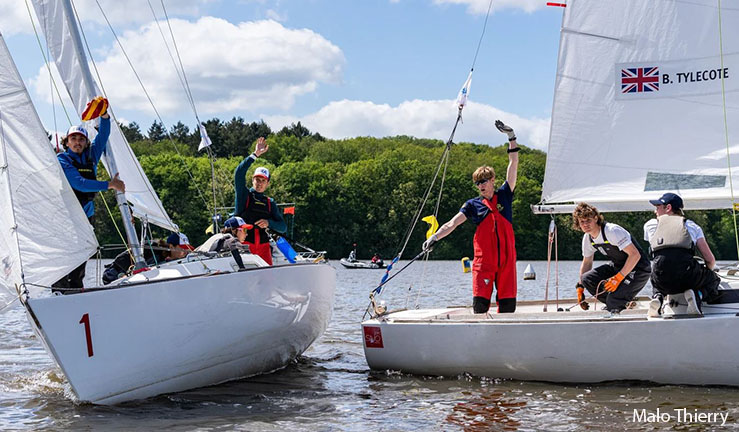 Take part
Tylecote's team was selected to represent GBR after being crowned RYA Harken Youth Match Racing Champions last September - with the runner-up skipper from that event, Oli Hale, also competing in Nantes, sailing with Tom Cluett, Luke Nicholas and Amber Hale.
The teams were supported to attend the EUROSAF Youth Match Racing European Championship by British Keelboat Sailing.
Entries are now open for the RYA Match Racing Summer Series with a #rockupandrace season starting soon at the Royal Corinthian YC, Burnham-on-Crouch, 1-2 July 2023.
The 2023 Harken Youth Match Racing Championship for Under-23s, including competition for the Under-19s title, then takes place the following weekend, 8-9 July, at Weymouth & Portland National Sailing Academy.
Taking part is easy with a rigged and ready-to-go fleet of keelboats at each location. There is also support available for those new to match racing, including coaching and mentoring for teams at the youth championships.
Find out more about RYA Match Racing, including upcoming events and entry, at www.ryamatchracing.co.uk.