Sarah White, Rear Commodore of KSSA, reports:
Knowing that the Coronation weekend would provide an additional bank holiday and the tides perfect for launching in Deal, 8 May was chosen for a repeat of last year's highly successful event. Once opened for entries all places were taken within hours, showing the need for this event the capacity of 25 sailors was exceeded.
Attracting girls from 8 to 17 years from across Kent and beyond, whatever their sailing ability, the day saw girls with limited sailing experience sail together with those who were seasoned sailors.
Many clubs find that young female sailors are a minority and their teenage girls members drift away from the sport as it does not provide the social fulfilment gained from being part of a team. Building on the success of female team sports, the focus of the day was to show just how many girls there are spread around local clubs who share their enjoyment of the sport and that there are some amazing social opportunities for girls with the skills they learn through sailing.
Many girls learn to sail in single-handed dinghies and so lack the social interaction on the water that double handed sailing can provide. With this in mind, the event was arranged using double handers only. Fevas, Hartleys, 2000s and two 420s were made available by Downs Sailing Club and parents, and additional Fevas were kindly donated by RYA London and South East Youth Training Fund. The day provided opportunities to explore new sailing opportunities, helming double handed boats, crewing, and flying spinnakers as well as developing power boat handing skills and building new friendships.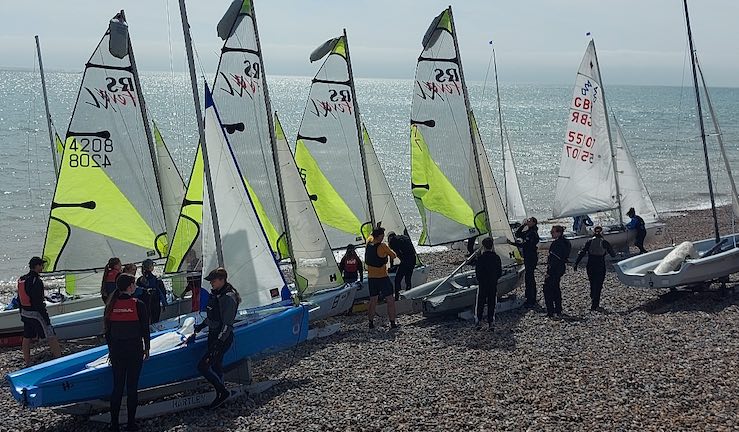 Leading up to the event the weather forecast did not look kind, however following a wet and windy Coronation day the organisers were blessed with champagne sailing conditions off Deal beach, which meant that as much time as possible could be spent on the water. 27 girls were welcomed to Downs Sailing Club with free T shirts and breakfast. Many of them had come not knowing any of the others, but barriers were soon broken and friendships formed as they joined one of the three coaching groups.
The coaching team of ladies was led by KSSA's Vice Commodore, Jenny Johnson, a highly accomplished sailor, supported by female instructors from Downs and Sevenoaks School. KSSA current Youth Captain Enya Gibbs and ex Youth Captain Abbey Mumford provided instruction on the water and acted as excellent mentors and support for the younger girls on land.
On the water action saw some girls get their first opportunity to helm with the support of more experienced crew. Seasoned single-handed sailors crewed and many for the first time experienced the fun of flying a spinnaker. Abbey Mumford focused on supporting the two 420 teams passing on her extensive knowledge and experience to improve their skills.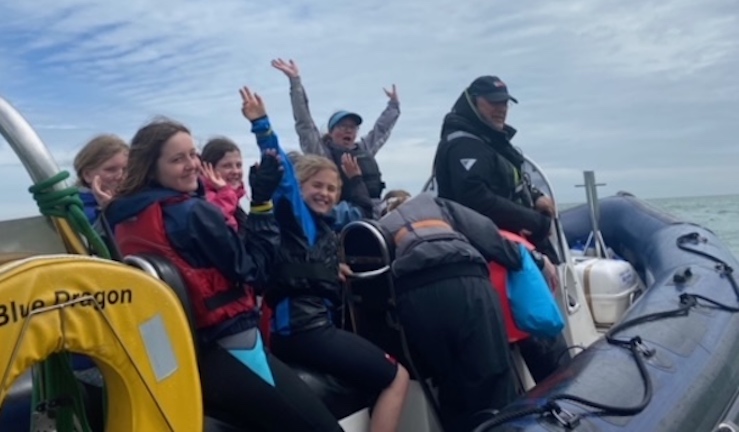 This year we were delighted that the event was supported by the Magenta Project. Louise Clayton, a Magenta Project Ambassador, kindly joined the girls for the day giving inspirational talks on building confidence and making the most of opportunities. Sharing her wide and varied sailing experience which has taken her around the world, Louise gave a spotlight on the amazing opportunities and experiences sailing could provide. Focusing on the friendships that could be made through the support her key message was that the girls should have the self-belief to say 'yes' to any opportunities which come their way and to believe in themselves.
Feedback from the girls included:
'Many thanks for a very inspiring day on Saturday. It was a complete pleasure. I had a fantastic time on the water with Rob. It was marvellous to experience the absolute joy shared by the girls on their boats. Wowzers! It really was a delight to see. The combinations of sailors were brilliant. Great stuff"
"Echo said it was one of the best days of her life. High praise indeed."
KSSA and Downs Sailing Club were delighted with the success of their second collaboration on this all-girls event and have agreed that, due to the interest and support it received, a third even bigger event will definitely be in both clubs' calendars for 2024.
Find out more about: