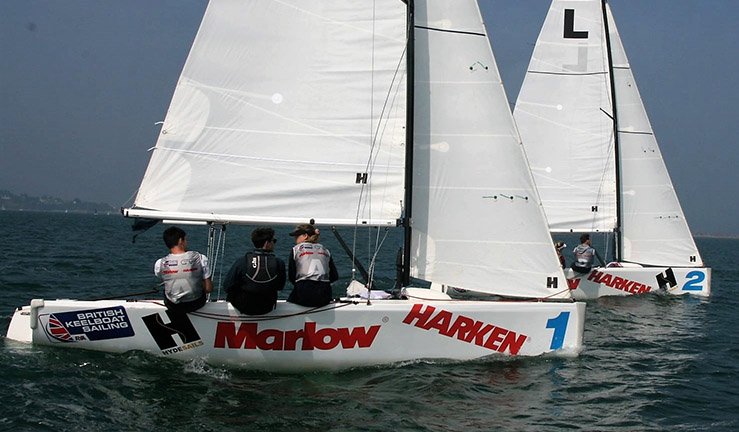 The RYA Harken Youth Match Racing Championships are heading to Weymouth & Portland National Sailing Academy with both the national title and Under-19s trophy up for grabs.
The winning teams will qualify for the RYA National Match Racing Championship Grand Finals in London later this year and could also win a chance to compete internationally.
Taking place over the weekend of 8-9 July 2023, early bird entry is open here and available until 23:59 on Saturday 17th June.
The event has places for up to 10 teams of 3/4 crew, aged 14 to under-23 years old by 31 December 2023 and including at least one female sailor, with an all up maximum weight of 260kgs.
Racing will be on windward-leeward courses with fast turnaround starts providing an exciting weekend of short-course match racing using a rigged and ready-to-go fleet of Elliott 6M keelboats.
With interest expected from both experienced and new teams, the #rockupandrace championship will include on water-support and mentoring from event officials and coaches, bridging the gap for youth sailors wanting to try the discipline or jump into keelboats for the first time.
Richard Moxey, RYA Keelboat Development Manager, said: "Taking part is really easy because we provide the boats and with coaching support available as well, it's an exciting opportunity for young sailors to develop their skills for the future, or give match racing and keelboat sailing a go!"
Take part
Among the entries so far is defending champion Ben Tylecote, who won both the national and Under-19 titles at the 2022 RYA Harken Youth Match Racing Championships in Cardiff.
This also gave the team a ticket to compete internationally, which saw them winning the EUROSAF European Youth Match Racing title in France earlier this year.
Ben said: "The RYA Harken Youth Match Racing Championships is a great event. It gave us the opportunity to race keelboats, something many of the competitors last year, including ourselves, did not have much experience with beforehand.
"I loved the close racing and the opportunities to compete nationally and worldwide which doing the event can open up. The event is a great introduction to match racing, but also to sailing in a larger team.
"There are so many reasons to get involved: if you are interested in getting into 'big boats' or doing some team racing at university, then this event is a great stepping stone for youth and junior sailors."
To find out more about RYA Match Racing, including all upcoming events and the Notice of Race for the 2023 series, visit www.ryamatchracing.co.uk