Members of the Loch Insh MonstArs learnt some top tips and were introduced to the world of foiling, an evolution that has taken off in international sailing and windsurfing.
Islay Watson is currently lying second in the world rankings of the Womens Olympic IQ Foil class and has been absorbing all the developments in this new discipline. Islay shared her knowledge with the next generation on Loch Insh while also
Fellow British Sailing Team and Loch Insh windsurfer Andy Brown, who recently won the Men's IQ Foil class in Palma at the opening Olympic series event of the season, has provided a lot of local pride in their windsurfing set-up in the highland loch.
In partnership with Scotland's windsurf clubs and enabled through legacy funding, RYA Scotland have provided five iQFOiL (youth) boards and masts. These will be owned by the clubs and used by their members and made available for all transitioning sailors to use to progress onto foiling boards.z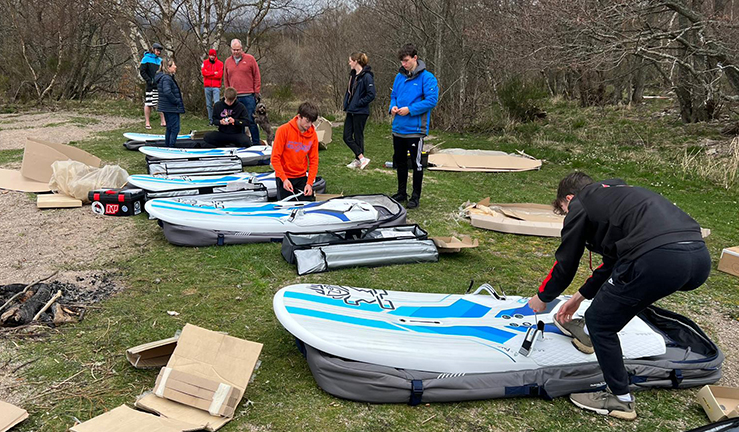 What They Said
Islay Watson, British Sailing Team.
"It's really exciting that RYA Scotland have managed to get this kit organised. It'll definitely mean a lot. I've been there and done that. It's a challenge to be from here as it is a bit remote to get the same access to kit and training. It will kickstart their journey with some good experience and build a program in Scotland."
"It is all about foiling now and the new Olympic class is foiling These are the youth boards that are being used around the world. There really good for young people to get on and learn the basic skills of foiling before transitioning to senior kit."
"I think it's great that there is good group getting involved as it always helps to learn with your peers around you as you bounce ideas off each other. Really looking forward to getting on the water and learning together so they can take that forward in their future sessions."
Islay is preparing for the Europeans in Lake Garda in a few weeks, with qualification for the Olympics in Paris remains a solid goal for 2023.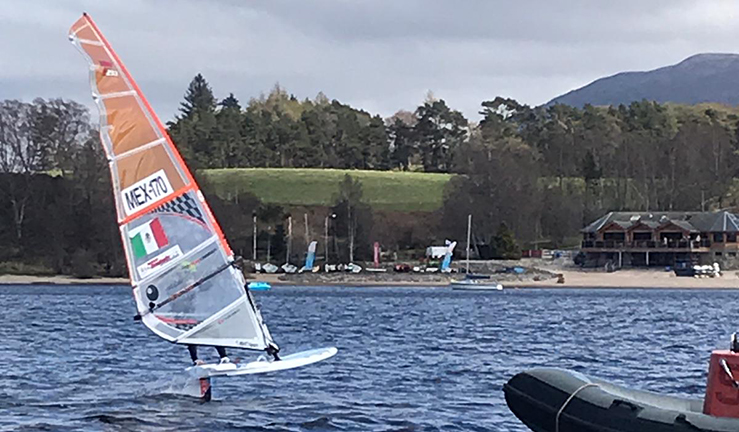 Kai Beattie (15) of the Loch Insh Manstars.
"I'm hugely excited. it is a real gamechanger to the one design, very big change from the Techno 293. Tried some foiling and been out and done that, but now we get the proper kit it's awesome. It's faster and easier to use, just better in every way."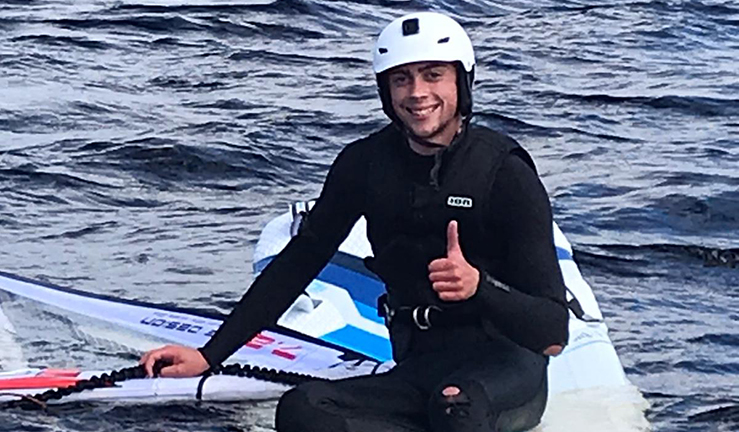 Sam Hawthorn (15) of the Newburgh Sea Gorillaz.
"The boards are a lot more stable and a lot, lot faster. This kit means I can compete at official events and having the boards in Scotland mean we can practice more here. It's just really fun, I just love windsurfing, it's like my favourite thing to do."
Johnny Freshwater of Loch Insh Watersports Centre said.
"It's phenomenal, for the last few years, since it came around to IQ Foil boards, it has been the holy grail and we've been trying to get hold of a board and here it is, it has finally arrived so thank you RYA Scotland, well done. In hearing how these boards are going to evolve with clubs and let a all sorts of kids have access to foiling get a taste for it which is exactly what we need."
"We are very proud of our little team and our champions out there on the world tour, it's fantastic. All Loch Insh does is provide a great venue for learning and we have had an really active club over the years with some great instructors coach the next generation and even the champ when she is home, is no stranger to getting out there and having fun with the kids.
"We run the club every Saturday over 22 weeks during the summer, just come down. You will have had to do a RYA level 1 course to get the basics and then come down and join the club."
Paula Galloway, parent of one of the windsurfers moving onto the IQ Foil.
"I could tell by the way he came off the water that he has his pleased as punch face. As a parent you know when they are really happy. He was 11 when he came to Loch Insh on a primary school trip, and said he really liked the windsurfing, never heard of that really. So we looked that up and started to go to Clyde Windsurfing club at Lochwinnoch on a Monday night.
"I have seen a different kind of maturity, he very non dependant and gets all his kit and he is quite organised. He understands the expense and what it takes to get to each event, and appreciate it. Having this activity gives them more, it makes them more rounded individuals for going on in life. The confidence and self-belief the sport gives them it stands them in such goes stead in what ever career they go on to in the future. It's a win-win really."
James Allan, CEO of RYA Scotland said.
"It's been a perfect day for the launch of the programme in Scotland here at Islay Watsons home water on Loch Insh. Clearly the talent exists for Scotland to continue to do well in performance windsurfing and with these boards no in the hands of our aspiring athletes they have the best chance to succeed."
"I am delighted RYA Scotland has been able to support this move. We couldn't have managed this scale without the support of a legacy from the late William George Hart. I am sure he would be pleased to see his generosity going directly to support young athletes."