Sarah White, KSSA's Commodore, writes:
KSSA is celebrating its 60th year this year; 60 years of providing training and events for young sailors from 8-18 years, but recently they held a first for the organisation, an All-Girls Training Day. Joining with Downs Sailing Club, the KSSA were keen to have an event just for girls as both clubs have found that they are under-represented in their training groups, weekly sailing activities and larger regattas.
This first event was to see whether there was enough interest to warrant making it an annual event and both organisations were astounded at the response. Advertising to local clubs and via social media, the event had to eventually be capped at 24, only limited by the number of double-handed boats available.
Girls arrived from all over Kent, some were experienced sailors acting as Assistant Instructors in their local clubs and organisations, some were keen racers from national squads whilst others had recently completed their RYA stage 2. Whilst the girls were aged from 7-17 years the helpers, also majority 'girls' were keeping their ages well hidden! But it was a real female force on show at Downs SC both on and off the water.
Leading the day was Gemma Gibson, assisted by experienced lady helms and the KSSA's two girl Youth Captains acting as mentors. The focus of the day was that 'Girls do Sailing' and that whilst they may not think that there are many girls involved in the sport across Kent there are lots of girls who love getting out in boats. The social side was key so the day began with breakfast and some team building activities. Food and fun remained the focus of the day and all girls were given free hoodies, so that they would be able to spot each other at future events.
On the water the girls had further opportunities to make new friends helming and crewing in a range of double handers from Fevas, Hartleys, Laser 2000s and RS200s and, due to the great weather, managed a full day of sailing. Helped by the light winds there was plenty of time for chat and banter in the boats which is what the day was all about. As the breeze filled in later in the day the kites came out and some great boat handling was seen.
The KSSA have a regular training schedule hosted by clubs in Kent. This event with the support of Downs SC has had the most amazing feedback from both sailors and parents as well as all of those who helped on the day. The feeling was that it was a much-needed event … watch this space.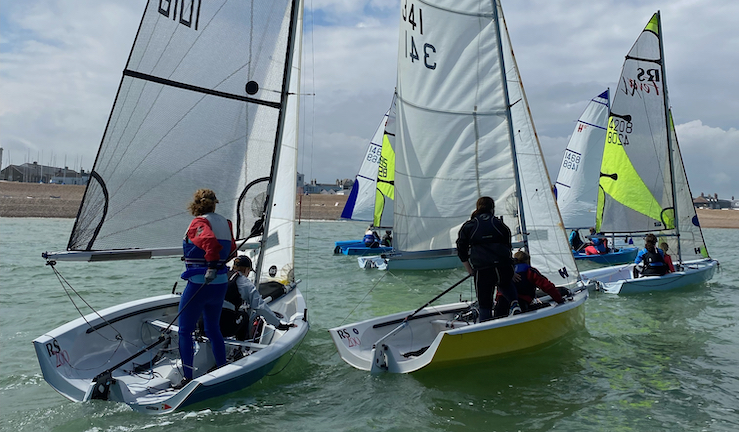 Enya Gibbs, KSSA Youth Captain, gives her perspective on the day:
The aim of the event was to challenge any bias in the sport and involve more girls in dinghy sailing; allow girls who love sailing to meet others with the same passion and show all the young girls what they can achieve, in a friendly environment.
The day started with a free breakfast where the girls were encouraged to mix and talk about their interests and sailing. All girls were given a free event hoodie to build their group identity and to wear at future events. Following a briefing about the day we were sorted into our sailing groups. We only sailed double handers which meant that everyone could talk and make friends on the water. After rigging we launched in quite light winds, however it was good to familiarise the less confident sailors with the boats. We also swapped between boats to meet new people.
After a good morning's sailing we went ashore for some lunch, followed by a team building activity- 'the pasta polo race'- it felt quite chaotic but was a lot of fun! We then went on the water for the afternoon. The wind had picked up a little bit in the afternoon, so we ran three fun races.
I was really impressed by the group of girls I was on the boat with as they hadn't had a lot of spinnaker experience however, as the wind picked up, they were still confident at putting it up and down, as well as gybing and tacking and working as a team, especially when one of the younger girls was putting down the spinnaker and it got stuck, they all helped each other.
At the end of the day we had a debrief, where everyone talked about their day, and KSSA talked about future events that can be found on the website. We were also lucky enough to have a prize draw from the RYA, as well as freebees accompanies by teas. It was such a fun event for all ages and I look forward to KSSA hosting more in the future as the day proved that there are lots of girls in Kent who love sailing.
Find out more about:
Girls and women's sailing with the RYA and Steering the Course