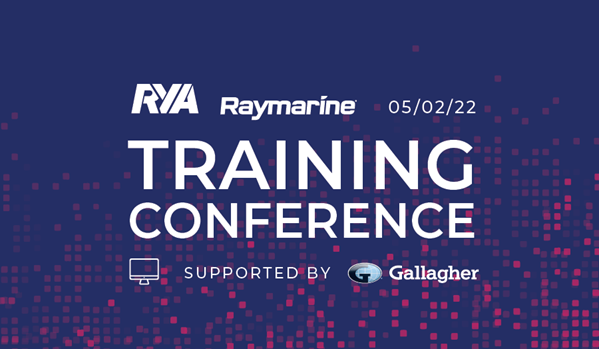 We had hoped to see a number of you in person for the 2022 RYA Training Conference, however due to the ongoing pandemic and the accompanying uncertainty we have made the decision to host the conference online for a second year.
"Making this decision early means we will be able to focus on delivering the best possible virtual event for our training network. We hope to enable our instructors, appointment holders and centre principals to stay up-to-date with all the latest RYA Training news and to take advantage of opportunities for continuing professional development, wherever in the world they may be," explains Richard Falk, RYA Director of Training and Qualifications.
"We look forward to seeing you all on Saturday 05 February 2022 for what promises to be another exciting and engaging Training Conference. Our thanks go to long-term sponsors Raymarine and Gallagher for their continued support."
Something for everyone
The conference will offer something for appointed trainers and centre principals across all nine of the RYA's training schemes, as well as being open to powerboat, personal watercraft, inland waterways and sail and motor cruising instructors, and senior instructors of the windsurfing and sailing schemes.
RYA knowledge and advice
As well as the usual scheme specific updates from the RYA Chief Instructors and a general update from Richard Falk, we will also be joined by various members of the broader RYA team.
Covering everything from sustainability and safeguarding, to legal, insurance and technical advice, many of the sessions will offer opportunities to have your questions answered with dedicated Q&A slots.
Learn from the experts
We will also be joined by a number of industry experts, covering a range of hot topics and specialist subjects.
Keynote speaker RYA Director of Racing, Ian Walker will be reflecting on Tokyo 2020 and the outstanding performance of the British Sailing Team. Get the inside scoop on what it was like to be a part of the British Sailing Team in Tokyo and a look ahead at Paris 2024.
Some of our other top picks so far include:
Lessons learnt from recent accidents and investigations - with Andrew Moll, Chief Inspector of Marine Accidents at the Marine Accident Investigation Branch (MAIB)
Racism in Sport - with Ineke Houtenbos, Diversity and Inclusion Presenter and Senior Training and Development Consultant at the NSPCC
"If it Looks like an Elephant Turn Left" – how to get a decent forecast and use it during the day, getting down to the sub grid features that the models just don't get - with Simon Rowell, Meteorologist for the British Sailing Team
Industry leading exhibitors
As well as conference sponsors, Raymarine and Gallagher you will also have the opportunity to speak to a range of other industry-leading exhibitors on their virtual stands. Keep an eye out for further announcements.
Added convenience
We were delighted to be joined by delegates from more than 40 different countries for the conference earlier this year and know many of you appreciated the online format.
This event will once again feature a combination of live and pre-recorded presentations, as well as Q&As for you to get the most from each session.
The sessions will be available on demand throughout the day and the following weeks so that they can be viewed at your convenience, no matter which time zone you're joining us from.
We'll also share a selection of resources on the Training Support Site in the weeks following the conference.
Here's what you had to say this year…
"Being able to attend remotely is invaluable to me and my ability to join a conference like this."
"One of the best conferences I have attended"
"At previous conferences I took a couple of pages of notes, at this year's event I took 8!"
"This is the first conference I've been able to attend and found it I formative and enjoyable. I feel like I know more about the RYA and the people that run it than I did before. I feel my enthusiasm for the sport and teaching has been given a boost. Thank you."
"The conference was excellent. Being able to do it from home was even better."
Book your place
For a second year you will be able to attend the virtual RYA Raymarine Training Conference supported by Gallagher for FREE.
Keep an eye out for the full agenda, more speaker announcements and registrations opening in early January.
For more information and to keep up-to-date with all the latest conference news, please visit our dedicated conference page.