When Meg Niblett was eight years old, and her three siblings were all cadets at Salcombe Yacht Club, she was terrified of sailing. If her mum managed to persuade her to get in a dinghy at all, she'd have her eyes firmly shut while she held onto anything she could find!
Then came the day when she went out in an RS Vision, sandwiched firmly between two instructors, when she finally opened her eyes – and everything changed.
"After that, I was sailing every weekend," explains Meg, now 24. "I was racing in Toppers and Fevas with my friend Charlie, sailing rain or shine. I was addicted to it, even in the winter, wearing my winter wetsuit and always at the back, but I didn't care! I competed in my first race in a local Opti regatta and came first because I was the only one to go around the course the right way!"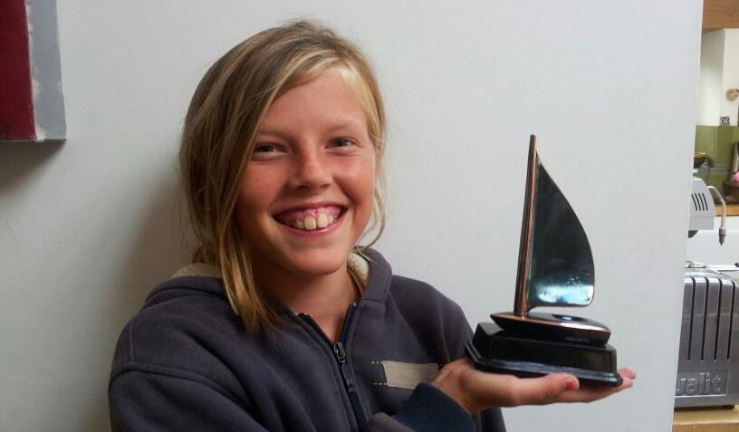 Salcombe is a tough place to learn to sail, so Meg built up a lot of skills, navigating in enclosed water, around huge numbers of boats during the summer, and grappling with wind and tide conditions: "For me what really helped me at Salcombe Yacht Club was the cadets on Saturday mornings. It was all about having fun and gaining confidence. Sailing clubs can unlock the enthusiasm in kids. The sailing part goes out of the window, you try and get four in a Pico, or turtle your boat, learning how to sail without knowing you've done it, with no pressure from anyone. And, of course, learning from other kids. Food was all ready to go when you came off the water freezing, and we had a lot of family support too – we had a club Feva and Charlie's dad helped us do it up ourselves, so we could do the Feva nationals a couple of times.
"Jayne Morris, the club's Sailing Co-ordinator, was amazing. She wanted to push more girls in the sailing world and if I ever wanted to race she would make it happen. When I wanted to get my Sailing Instructor ticket, Jayne organised it all."
By the age of 17, Meg was a Dinghy Instructor, and as soon as she finished school she went to work for Neilson in Greece, where she also learned to teach windsurfing, and she spent three summers as an instructor there.
"I spent a night on a sailing yacht in Greece, and volunteered to stay with the captain onboard to weather a storm. So I was there watching the sun rise and had an epiphany – I knew that I was going to change to yachting for the rest of my life.
"I'd always wanted to go to Australia, so I booked my tickets to Sydney and did my Yachtmaster course there. Wendy Tuck, the first female to win the Clipper Round the World Race, was my examiner. That was really cool – we got on very well, and she gave me lots of confidence to be a female skipper."
At the age of just 21, Meg was qualified and fired-up, and started working as a skipper on charter boats, running corporate regattas and Champagne Sailing trips around Sydney Harbour. At the same time, she was still running dinghy sailing and windsurfing courses, and soon she was teaching Start Yachting courses.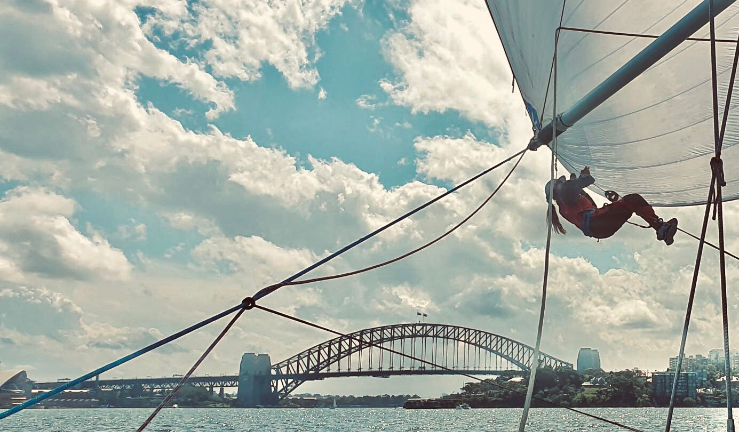 It wasn't long before she got into yacht racing at the lively Middle Harbour Yacht Club, where Flying Fish Sailing operates from: "They do Twilight Races round the harbour. Anyone can go, it's very relaxed, with beer on the downwind leg (!) and I started doing this after work, just loving the yacht racing. It was there that I got offered a bowman position, and they trained me up for the Sydney Hobart Yacht Race."
But then fate intervened again, and Meg met Ben, who was captain on a Swan 65. She joined him full-time as first mate, and they did the Sydney Hobart together. They won the Classic Sydney Hobart regatta and the 100nm Bird Island race, and over the past year they've lived on the Swan 65 and sailed half-way round the world. Currently they're heading for the UK for the 2023 Rolex Fastnet Race at the end of July.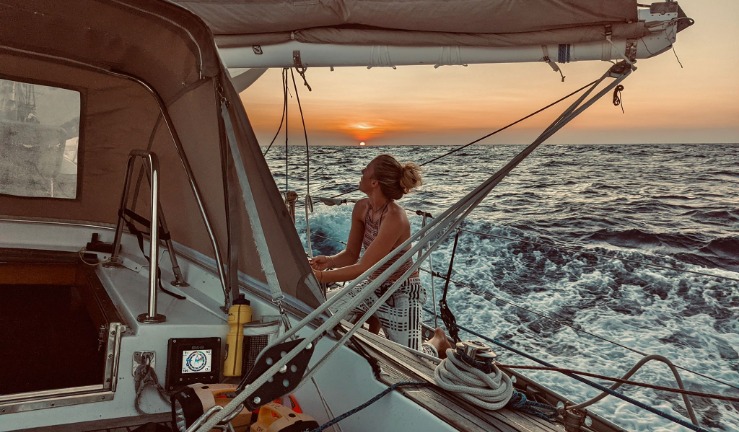 "There just aren't enough women in this industry," she says. "I like to prove myself, and show people I'm not just a girl drinking champagne at the back of the boat! In fact, I never drink when I sail, I take my work very seriously. I just love sailing, the freedom and being out on the ocean, and I'd do it for free!"
Now 24, Meg is clearly living her dream, and while her siblings no longer sail, her father has just bought a Strider catamaran: "I think he's a little bit jealous of me!" she laughs. "I think seeing me live on a boat now pushed him to buy another boat and enjoy the ocean again."