RYA Northern Ireland launches new five-year strategy and welcomes first inductees to Hall of Fame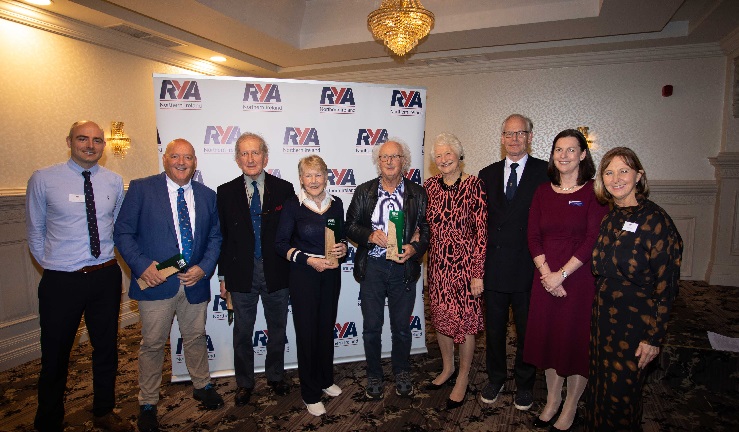 Sailors, club members and sports representatives from right across NI joined have joined together in Belfast for the launch of RYA Northern Ireland's new five-year strategic plan and its first-ever Hall of Fame.
The event, which took place at the Crowne Plaza in Belfast, was jam-packed with speakers including RYA CEO Sara Sutcliffe MBE, RYA Chair Chris Preston, RYA Northern Ireland's Chief Operating Officer Greg Yarnall and RYA Northern Ireland's Chair Susan McKnight.
Guests included representatives from affiliated clubs, Sport NI, Disability Sport NI, Mary Peters Trust and the NI Sports Forum.
MC for the event was Denise Watson who interviewed a panel of sailors about each of the Strategy's aims.
At the heart of the strategy, which is entitled 'Navigating the Future', is being proud of and celebrating the sport, the people and places within it.
RYA NI Navigating the Future Strategy 2023-28
RYA Northern Ireland's Chief Operating Officer Greg Yarnall comments: "It is fantastic to see so many people coming together for the launch of our new strategy and to see the first four people inducted into our Hall of Fame.
"Our new strategy has been months in the making, and we want to thank everyone that has helped shape the direction of travel for the next five years. Many people have helped through completing online surveys, to taking part in in person and online workshops, to checking and challenging our thinking as we have moved through various iterations.
"As a sport there is much to celebrate and we will ensure that those that play a part in making the sport happen at all levels and those that commit to achieving on the world stage, feel valued and are recognised for the roles they play.
"The strategy has been built from the ground up, starting with what volunteers, participants, coaches, instructors and officials talked about being the key issues holding back the development of the sport, and where the biggest opportunities lie. We look forward to continuing our work over the next five years to improve our sport."
During the event, four people were inducted into RYA Northern Ireland's Hall of Fame. This included Bill O'Hara OBE, Maeve Bell OBE, Curly Morris OBE and James Nixon.
Greg adds: "I am delighted that we were able to recognise four very special people in our sailing community tonight. We welcomed the first inductees to our newly established Hall of Fame. People are at the heart of our sport and it is fantastic to be able to celebrate some of those who have made such a hugely positive impact over many years."
A full feature on each of the four Hall of Fame inductees will be released by RYA Northern Ireland next week.
Images and associated captions can be downloaded here. Image credit: Simon McIlwaine / RYA Northern Ireland.