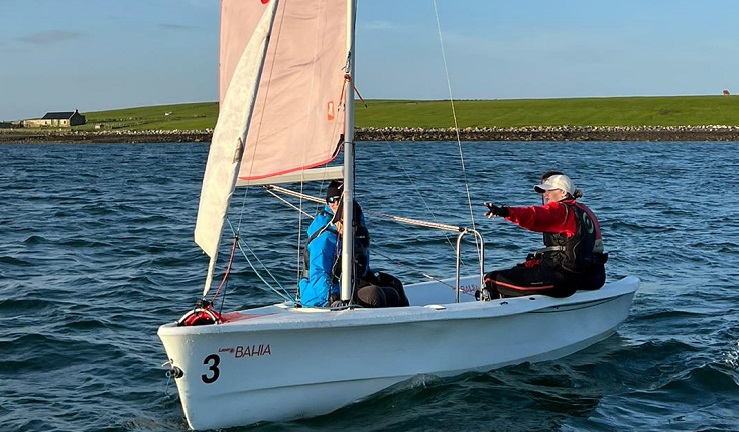 He understands what it's like for those who are joining the sport for the first time and has made it his goal to tailor training to their needs. In a special feature, Jack reflects on a busy year for the club 2022 and his role as Training Captain.
Can you tell us a bit about your role?
In January 2022, I became Training Captain at Strangford Lough Yacht Club (SLYC), essentially becoming responsible for organising and overseeing all sailing, powerboat and shore-based training within the Club.
Prior to this, I had been the Club's Chief Sailing Instructor, a Powerboat Instructor and had been involved in delivering training for over 10 years. So, I already had quite a lot of involvement and experience with training at SLYC and knew what worked and what didn't work.
The Club has run a lot of training courses this year. Could you tell us explain how you planned the course schedule?
Given that it was my first year as Training Captain and we were coming out of a two-year period of lockdowns and inactivity due to COVID-19, I was keen to deliver a packed training programme. I knew there would be demand for our RYA Youth Summer Sailing courses, as well as the RYA Powerboat Level 2 courses, as these historically have always been popular.
However, we wanted to particularly build on the adult dinghy sailing space, and scheduled four RYA Adult Learn to Sail (Level 1) courses, throughout May to August.
I also wanted to run more RYA Safety Boat courses as these had generally been difficult to find elsewhere in Northern Ireland. The course teaches skills that are so important for volunteers, instructors and parents who want to help out with junior sailing, provide rescue at large sailing events, or become a Senior Instructor. In my opinion, it was only right we delivered this training.
Lastly, and most recently, the race coaching. Historically SLYC has been fantastic at introducing people to sailing and teaching them the basics. However, we found that after we had done this, the sailors would be hungry for more "race coaching" style training, and as we didn't provide this, would leave us for other clubs.
Therefore, we have worked hard to develop our racing fleet, with Tuesday Night dinghy racing during the summer season, run by RYA Race Coaches and experienced instructors. We also introduced winter race coaching for a select group of sailors, who want to go to events and compete on our behalf, and even one day be invited onto the RYA squads.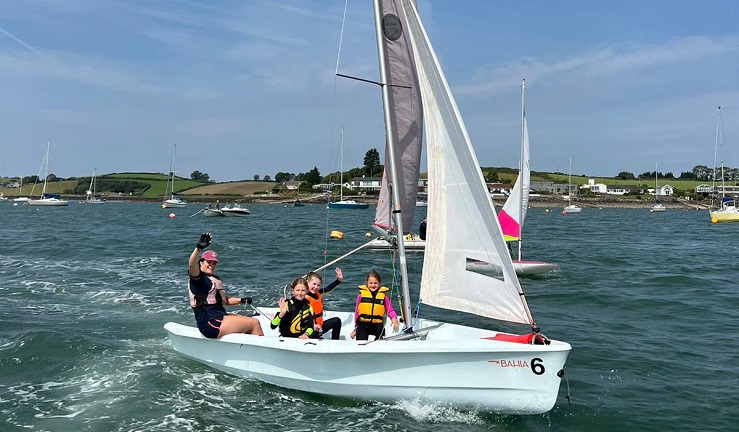 Have the adult sailing courses been successful?
The adult sailing courses have been an outstanding success, not only from a training perspective, but for the club more generally. We had over 40 adults come through our RYA Adult Level 1 courses this year alone, with many going onto do their Level 2, and in some cases Level 3 courses, in one Summer.
But the real success of our adult sailing courses has been being introducing so many new people to the amazing sport of sailing. Many of the students that attended our courses have ended up joining the club as either single or family members, and are now hiring dinghies and going cruising themselves, or even racing on larger keelboats. Some of our adult sailors have even gone onto purchase their own keelboats and have been winning regattas in the Lough!
Ultimately these courses have provided a platform for us to introduce new people to a sport that historically had a lot of barriers of entry and was difficult to get into if you hadn't come from a sailing family.
The training was promoted early in the year – did this have a positive impact and were there any other factors that helped?
Our 2022 Summer training programme went live for bookings on New Year's Eve! By the end of January, we had already had 133 students booked onto sailing and powerboat courses for the summer.
This level of demand for courses was, at times, scary. I thought I had maybe bitten off more than I could chew. However I was determined to continue with my plan to deliver a packed programme, and introduce as many people as I could to sailing and boating generally, as obviously a lot of people were interested!
I suppose I should say at this point that, if it wasn't for an amazing team of instructors I would be lost. We have a team of roughly 20 sailing instructors and five powerboat instructors at SLYC. All of whom work tirelessly throughout the year to enable the Club to run these courses. The thing that makes them invaluable is that they are not simply doing it for the pay check, they are doing it because they are passionate for the Club, and for the sport generally, and want to see it grow and be successful.
What are the benefits for those who take part in courses?
For the kids who have done sailing courses with us, we run our very popular Sunday Sailing School. Which is essentially an opportunity for kids to get our sailing on Sunday morning and practice the skills they have learnt on the courses. This year our Sunday Sailing School became part of the RYA Onboard programme, which allowed us to run a more structured programme, which further aided the development on the kids' sailing.
For kids that are at a certain level, we have our Tuesday Night dinghy racing nights during the summer months and our winter race coaching.
For adults that have been on our courses, we decided to run adult "cruise in company" afternoons, every Sunday throughout October and November. This gave adults the opportunity to go out in the Bahias and cruise together, to build their confidence on the water.
We also held an adult dinghy sailor "get together", which was basically an afternoon open to every adult that had done a sailing course with us to come down for the afternoon, to go sailing and then come back to the club for a BBQ and drinks. It was a great way to meet others in the club with the same interest, and to meet potential crew! The day was a great success.
Looking ahead to 2023, what are your plans?
I would like to replicate what I did this year, however this depends on availability of instructors, as well as other factors such as club facilities. I don't think I would like to do anything differently next year as I think we are constantly adapting and improving our plan to ensure we continue to deliver the highest quality of training possible.
I am incredibly proud of what the Club has achieved over the years, in particular within the last year. I am looking forward to growing on this success in the following years.