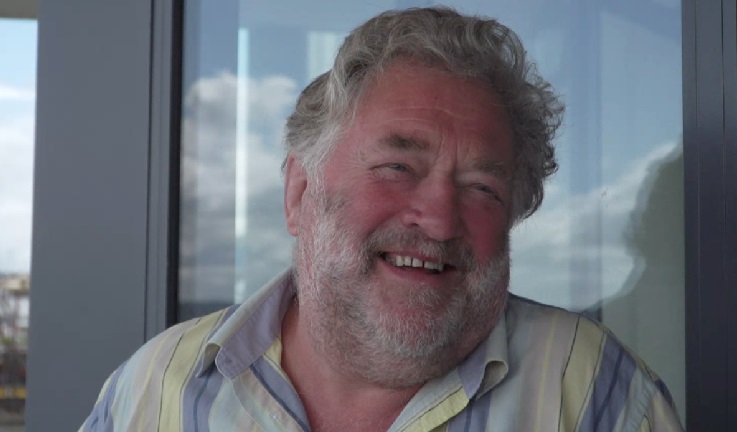 Spotlight Story – Colin Loughead.
Name; Colin Loughead
Club; Ballyholme YC & Royal Ulster YC
Role; Regional Race Officer
Colin agreed to come and be interviewed on camera on his role as a volunteer race officer. We are excited to share the videos in due course. In the meantime, have a read as Colin shares what inspired him to go through the training and take up the challenging role in a candid interview!
Colin, thanks for joining us today, what got into the Race Officer role?
I wanted to give back, and I wanted a challenge
I took my son, Oliver, to the Topper worlds and I'd been taking him to events for a while, my sailing has mostly been big boat sailing and I saw the race officials on the boats giving their time. It inspired me to give back and take on a new challenge, so when I got home, I spoke to Robin Gray (NI Race Management Coordinator).
Has being a Race Officer had a positive impact on you?
I really enjoy it and meet so many people. Meeting other volunteers and competitors and making friends has really been the best benefit.
What has the impact of the role been for your club or community.?
As a team, We Make it happen for the racers.
Not just me, but all the race officials, we let the competitors compete! We're often out in challenging conditions and we make it happen.
Is being a Race Officer good for your wellbeing?
If I'm going out on a particularly windy day, I do worry about it. Should I let the sailors go, am I up to the task of standing on front of the boat for the duration of the event? I do get worried about it. But I enjoy the challenge.
Has being a Race Officer helped with other aspects of your life or in work?
I'm a professional classical musician, so teamwork, timing, being on time etc are skills that work in both jobs. You must know what you're doing and work as a team. So I would say yes, Its great for that.
Do you need any special skills to become a Race Officer?
Take advice!
You have to get on with people and be friendly. The race team, including the mark layers are out on the water for a long time on race days, so the camaraderie has to be good. The communication has to be good.
If you're thinking about the role, take advice. Learn what you're doing (through courses) and don't be afraid to ask advice too! The other race officers are more than willing to support new volunteers.
What are your future aspirations for the role?
I'm a Regional Race Officer, but not a National Race Officer, so I would like to go down that route. It would allow me to officiate a wider range of events. The club is encouraging me!
Do you have a high point of your RO career?
Not really, that's difficult. So many varied events, races and good points to take from many of them!
Tell me about your personal sailing, any highlights?
Currently, I crew for a friend, and we go for cruising. Our next plan is to come to Carrickfergus for their regatta.
My highlight was sailing in a big regatta of 1720s in Cork. It was such a challenge – even the long sail from the club to the sailing area, but it was a real highlight with many boats on the start line. Great racing.
Colin has enjoyed being a Race Officer and benefitted from building social/friendships from the role. Although he shared that it can be a stressful job, he obviously loves the challenge and is preparing for the next step – National Race Officer.
Do you want a challenge too?
RYA have a series of "Officials" courses coming up. You can sign up here to be a Race Officer, Juror or Umpire, there are more roles for running racing too, read about them here. There are a number of NI candidates on the November Judges course, and the following Race Officer course, why not join them! If you are planning to, do get in touch! We want to support and build the team of NI Race Officials.
Rules Roadshow
Denis Todd, NI Regional Rules Advisor and I are also working on a schedule of dates for rules workshops and discussions. I for one am looking forward to brushing up! Keep an eye on our socials for those.