Women on Water Festival brings offers a unique chance to make new friends and learn new skills
A group of over 50 women came together at Donaghadee Sailing Club this week to take part in RYA Northern Ireland's Women on Water Festival – a key highlight in the sailing and boating calendar that brings women together to have fun, meet new friends and learn some new skills.
The Festival introduces women to a variety of sailing classes and water-based activities within a supportive learning environment.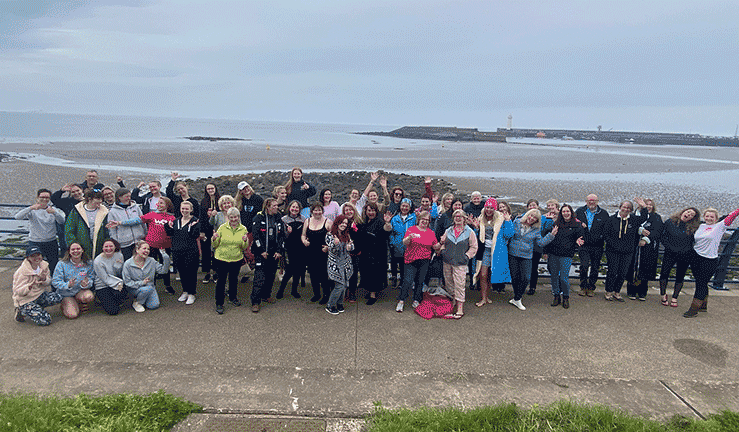 It's not competitive and allows the group to progress, develop lifelong skills, a chance to gain confidence on the water and discover new pathways into the sport and the opportunity to make friends for life who share similar passions.
One of the main reasons for the Women on Water programme and the Festival is to help boost female participation in sailing and boating.
RYA Northern Ireland's Active Club Coordinator, Kate Broderick, explains: "When it comes to participation, the number of women and girls taking part in sailing has always been lower than that of men and boys.
"The current club membership in Northern Ireland shows a ratio of 35/65. RYA Northern Ireland is working to take down the barriers within our sport and provide a stronger supportive environment for women who are being introduced to the sport and additionally for women who are actively involved."
Talking about the Festival, Kate says: "This event is so important for us to run each year as it creates so many opportunities for women to get more involved in sports, especially within a non-competitive environment.
"Some Women on Water graduates have gone on to make sailing an active hobby with friends, some have gone down the coaching and instructing route and now work within their local sailing club or centre.
"Others are competing in club racing or actively volunteering within their community. There are so many pathways you can go down and it's so encouraging to hear the Women on Water graduate stories and how being on the water has opened many doors for them."
The Women on Water Festival took place at Donaghadee Sailing Club on Saturday 20 May, bringing women from across Northern Ireland to experience the benefits and opportunities water sports brings.
Kate comments: "With 50 women participating in this year's festival it was great to see first time sailors and active sailors working together out on the water. The activities this year were dinghy sailing, keelboat sailing (supported by Waverides), stand up paddleboarding (supported by Ganaway Activity Centre instructors), coastal rowing (supported by Donaghadee Coastal Rowing Club), snorkelling and scuba diving (supported by Duck Down Divers at DSC). A full day of activities, delicious lunch and dinner at the club, along with Copeland gin tasters and live music to end the day."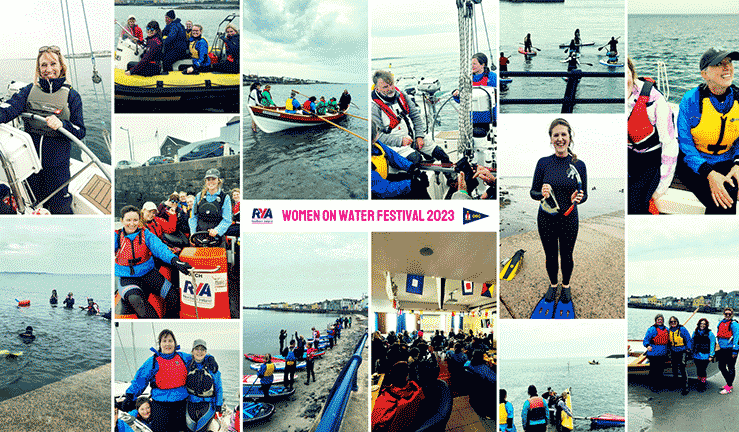 Helen Sheridan, a Women on Water participant commented: "I just wanted to thank Kate and the entire team for what was an incredible day from start to finish. The guides and instructors were informative, passionate, and I learnt a lot from them. "The food was gorgeous, the organisation of the whole thing seemed seamless and the entertainment at the end was a surprise bonus! I'm keen to continue learning about sea sports and I would recommend this event to anyone who is thinking about giving it a try and maybe a bit nervous to do it, especially going by yourself! I felt in very safe hands and it's my high point of 2023. Congratulations on pulling off a wonderful event!"
Kate adds: "I would like to give a special mention and thanks to Donaghadee Sailing Club for all their hard work. The support from the committee and volunteers involved was vital in making this event happen.
"I'd also like to thank all of our supporting partners and charities who helped make this event vibrant and a great turn out. This included Copeland Gin, Cosimac Ltd, Waverides, Safer Waters, Pretty 'n Pink, RNLI, Ards and North Down Council, Ganoway Activity Centre, CH Marine, WOW Group, DSC Volunteers, Duck Down Divers, SUPHUB, Grumpy Old Gits Catering, AA Promotional Products."
ENDS