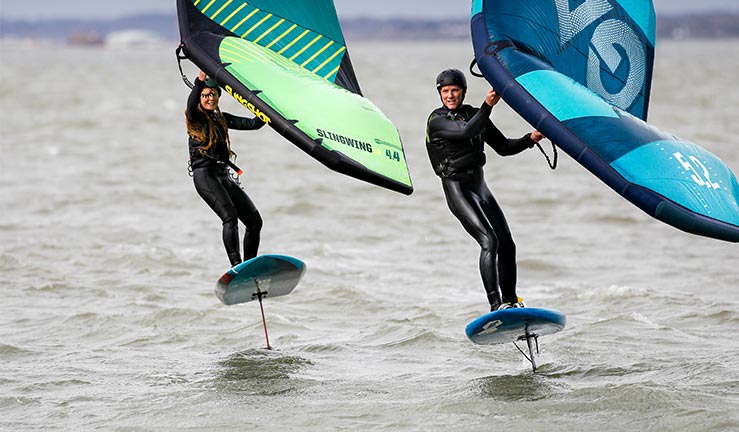 Earlier this month we launched our brand new WINGsurfing training scheme.
The four progressive courses are aimed at introducing complete beginners to wingsurfing, and if hooked by what they've learnt and keen to progress, developing the skills needed to wingfoil with confidence.
No previous watersports experience is necessary, making it a great option for the whole family and all abilities and ages.
"The best thing about wingsurfing is the accessibility," explains RYA Chief Instructor and instigator of the pilot, Amanda Van Santen.
"It's incredibly easy to master the basics, the kit is affordable, easy to transport and you can even get started on a large windsurf board or windSUP (stand-up paddleboard)."
Wingsurfing, and the more the advanced wingfoiling, both use a wing with an inflated leading edge on a strut or boom. Unlike windsurfing, the wing isn't attached to the board, but is controlled by your hands while you stand. As with conventional windsurfing, you can choose to fly the wing on a plain board, or one with foils.
As recently as five years ago, the availability, cost and skill required made most foiling sports an unrealistic option for many. Now, you only need to visit your local stretch of water to see how popular it is.
The new programme of courses, instructor training and centre recognition will help to ensure participants can learn in a safe and fun environment, with the support and expertise of RYA instructors.
"We're delighted to be piloting the new courses and giving RYA recognised training centres an exciting new option to diversify and offer something new to their customers," continued Amanda.
"With so many looking to make the most of opportunities closer to home this year, there couldn't be a better time to launch and we look forward to seeing the new scheme take off!"
Get involved...
Centre recognition
Throughout 2021, the RYA Wingsurfing scheme will be run as a pilot. For more information about centre recognition please visit RGN C12 on the Training Support Site.
Instructor training
We will be running our second wingsurfing instructor course from 22-25 July in Poole, Dorset. Please contact mollie.knowlden@rya.org.uk to register your interest.
For more information about the required experience, certification and instructor levels please visit our qualifications hub.
RYA Wavelength: Sign up to our bi-monthly eNewsletter for all the latest news, updates, CPD and teaching tips for RYA Instructors and recognised training centres. Update your newsletter preferences here.