The first qualifier of the 2023 RYA Winter Match Racing Series was claimed by a team from Rutland Sailing Club skippered by Ben Tylecote.
Tylecote along with brother Jamie, Freya Pembery and Terry Hacker, were crowned RYA Harken Youth Match Racing Champions and claimed the Under-19s trophy last September.
With a bit of help from dad Steve Tylecote on main, and Dylan Beatty standing in for Terry, the same young sailors from Rutland SC have now won their first-ever national match racing series qualifier over a breezy weekend at London's Queen Mary SC, 14-15 January 2023.
The sell-out event saw nine teams competing in RS21s, with a delay on day one until the wind eased sufficiently to allow racing. An action-packed day with six flights was then completed, with the breezy conditions testing boat handling skills for an exciting round robin series.
This included an encounter between Tylecote and Ted Blowers, which resulted in a black flag for the Rutland team. Blowers claimed a straight eight wins to top the leaderboard at the conclusion of the round robin series with close rival Tylecote in second after losing only to Blowers.
Teams competing in the #rockupandrace event included a mix of established regulars from the match racing circuit such as Blowers and also newer teams, including from Ireland, who benefited from coaching support provided by experienced match racer Sophie Otter.
Day two started on time and with the conditions having moderated it was possible to complete the full published schedule of racing. In the semi-finals, Patrick Croghan's team claimed their spot in the final with a 2:1 win over Blowers, while Tylecote took a 2:0 win over Tom Williams.
In the Petit Final, Blowers - sailing with Owen Bowerman, Amy Sparks and Fraser Woodley – took 2:0 for third overall against Williams and his team of Emily Wiltshire, Matt Venables and Ed Jones.
Tylecote's team meanwhile continued their form in the final, claiming overall victory after winning 2:0 from Croghan and co, Hebe Hemming, Tom Goodbourn, Hannah Croghan and James Witts.
Find the full breakdown of results here.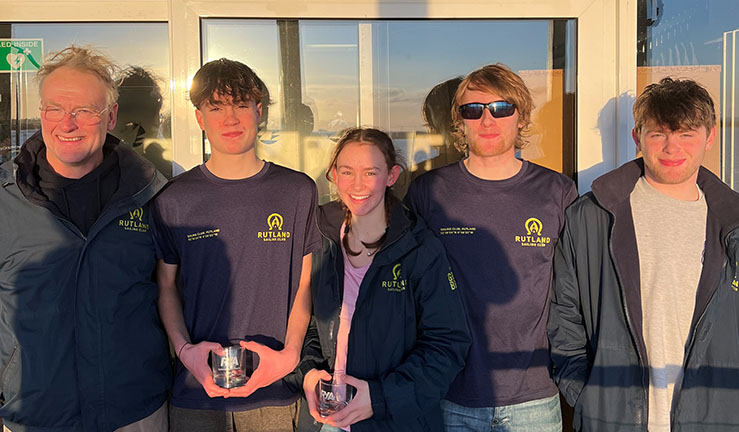 Winning ways
Winning skipper Ben Tylecote said: "We had a whole range of wind, mainly on the strong end of things, but in the finals we definitely had some light stuff. It was such a great experience. There were a lot of teams we haven't actually sailed against before and learning from them and the people who've done a bit of international match racing was amazing.
""This was our first match racing qualifier, so we're amazed to come away winning it really. We're definitely still learning so we're just taking confidence from this and hopefully doing more match racing in the future."
Ben added that the team had benefited from being able to get on the water together thanks to funding from the John Merricks Sailing Trust, which enabled their home club Rutland SC to acquire two RS21 keelboats: "We've been out quite a few times now and getting the whole gang at Rutland into them is awesome and it allows us to do a lot more practise which has definitely helped us."
For race officer David Campbell-James, the first qualifier of the year at Queen Mary SC was an enjoyable return to the club where he introduced winter match racing some years ago. He recalled: "We did a lot of arranging of bringing the teams in and a lot of top teams came, and we had a women's weekend when I think eight of the top 10 came, so it was great for our sailors and helped them improve their rankings which meant they could go to events abroad, and it was great for our officials as well, so it's great to come back here after all this time!"
Next up in the 2023 #rockupandrace series is the Women's Winter Match Racing event in Elliott 6Ms at WPNSA, 4-5 February, followed a week later at the same venue by the rescheduled 2022 RYA Marlow Ropes Women's Match Racing Championships, 11-12 February.
Further information and entry for all upcoming events is available at www.ryamatchracing.co.uk