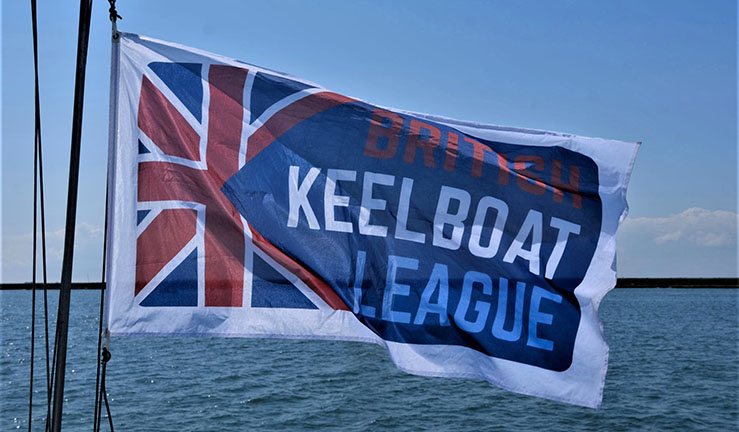 A reunion of friends from Rutland resulted in a 'home' team win for the penultimate round of the 2023 British Keelboat League.
The #rockupandrace event hosted by Rutland Sailing Club saw seven teams completing 17 to 20 races each in RS21 keelboats over a full-on breezy weekend (19-20 August).
Representing Lloyds Yacht Club of London and all local to Rutland, victory went to skipper Ant Chapman, Mark Kudlinski, Ollie Hooper, Toby Petit (Saturday) and Mike Andrews (Sunday), whose scoreline included an impressive nine bullets.
Second overall was another Midlands entry with a team from Banbury SC - comprising Fraser Harris, Patrick Croghan, Ella Robbins and Toby Atherton - matching the nine race wins of Lloyds but just pipped for the top spot in the average points scoring.
BKL regulars West Hoe SC - Tom Low, Ed Low, Ben Gilbert, Storm Smyth - claimed third overall. Boding well for the sport, a number of teams had youth sailors and under-25s, including a 420 entry, Banbury, Colemere and Rutland HYDRA.
Full results can be found here.
With fast turnaround 15-20 minutes races for four RS21s at a time and no discards, consistency was key and the competition was intense, with all of the teams collecting race wins along the way.
Event Director and PRO David Wilkins made the most of the conditions to run 17 races on the Saturday and 20 on the Sunday, 37 in total, with two changeover RIBS and on-shore volunteers supporting the efficient race management and keeping the teams busy.
Racing with reefed mains but still with spinnakers made it a spicy day of racing on the Saturday in a baseline of 16-18 knots gusting 20+, but despite the challenging conditions testing teamwork and boat handling to the limit, the results were close.
A Pimm's reception and three course meal provided by the club along with its warm welcome enabled teams to recover with old friends and new ones over a sociable evening.
Then with slightly more benign albeit still breezy conditions the next day, racing was even tighter on the Sunday, with interesting wind shifts seeing regular place-changing and the gusts still occasionally catching out crews, especially on the downwind legs.
Sending it skiff-style
The members of the winning team have all been members of Rutland Sailing Club at various times over the years and live or work locally, with previous experience of 18ft skiff sailing providing the necessary nerves of steel for the very breezy Saturday.
Skipper Ant Chapman said: "We hadn't sailed RS21s before so we entered for a bit of fun and because we're all relatively local to the club. Myself, Mark Kudlinski and Ollie Hooper used to sail 18ft skiffs together so when it was really windy, we just pulled on everything hard, leant out hard and went in each direction as fast as possible – we weren't very clever about it but we didn't broach or get into any trouble gybing, got it going quick and sent it!
"We were just trying to get it around the course and boat speed as they say makes you a tactical genius so that was our mantra for the weekend. On the Sunday when the wind dropped a little you could be more tactical and intelligent and the younger teams like Banbury were doing it way better than us! It was a really fun weekend all round."
Find out more
Next up is the BKL Women's Championship, part of the Women's Open Keelboat Championship, at Royal Southern Yacht Club over the weekend of 9-10 September 2023.
The winning teams from each event, who satisifed the entry requirements for the finals, plus the top women's and youth teams from across the British series, will be invited to the British Keelboat League final at Royal Southern YC 29 September-1 October 2023, with the top four teams from there having a chance to then represent their clubs in Europe with the SAILING Champions League.
For further information visit British Keelboat League or follow on Facebook and Instagram.