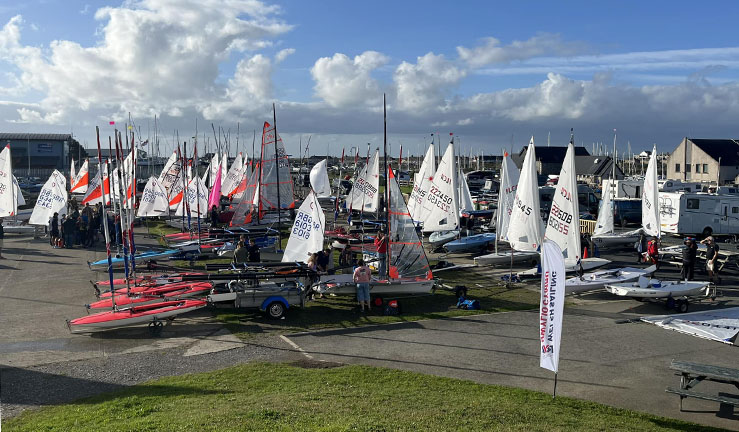 The RYA Cymru Wales Welsh Youth & Junior Championships saw more than 100 sailors competing across multiple classes in glamour conditions at Pwllheli.
With an ominous forecast for extreme winds on the Sunday, the race team at Plas Heli ensured it was a busy schedule in Cardigan Bay on the Saturday.
An efficient day in a building breeze allowed five races for the championship fleets across two courses and four races for the coached regatta fleet.
The event was hosted by Plas Heli Welsh National Sailing Academy over the weekend (23-24 September 2023) and attracted 113 competitors from across Wales and beyond, with a total of 89 boats making for close racing across the fleets.
Building breeze
RYA Cymru Wales Performance Manager Sarah McGovern said: "On the Saturday it was Pwllheli at its best! When I arrived the water was like glass but the breeze filled in and the fleet started in around 8 knots which gradually increased to 17 knots by the last race, so we had a whole day of everything which was great for the sailors.
"The forecast for the Sunday wasn't marginal, it just wasn't sailable, so we made a decision to run as much racing as possible on the Saturday, with the prize giving at 6.30pm the same day. Lots were camping so it gave people the option to go home early if they wanted to save them being blown away overnight. For those who did stay we then ran a variety of workshops on the Sunday."
Around 30 sailors enjoyed a variety of activities on the Sunday, including class specific coaching feedback, a splicing workshop with British Sailing Team coach Jonny McGovern and a rules session with RYA Cymru Wales chair Sian Reynolds, who is a National Umpire.
Sarah added: "We'd like to say a big thank you Stephen and Richard Tudor of Plas Heli who pulled out all the stops to help us make it a successful event, and to everyone who came along to help - we had more than 40 volunteers supporting us over the weekend which was hugely appreciated."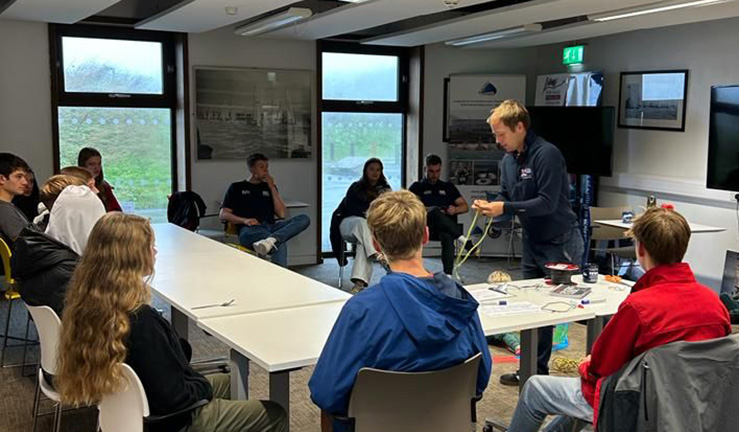 Close racing
Visitors George and Olivia Creasy from West Kirby SC won the 420 fleet just ahead of first Welsh helm Arwen Fflur from Pwllheli sailing with Matthew Rayner.
Victory in the ILCA 4s went to Bronwen Thomas (PPSA) with Ralph Surguy (Corinthian Otters) just pipping Freddie MacLaverty (Red Wharf Bay) in the ILCA 6s.
Niamh Epstein claimed the overall win on countback in the Optimist fleet from Molly Martin, just a point ahead of Alice Atkin, all from Cardiff Bay YC.
In another close finish, the RS Tera Sport winner was Harry Bennell (Port Dinorwic/Shotwick) on countback from Ethan Watkin Jones (Port Dinorwic). First Topper 4.2 was Sophie Venning (Shotwick) with the 5.3 title going to Steffan Williams (New Quay).
The General Handicap fleet was won by 29er team Dylan Creighton/Bryce Musto (Cardiff Bay/Corinthian Otters), and the coached Regatta Fleet by Topper sailor Griff Attrill (Cardiff Bay).
Two special awards saw prizes awarded to the first girl with the lowest points score from all the classes, RS Tera Pro sailor Megan Gowers (Port Dinorwic), and to the youngest competitor, Regatta Fleet sailor Oliver Venning, aged 7 (Shotwick).
Overall results for RYA Cymru Wales Youth & Junior Championships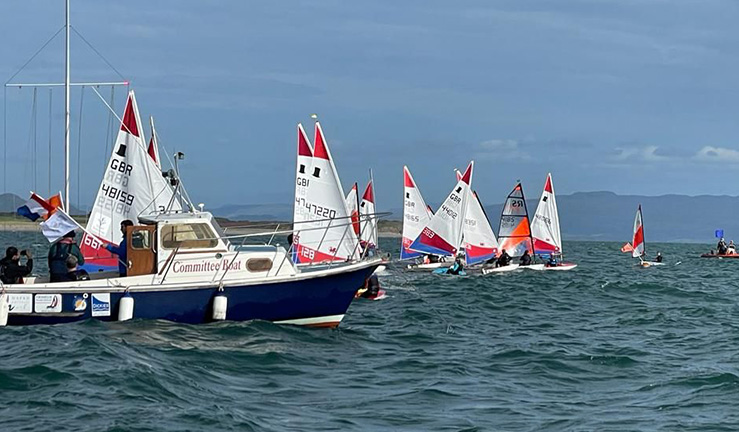 Fun with friends
Providing on-the-water tips for the competitors on Saturday was British Sailing Team sailor Daniel Whiteley, who remembers competing over many years at the event in an Oppie, 420 and ILCA.
Asked about his favourite memories of taking part – and summing it up for many of today's competitors too – he said: "It's more about racing with your friends and having fun and developing than actually the results and so those those are the things I remember."
Applications for the Welsh Youth and Juniors Squads closed after the event on Sunday (24 September) and sailors will be notified about selections by the end of the week.
Next up for youth and junior sailors is the ongoing North Dragon Series, which visits Shotwick SC on Saturday 14 October for a training day and then returns the following Saturday 21 October for racing.
Keep up to date with all the latest announcements about events and opportunities by following @RYACymruWales on Facebook.