Photo: Club Commodore Harriet Davies-Mullen with the Mayor of Gravesend and his daughter
Club Publicity Officer Liz James sends us this report:
This year the club was delighted to welcome Gravesend Mayor Peter Scollard with his daughter Georgia, the Mayoress Julie Easy as well as Counsellor Shane Mochrie-Cox with his wife Lauren and their children Joshua and Megan, and Counsellor Jordan Meade.
As always the sail past commenced with our Commodore Harriet Davies-Mullen sailing past the club whilst the club's cannon is fired to mark the event. This year however Harriet was joined in her dayboat, Ozone Friendly by Gravesend Mayor Peter Scollard and his daughter Georgia to celebrate this occasion. Following closely behind were Steve and Penny Davies in their dayboat Widgeon accompanied by Mayoress Julie Easy (photo below).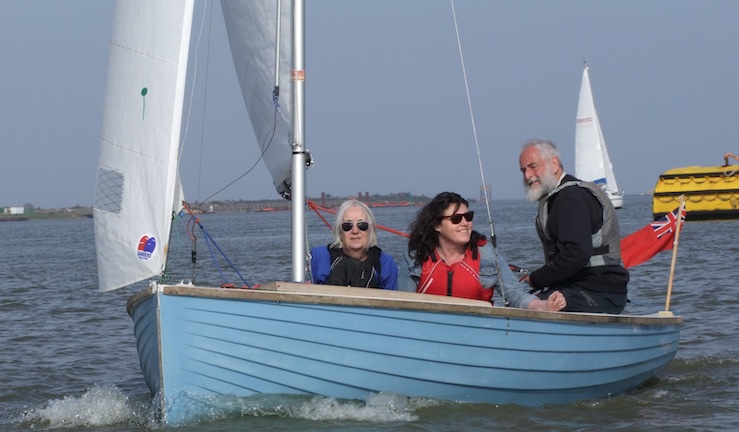 Counsellor Shane Mochrie-Cox and his son Joshua joined Richard Twyman on his cruiser, Four Bells. Joshua enjoyed the experience so much he was able to helm for some of the sail past. The rest of the club's cruisers sailed past the club, and the cannon was fired once more as our Rear Commodore was the final cruiser across the line.
Counsellor Jordan Meade watched the dinghies and cruisers from the club shoreline. Then it was all back to the clubhouse for canapes and socialising with our sailing club members.
Harriet our Commodore thanked our special guests for joining us on our special day and the Mayor also said a few words, noting how important community events are. It was a super day and fantastic to have so many distinguished persons join Gravesend Sailing Club to celebrate the new sailing season.
Find out more about Gravesend Sailing Club which is an RYA Recognised Training Centre
Photos credit Steve Davies