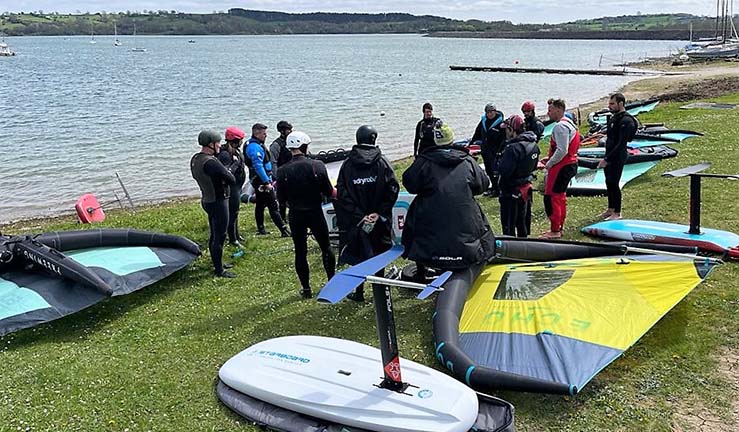 I've got aching arms after a couple of days visiting our regional RYA Winging Instructor courses! The wingsurfing and then wingfoiling two-day instructor courses ran over four days at Carsington Sailing Club with around a dozen participants on each – some did one course or the other, and a number of participants did both.
The really good news is that those taking part represented six or seven different clubs and centres in the Midlands, so we now have new or upskilled instructors who are able to make winging more available across the region – increasing our capacity to meet the growing interest and demand for winging.
These were the first winging instructor courses we've run since the winging training scheme was introduced and both were full, so we'll be looking to do more next year.
The last day was especially windy which was ideal for concluding the RYA Wingfoiling Instructor course, with lots of opportunity to fly around. A key element of the course is to practise teaching and since I was out on the water joining in, I was able to provide a real-life guinea pig and pick up some useful improver tips!
I really enjoyed it and the fact that those taking the courses will now make an impact at so many places in the region is a real win. It means that if you want to do winging, there are more centres now offering it. You can find out more at RYA Wing Courses and if you need help to find your local venue please get in touch with me.
For other upcoming instructor courses in the region over the coming months keep an eye on our RYA Midlands Instructor Courses and CPD booking hub.
OnBoard opportunities
We've just kickstarted an OnBoard training programme to enable instructors to keep developing their expertise. One of our regional OnBoard Tutors, Tricia Ordsmith recently delivered a session at Combs Sailing Club and we have capacity to do more.
If your club or centre is part of the RYA OnBoard programme for sailing or windsurfing and would like a free instructor skills day with one of our regional OnBoard Tutors, contact Sailing Development Officer Tom Davenport to find out more and discuss a date.
Also for OnBoard clubs, please have a look at entering the rookie fleets for windsurfers and sailors at the BYS Midlands Regional Junior Championships – read on to find out more!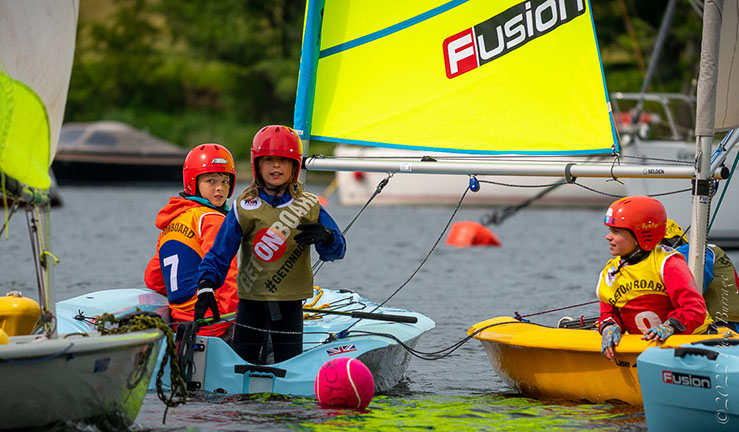 Festival of junior sailing
It was fantastic to see so many young sailors and windsurfers from our RYA Regional Training Groups putting their skills into practice and competing at the Eric Twiname Championships at Rutland Sailing Club over the first Bank Holiday weekend this month.
We are now looking forward to our British Youth Sailing Regional Junior Championships, which are open to all levels, from those starting out on their journey in the sport to experienced racers. Windsurfers are invited to Glossop SC on Saturday 10 June, and sailors are at Rutland SC the following weekend, 17-18 June.
The windsurfing event offers a mix of coaching, games and racing for all abilities. For sailors meanwhile there are three fleets: Championship and Coached Regatta, plus the Rookie powered by OnBoard fleet, with boats provided and instructor-led games with aims.
Even if you've never travelled before to an event, this makes it really easy to take part and the championships are an ideal opportunity to try sailing away from home at a different venue for the first time – these events are lots of fun, with a warm welcome, and lots of people on hand to help and make sure you are well looked after.
For all the details for windsurfers and sailors check out our at-a-glance guide to the BYS Midlands Regional Junior Championships. Come along as a club or share the details with parents at your venue, we're looking forward to seeing you!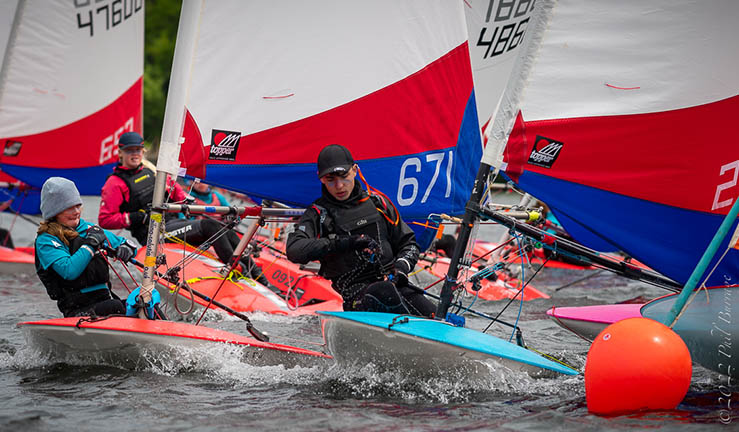 Centre inspections
If you're an RYA Training Centre, your principal should now have received notification of this year's inspections, along with the name and contact details of your allocated inspector.
Please do get in touch with them as soon as possible to get a date in the diary. It's also a good time to make sure all your equipment is in good order ahead of your inspection and of course to be prepared for the season ahead.
These inspections are also an opportunity for asking questions and learning, so have a think about how you can make the most of the visit by your inspector! If you have any problems or can't find the email notification, please contact me so I can help.
And finally…
After launching my 'Ben in a Boat' initiative in March, it's been great to hear from some of you and I'm looking forward to visiting Hollowell Sailing Club in Northamptonshire next month, with Syston Sailing Club in Leicestershire also lined up.
'Ben in a Boat' is an opportunity for you to take me out on the water for a practical session at your venue on a weekday afternoon or evening, with a focus on whatever topic you would find useful for your team - for example a refresher for your instructors or safety boat drivers.
Let me know if you'd like to organise a 'Ben in a Boat' visit for your club or centre!
Until next time, Ben.