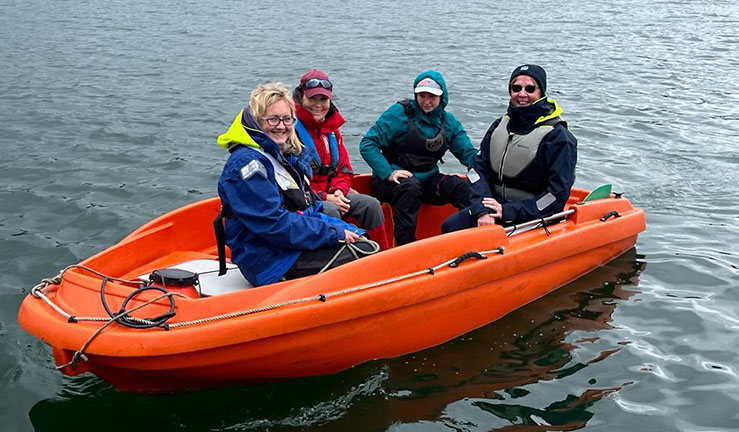 An innovative Midlands programme is enabling women to gain powerboat instructor qualifications to support activities at their clubs and centres.
The initiative has been providing sessions at Carsington to help women develop their confidence and knowledge in preparation for taking the RYA Powerboat Instructor course.
So far the RYA Midlands Aspiring Female Powerboat Instructor scheme has seen around half a dozen participants gaining the qualification with more now set to follow.
Programme coordinator Sallie Bowd has been supporting the students to build on their existing Powerboat Level 2 skills ahead of taking the instructor qualification.
Sallie (pictured above left leading a session) said: "The experience of a lot of those who signed up for the programme has been one of men taking the lead on powerboating so we wanted to offer something supportive for women away from their home venues.
"The sessions have given them a chance to be with likeminded people in an environment where they can be themselves, enjoy learning and practise their boat handling.
"The feedback has been really positive and the programme has given them the confidence to go back as powerboat drivers and instructors to support activities at their own clubs and centres. This in turn will also enable others to see women in visible roles and be inspired.
"I'm really proud of what they've achieved. They came to the programme quite tentative, thinking it was about grunt and power, but now realise they all have the ability to do it. It's been great to see that transition in each of them and it's been empowering for them all."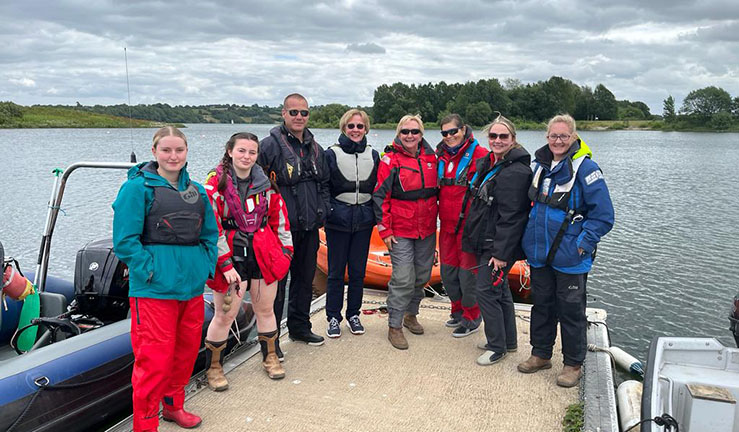 Supportive sessions
The programme has supported 14 women to develop their knowledge over 2023-4, with an opportunity to get on the water in powerboats over a number of weekends at Carsington Watersports prior to taking the RYA Powerboat Instructor qualification.
A number of the group have also been supported in undertaking the RYA Essential Navigation and Seamanship course, to help build extra theory knowledge especially of coastal boating topics.
Among those to qualify is Patricia Ordsmith from Rudyard Lake Sailing Club in Staffordshire, who said: "I'd always had a kind of mental block about becoming a powerboat instructor, as most of them are men, and I also wondered if I would be able to take apart and fix the engine.
"But I wanted to become an RYA Powerboat Instructor and the skills sessions provided by the Midlands programme were really useful and helped confirm what level of knowledge and skill is required.
"I'd have done the RYA Powerboat Instructor qualification anyway but it was a nice atmosphere on the all-female weekends and everyone was very supportive of each other."
The sessions included updates on the powerboat syllabus and how it is taught, then a Pre-Assessment Day ahead of the three-day Powerboat Instructor course.
Patricia said: "I also shadowed a Powerboat Level 2 course to get ideas and build my confidence and used every opportunity at the club to practise my powerboat skills."
Already an RYA Senior Instructor and trainer, becoming an RYA Powerboat Instructor will now enable Patricia to support more would-be RYA Dinghy Instructors to qualify as well as those who want to take their Powerboat Level 2 to help out with on-water activity.
As Patricia explains: "Quite often when I'm asked to run an RYA Dinghy Instructor course I find those who want to do it still need their Powerboat Level 2 certificate but it can be difficult finding someone to run a course, so I'll be able to do that now."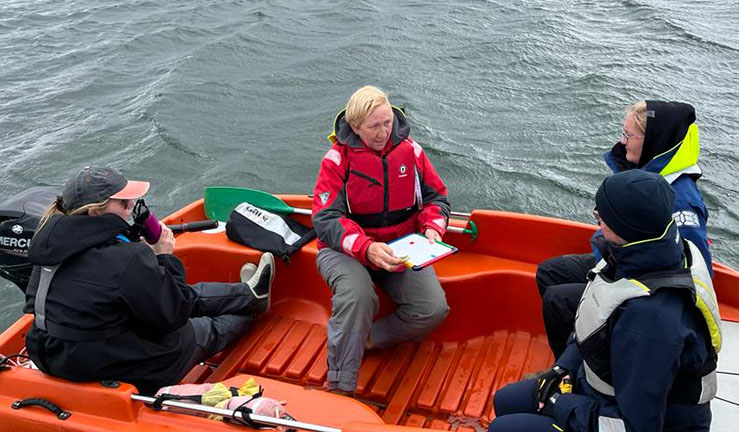 Boost for clubs
Also qualifying as an RYA Powerboat Instructor was Natalie Smith from Ogston Sailing Club.
Natalie became an RYA Senior Instructor after taking part in a previous RYA Midlands Aspiring Female Instructor programme, and leads the junior fleet at the club as well as helping to run courses for adults.
She said: "Having the RYA Powerboat Instructor qualification is really useful. I am now able to help club members get their Powerboat Level 2 so they can do more duties, and upskill our parents and volunteers. I've got quite a few parents who are at the club because their children want to sail and it will mean they can help out on the water."
Commenting on the Aspiring Female Powerboat Instructor scheme, Natalie added: "The upskilling days were beneficial and a real confidence boost, getting you back up to speed with your own powerboat skills in the run up to taking the instructor course.
"There was a range of ages and levels and a more comfortable atmosphere because it was an all-female programme. The networking via our WhatsApp group is also really supportive. I would definitely recommend the programme; it provides a learning curve towards helping you to take the instructor course and it's really motivational."
Join the programme
To find out more about the Aspiring Female Instructor programme and taking part, get in touch with the team.