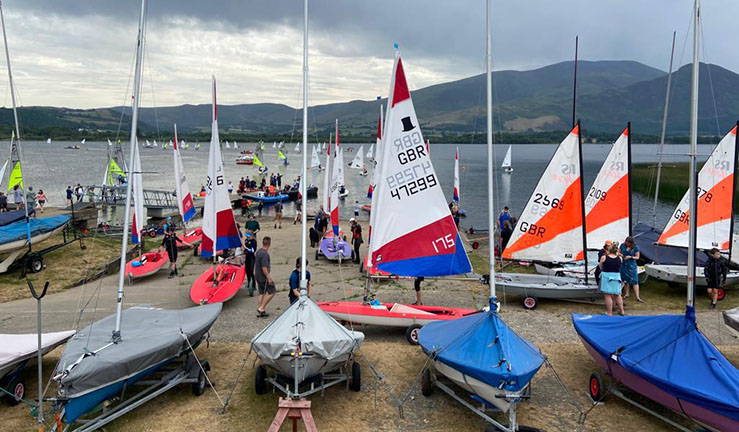 Clubs in Yorkshire and the North East have been recognised for growing participation in junior sailing after taking teams out and about on tour.
Sailors from Ripon and Otley sailing clubs attended the BYS Regional Junior Championships at Bassenthwaite in June where they won the RYA North East trophies for the most entries and biggest growth in entries respectively.
They then represented the region at the NSSA (National School Sailing Association) National Youth Regatta at Draycote Water in the Midlands in July, where they were also joined by sailors from Sunderland Yacht Club.
All were first inspired to travel with the North East and Yorkshire Youth Sailing series, whose Fiona Spence explains: "The region's youth sailors are having a fantastic summer attending numerous international and national events and family sailing weeks like Bass and Abersoch.
"The traveller series is a great way to sail regionally during the summer term then put the skills learned into real practice at bigger events in the summer holidays. We look forward to hearing all about their experiences in September at the next event at Scaling Dam."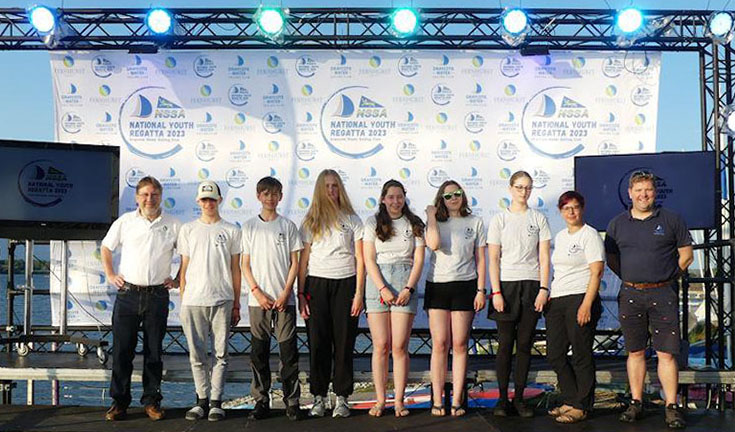 Team spirit
Ripon Sailing Club took 15 sailors to the BYS North Regional Junior Championships and with a spread of ages and abilities across the Rookie, Regatta and Championship fleets, had at least one sailor in every class.
Lucy Priest, Youth & Junior Sailing Secretary and mum of two young sailors, said: "We pushed it as a fantastic opportunity for the kids and while some were looking to get selected for RYA Regional Training Groups, for others it was a chance to experience a big event and get some great coaching. They all came back full of confidence!"
The club has a trailer plus a number of parents with double stackers, providing support for those who are new to travelling so that transport is never a barrier.
As an RYA Training Centre, it runs courses for juniors, for which participants have to join the club. Improver sessions on Saturdays then enable RYA Stage 1 & 2 sailors to progress, with Stage 3 available and a Start Racing group on Sunday mornings.
Lucy says juniors are also encouraged to do the two Sunday afternoon club races, which have a one-lap option for novices: "I sail around in a Cadet behind them – like a parkrun tail walker – so they don't need to be nervous about where to go or worry about being last because that will always be me!"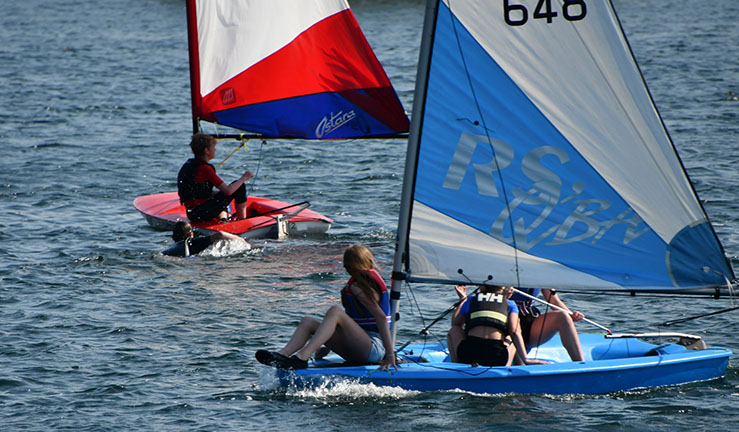 Pandemic recovery
There is also a family weekend and end-of-season junior day - plus the Mirror Trophy, which sees older teenagers mentoring junior crews, with the hope being that today's nine-year-olds will step up to likewise inspire young sailors in the same way as they grow up.
Like many clubs, Ripon is working hard to recover from a dip in junior sailing, having lost a cohort of those who might have joined the sport but didn't due to the impact of the Covid-19 pandemic. Those who did master independent sailing before the lockdowns, or who have started sailing since, have formed a vibrant 20-strong group at the club.
­­Lucy adds: "Watching their confidence grow and seeing them gain skills for sailing and for life is why people volunteer. Ripon has a reputation for being a great place for kids and for little children – the pre-sailors. A key part of it is that your friends are there, you can bring a friend, and children are very much part of the club. It's a snowball effect and because it involves friends and fun, they want to go sailing.
"We're really lucky to have it all from sailing between the jetties to competing at a national level, so if the kids can see it, they can be it. We've got a great bunch and our only challenge for next year is can we take even more of them to the Regional Junior Champs!"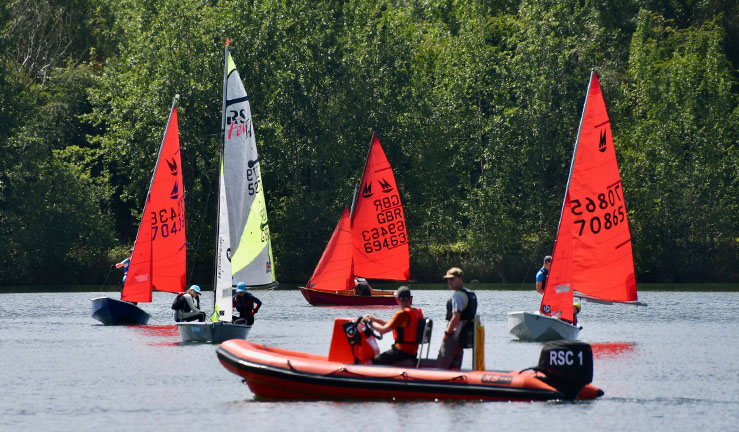 Inter-club cooperation
Family-friendly Otley Sailing Club took five junior sailors to the Regional Junior Championships – up from two the previous year – winning the RYA North East Trophy for Most Increased Participation.
The 2023 Club of the Year Award finalist is an RYA Recognised Training Centre. Juniors are able to learn how to sail with the club and then develop their skills with regular opportunities to get on the water, take part in racing or simply have some fun.
Teenagers are encouraged to become instructors to support activities and hosting the North East & Yorkshire Youth Sailing series in June enabled the club's young sailors to take part in a traveller event on their home water: the Regional Junior Championships and NSSA National Youth Regatta then followed.
Otley and Ripon SC also work together and with other local clubs like Yeadon and Ulley to help young sailors – and their parents who are often non-sailors – venture to different locations to develop skills and confidence on and off the water.
Tim Hall, RYA Regional Performance Manager for the Midlands & North, said: "I was delighted with the number of sailors we had at the North Regional Junior Championships – the biggest of all the events in England! We had a good spread across all fleets which is vital too, showing progression in ability and experience.
"It is so important that clubs are developing their young sailors and I really hope we can continue to build numbers to feed the pathway into a variety of future sailing options. For those interested in Regional Training Groups, please look out for further indicator events in September, or contact me for any advice."
Find out more
Discover how RYA OnBoard can help to boost junior sailing at your club or centre, or find out more about RYA Regional Training Groups for aspiring young sailors who would like to take the next steps in developing their racing skills.