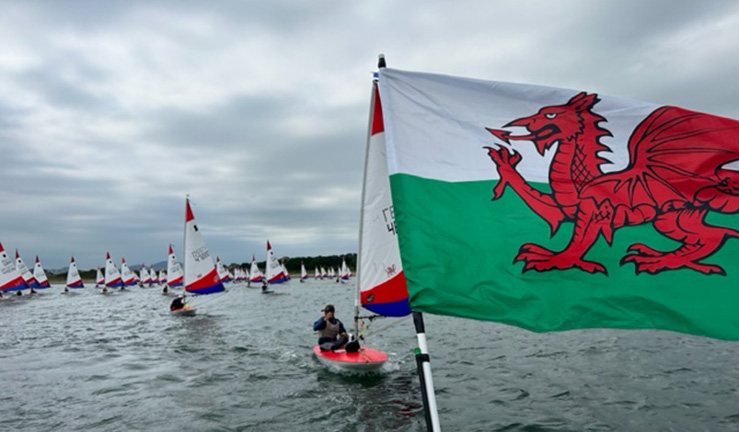 It's been an action-packed summer so far with our youth and junior sailors busy competing at home and away – putting all their training into practise and achieving some fantastic results!
On the home front, the Dragon Series has continued to provide open training and racing for all levels, including at Dale YC for the West Wales Dragon Series where 13 sailors enjoyed a day of coaching with Celtic Sea Watersports and 17 then took on some testing conditions as part of the club's summer regatta. The South Wales Dragon Series at Cardiff Bay YC was postponed to the 26th August due to wind conditions, with the North Wales series visiting Llyn Brenig SC this Saturday (19 August).
Dragon series events offer a welcoming and supportive environment for newcomers, while also providing great competition for our experienced racing sailors. Upcoming dates include Tenby YC for the West on 9-10 September; Mumbles YC in the South on 9 September; and Shotwick Lake SC for the North Wales Dragon Series on 14 & 21 October.
Chase away the return-to-school blues and join in! Find out more at our RYA Cymru Wales events hub.

OnBoard Festivals
For those starting out on their racing journey, our OnBoard Festivals make a return this September with two events for new and aspiring young sailors and windsurfers and their parents.
With coaching and racing in sheltered waters, and experienced gold fleet sailors invited to help those who are less experienced, these are always brilliant occasions for catching up with both familiar and new faces and sharing the enthusiasm of our next up and coming generation of sailors.
Check out the details for your region, sign up now open!

Youth & Junior Champs
Also coming soon is our annual RYA Cymru Wales Youth and Junior Championships, taking place this year over the weekend of 23-24 September at Plas Heli, Pwllheli.
As ever there will be something for everyone from rookies to experienced racers with Regatta and Championship fleets and I'm really looking forward to seeing everyone there.
Look out for entries opening and in the meantime please do save the date and remember to share it with youth and junior sailors and parents at your club or centre.
Winning ways
A HUGE congratulations to Dylan Creighton from Cardiff Bay YC who down at Weymouth & Portland National Sailing Academy won the Senior fleet at the 2023 Optimist National Championships! The last Welsh sailor to do this was Kai Wolgram and this is an amazing achievement and end to Dylan's Optimist career.
There were also some stand out performances from Welsh sailors at the Topper nationals at Plas Heli, Pwllheli, including 5th overall for Jasper Focardi Dolling from Dovey YC/Clwb Hwylio Dyfi, and third female overall for Bronwen Thomas from Pembrokeshire Performance Sailing Academy (PPSA).
Ben Greenhalgh meanwhile from Port Dinorwic SC/Clwb Hwylio y Felinheli managed a double in Italy, winning the RS Tera Pro World Championship not long after winning the RS Feva Worlds. Followed by a home victory at the RS Tera Pro National Championships on the Isle of Wight. What a summer!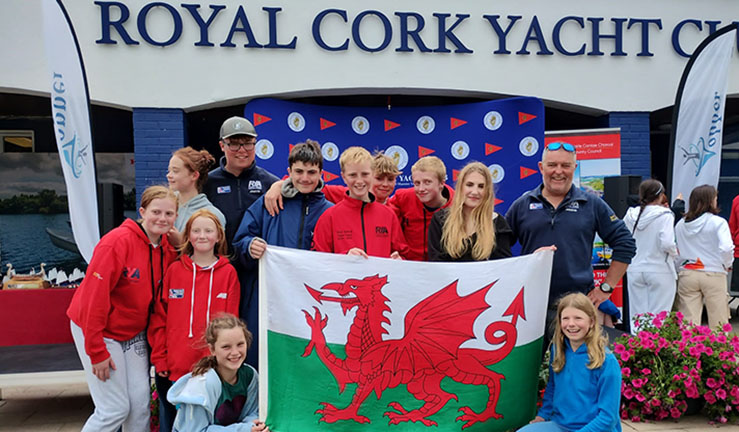 Some of the Welsh Toppers made their way over to Ireland to the 2023 Topper World Championships and had a great week testing their skills against some international sailors.
Our sailors have given it their all across the big class championships this July and August, and we are super proud of not only the results but also how many are flying the Welsh flag and competing so confidently at every level.
A very BIG Thank You to the coaches who have put in a lot of hard work over the winter training and summer events. These Welsh sailors wouldn't have these opportunities without your guidance and support.
Whether you've won a trophy, pulled off your best-ever start or mark rounding, or simply had fun developing your skills and making new friends, well done everyone and a big thank you to the parents who've been on the road all summer too!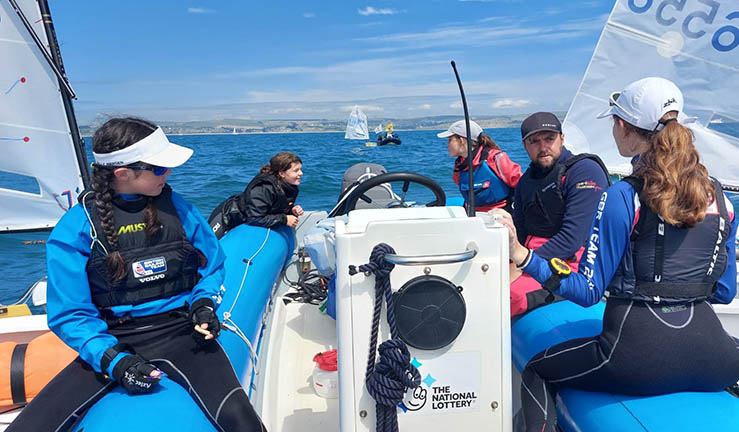 And finally…
It's been great to see our former youth sailors in action at The Hague in the Netherlands for the Olympic classes Allianz Sailing World Championships 2023: Micky Beckett (Solva SC) and Daniel Whiteley (Port Dinorwic SC/Clwb Hwylio y Felinheli) in the ILCA7s and Chris Grube (Bala SC) in the 470.
Kai Wolgram finished 10th European at the ILCA U21 European Championships in Norway.
A massive thank you to Micky Beckett who kindly took time out of his busy schedule to send a good luck video message to our Topper sailors ahead of their nationals!
Keep up with all the latest news by following RYA Cymru Wales on Facebook and Instagram and for upcoming events, bookmark our RYA Cymru Wales hub.
Wishing you all happy sailing for the rest of summer,
Sarah McGovern.