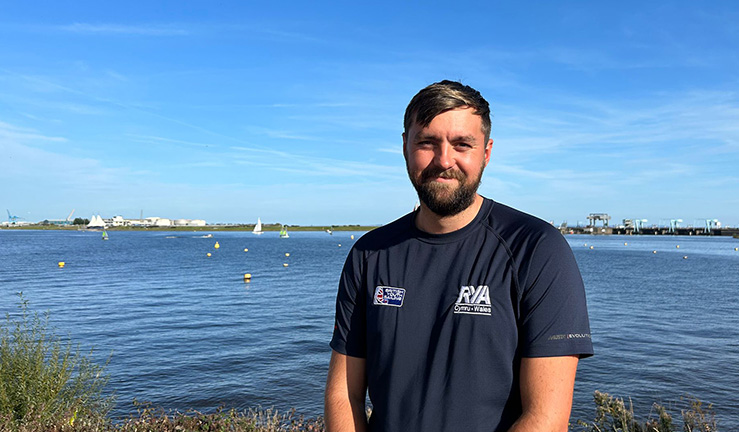 RYA Cymru Wales has appointed an events officer to support the planning and delivery of high-quality activities for the region's boating community.
The new part-time role will see Sam Thomas working across all RYA Cymru Wales events, including youth and junior performance squads and the Dragon Series, OnBoard festivals, Ffin a Ffoil and The Big Weekend for clubs, training centres and instructors.
Many will know Sam already from his own sailing, instructing and race coaching. Growing up in Swansea, he first began sailing at Mumbles and went on to compete in the Dragon Series.
Training at Cardiff Bay Yacht Club, Sam raced Optimists until he was 15, including with the Welsh and IOCA National Intermediate Squads, then moved into Laser/now ILCA squads.
Although Sam studied electronics, computing and ICT at college, his career has always been on the water. With RYA Instructor and Race Coach qualifications, Sam started volunteering at Cardiff Bay YC and then became a paid instructor.
He also spent a year working Down Under at the Royal Prince Alfred Yacht Club in Pittwater, just north of Sydney – one of Australia's oldest and most prestigious clubs and home of America's cup legend Jimmy Spithill.
On returning to Wales, Sam became an RYA Senior Instructor at Cardiff Bay YC and two years ago took on a full-time role at the club as Lead Instructor and Outreach Officer, which included looking after a club fleet of training boats and working with local schools.
His coaching meanwhile has seen him supporting Dragon Series events, Welsh squads, and GBR Optimist teams competing internationally in Europe.
Growing participation
As the Events Officer for RYA Cymru Wales, Sam's remit will include project planning and budget management; branding, bookings, digital and on-the-day support; and liaising with venues, sponsors and event staff and volunteers.
Now based back in his home town Swansea, where he also enjoys surfing, Sam said: "I'm looking forward to attending events and helping to get as many people on the water and enjoying the sport as possible.
"There's so much going on and we want to support those opportunities, raise awareness and encourage people to take that next step and take part.
"As someone who used to take part in the Dragon Series growing up, as a coach now I see children I taught to sail when I was 16 who are now back as instructors themselves – it's really rewarding to continue that cycle and especially in Wales.
"I know lots of people in south Wales and around Cardiff and I'm keen to meet as many as possible in my role as RYA Cymru Wales Events Officer, including in the west and north. I'm really looking forward to working with everyone."
Sam will be at Plas Menai this Saturday and Sunday, 14-15 October, for The Big Weekend for instructors, clubs and training centres. Contact Sam or find out more about The Big Weekend and book your place by midnight tomorrow/Tuesday 10 October.