Voting is now open for our RYA North East region finalist for the RYA and Sailing Today with Yachts & Yachting Club of the Year Award supported by Gallagher.
The awards recognise the outstanding achievement of sailing clubs across the UK and Otley Sailing Club in West Yorkshire is among the 12 shortlisted by the RYA Awards Panel for 2023.
This year the panel has also awarded Pennine Sailing Club a Certificate of Commendation in recognition of its environmental work. The prestigious awards will be presented, and the overall winner announced, during the RYA Dinghy & Watersports Show at Farnborough International Exhibition Centre on Saturday, 25 February 2023.
Read about all the finalists and cast your vote!
On the water
Family-friendly Otley Sailing Club offers a whole variety of ways for local people of all ages to enjoy getting on the water, including training courses, social events, dinghy racing, junior sessions and windsurfing, plus kayaking, canoeing and paddleboarding.
The club has more than 350 members after diversifying its offer and is also a leading provider of sailing for disabled people through its Sailfree (RYA Sailability) programme, running an incredible 1,250 sessions a year for local schools, charities and community groups.
Gill Walton, Commodore of Otley Sailing Club, said: "We're an approachable, relaxed and friendly club and we're in a stunning location with a lovely clubhouse overlooking the lake, just a couple of miles from the centre of a busy market town, so it's a real oasis.
"We managed to recover very successfully after the lockdowns and restrictions of the Covid pandemic and we do a tremendous amount of work to encourage people onto the water with a focus on providing inclusive activities for all.
"It's absolutely amazing to have been shortlisted for the Club of the Year award and fantastic to have that recognition for all of the dedicated volunteers who give their time to support our activities. We are hoping that being a finalist will inspire people to find out more and vote for us!"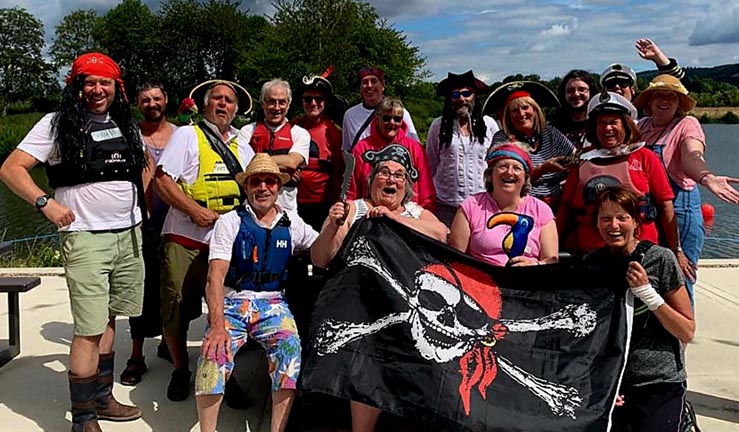 Heart of the community
The facilities at Otley Sailing Club are in almost constant use because the club aims to promote a range of activities to ensure all sections of the community are welcome.
The club's Sailfree activities are supported by its volunteers and led by paid RYA Senior Instructors, with up to seven local schools and organisations bringing along children and young people to take part, including: John Jamieson SILC (Specialist Independent Learning Centre), Hollybank Trust- Residential Unit, Green Meadows School, HFT Bradford and High Park School.
The club is also used by Leeds/Bradford Triathlon Club, Open Water Swimming, Life Guards, British Triathlon Federation, Leeds Triathlon Centre and Triathlon Performance & Development. Double Olympic medal winners Alistair and Jonny Brownlee have trained at the club since they were juniors and started using it more during lockdowns.
The club has also been used as a filming location on more than one occasion, raising its profile and bringing in additional income; this year saw a visit from comedian Rosie Jones and actor Tom Rosenthal who sailed access dinghy for TV show Trip Hazard.
Club membership increased over the pandemic with people feeling safe outdoors and looking for new activities when other facilities were closed. Interest in membership has also been generated by running RYA training courses, and attending the Otley Show each May to offer taster sessions.
The club has previously earned the Queen's Award for Volunteering and was commended for its commitment to being "Inclusive and Open to All" in the 2019 RYA Club of the Year Awards.
As Gill explains: "It's about making best use of the water. Our primary role is as a sailing club but we're trying to make the water more available to people by diversifying our activities.
"We are also focused on providing a high quality sailing experience for young people with complex disabilities and other interested groups. In addition we run occasional one-off events for other charities and organisations, particularly those for disadvantaged, disabled and other youth groups."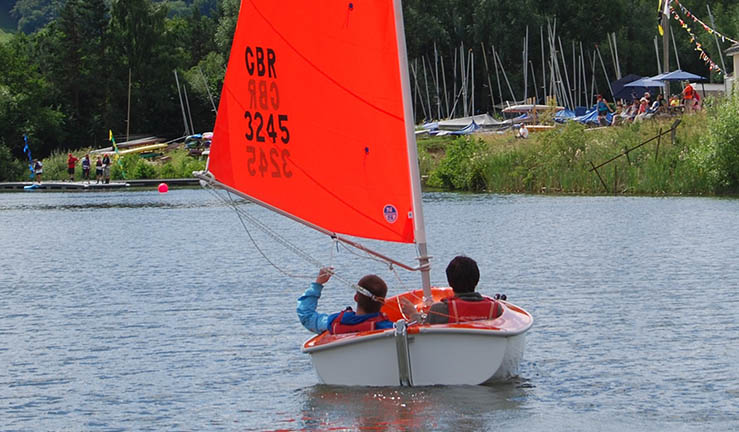 Success factors
Otley Sailing Club is a registered charity and a limited company, led by an enthusiastic and forward thinking Board of Directors and Committee and supported by a loyal and hardworking group of volunteers. It has just renewed a 50-year lease with its landlords Western Estate, with whom the club is in regular contact. Success factors also include:
Funding & facilities: Otley SC is very active in attracting funding with over £300,000 of development in recent years via club/volunteer contributions, sponsorship and grant aid, including from Sport England. This has bought additional Access dinghies and allowed the modern clubhouse to be further improved following Covid and flood damage, including a wetroom with hoist and a new level patio ideal for training and wheelchair users.
Vibrant calendar: The club has a comprehensive sailing and racing programme plus family days and a regatta day, OnBoard and youth training, a junior sailing week, improver sailing sessions, taster sessions, social events and trips to other venues such as Bridlington on the Yorkshire coast and the Lake District.
Diverse activities: Kayaking, paddleboarding, windsurfing and open water swimming groups are encouraged. The club has around 50 kayak/SUP members, recognising the positive effects on mental health and well being, and a crossover between families who join for these activities and then try sailing as well. New kayak racks have been installed to support this growing group.
Volunteering: A constant promotion for volunteers is always in place. Post-Covid the club was able to re start its Sailfree programme, with existing volunteers returning to help and the successful recruitment of new ones ensuring sessions could run safely and reliably.
Training courses: There is a strong demand for courses from the community and club volunteers offer a full range of training for children and adults, from beginners to advanced, plus First Aid, powerboat and safety boat, and a safety crew course developed by OSC.
Sustainability: A focus on instructor training and encouraging young sailors to become Assistant Instructors and potentially Dinghy Instructors, ensures the club continues to have sufficient expertise to support its activities.
Vote for our finalist
The annual RYA and Sailing Today with Yachts & Yachting awards recognise the achievements of venues and their volunteers and the dedication that goes into running a successful club. Otley SC is competing for the title against a whole range of premier clubs, including finalists from Northern Ireland, The Lake District, London and the south coast.
RYA North East Regional Development Officer Sam Usher said: "It is great news that Otley SC is a finalist and testament to the hard work and effort put in by all of the volunteers at the club. I'd urge everyone to now show their support by voting - it would be brilliant to bring the trophy home to put the spotlight on our fantastic network of clubs in the region."
Find out more about Otley SC and vote by midnight on Monday 23 January 2023 at the Club of the Year awards hub.