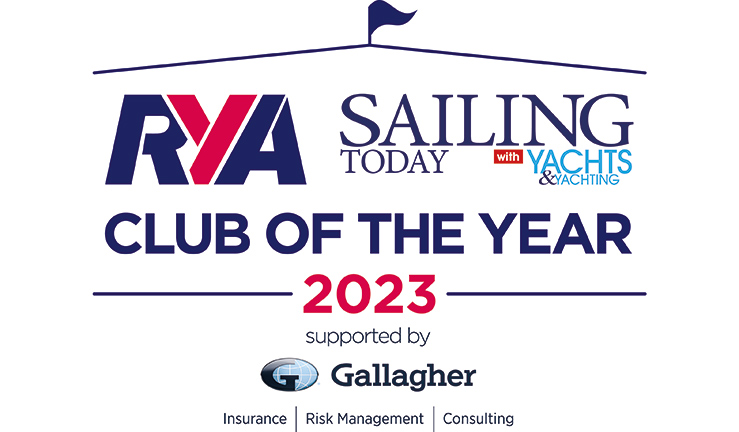 Here we are once again with the latest instalment from Wales!
Club of the Year Award – voting closes on January 23rd!
Voting for the 2023 Club of the Year Awards will be closing very soon, with Gresford Sailing Club vying to be named the RYA Club of the Year!
The RYA and Sailing Today with Yachts & Yachting Club of the Year Award, supported by Gallagher, recognises the outstanding achievement of sailing clubs across the UK and promotes the hard work and dedication that goes into running a successful club.
Public voting is OPEN, so please vote for Gresford now!
"Probably the smallest sailing club in the world" needs your support so they can emulate Port Dinorwic Sailing Club/ Clwb Hwylio y Felinheli's achievement a few years ago!
Gresford Sailing Club was established by Arthur Jones and Reg Gibbs in 1959 with an ethos that "Cost Must Not Be a Barrier to Participation".
A small, friendly, open and inclusive club, they sail on the 6-acre Flash by the Old Wrexham Road near Wrexham. As far as they're aware, this is the smallest lake used for a dinghy sailing club anywhere in the world – hence the unofficial title!
Very much at the "Grass roots" of the sport Gresford Sailing Club is not elite and it is certainly not at the forefront of technical innovation, they have:
Adult Dinghy sailing
Junior and Adult Training sessions
Stand-up Paddle Boarding
Model Boating.
They are an RYA Recognised Training Centre with RYA Sailability Foundation status and hold a Sport Wales In-sport Ribbon for inclusive sports activity. Low water in 2018 and 2019 followed by covid almost led to the collapse of the club in 2020. But a small group was determined for the club to survive and grow again.
If you'd like to find out more, visit their website.
RYA YTC – What is it and how to use it
The RYA YTC powered by the RORC Rating Office national rating system was launched last year, providing cruising yachts and cruiser-racers with a simple, entry-level rating system. The initiative aims to promote participation by encouraging skippers of any skill level to race their boats in club events and local regattas.
To help clubs understand the new system, the RYA is running a free webinar on Wednesday 18 January 2023 for sailing secretaries, race officers and others involved in running club racing.
The session will explain how RYA YTC works, how owners can get a rating for their boat and what wording needs to be included in the Notice of Race and Sailing Instructions. There will also be an opportunity to question the experts.
Find out more information and register

A year in the life of Merthyr Tydfil Sailing Club!
We're always on the look out for great digital content from our clubs, and we came across this great video recently.
2022 was a transformational year for Merthyr Tydfil Sailing Club, so they've put together a video highlighting the fun, enjoyment, sailing and hard work that made 2022 one to remember for the club.
Trailer for hire!
We have recently been successful in obtaining a Sport Wales grant to purchase eight triple stacking dinghy road trailers. These are available for Welsh sailors and clubs to use FREE OF CHARGE, and RYA Cymru Wales will insure and maintain the trailers.
We will have 3 trailers available in north Wales, 3 in south Wales, and 2 in west Wales, and they're suitable for RS Tera, Optimist, Topper, ILCA and RS Feva's, or any other dinghy of similar size.
If any club or sailors would like to use the trailer, please contact the Performance Manager Sarah at sarah.mcgovern@ryacymruwales.org.uk to book them out (the trailers will not be insured unless a loan agreement has been signed by the user and RYACW Wales)
We are hoping they will be available from the beginning of February, and massive thanks to Sport Wales for supporting this.
Welsh Clubs Connect
Don't forget that we'll be hosting a number of Regional Training Days over the coming months called Welsh Clubs Connect!
The next session is for north Wales based clubs mainly and will be held on January 19th at Llandudno Sailing Club. It's titled: How to secure the funding you need for your club?
In this session you will develop an understanding of the funding opportunities, how to apply and what support is available from the RYA Cymru Wales and other organisations. The session will be delivered in partnership with Sported Cymru Wales.
Instructor and Race Coach Demand Survey
During the summer many clubs told us they were experiencing a shortage of instructors and race coaches. To better understand the demand for instructor and race coach courses we've created a short survey for your club contact to complete.
Dates for your Diary
Ffin a Ffoil IS BACK in 2023, so save the dates now! The first event will be at Llanfairfechan Sailing Club on the 21st and 22nd of May, with the second event in Dale on the weekend of September 30th and October 1st – the events in 2022 were amazing so we look forward seeing you all again this year
The Welsh Regional Championships will also be held in Dale, Pembrokeshire on the 17th and 18th June next year – more details to follow!
That's it from us this month – see you next month!
The RYA Cymru Wales Development Team.