The Great Britain SailGP Grand Prix hit Plymouth on the weekend of 30-31 July and thousands of people, at the waterfront, on the water or via TVs in their sailing clubs, watched teams from around the world racing identical hydrofoiling F50 catamarans at speeds exceeding 60mph.
But 20 under-16 Plymouth sailors had an even more exciting time. Two youngsters from each of ten local RYA-affiliated clubs, paired with the SailGP teams, took part in RSFeva training the weekend before, and then participated in a sail-by, flying the national flags of their teams on their spinnakers between the SailGP races. They also got a tour of the SailGP technical area and a VIP experience with goody bags and a chance to meet the winning SailGP team – thanks to SailGPs Inspire Learning pathway.
The RSFeva training weekend provided very challenging conditions for the youngsters, and there were many, many capsizes, but they all enjoyed it and just kept going despite everything the weather threw at them!
A great boost
Harrison Hicks sails at Horizons Children's Charity. He has autism, and found the Feva training a great boost: "The best thing about it was being self-sufficient, repairing things that went wrong ourselves. Our spinnaker sheet came undone, and I had to go out to the front of the boat and fix it. It took a lot of courage, it was slippy, and I almost fell in, but I managed to tie it – I found I had more confidence after that.
"I also liked meeting new friends from the other clubs."
Daniel Moulding is from Plymouth Youth Sailing, and he didn't mind the conditions at all: "We learnt about the kicker to slow down and speed up, and I enjoyed capsizing over 20 times, and I also learnt about the spinnaker, and getting it ready for the run downwind. I just had fun going out sailing and am looking forward to the tech tour and meeting the SailGP teams."
Errin Doody from Plym Yacht Club enjoyed using the spinnaker: "It was fun trying to keep the boat upright and swimming back to the boat! I got a lot better at my spinnaker drop, and we got more into a rhythm. I'm looking forward to the race experience, and hopefully to doing well too."
In fact, Errin did do well. She and her sailing partner William Boalch came second in the RSFeva race at the SailGP on Sunday – and they were paired with New Zealand, the champions of the event!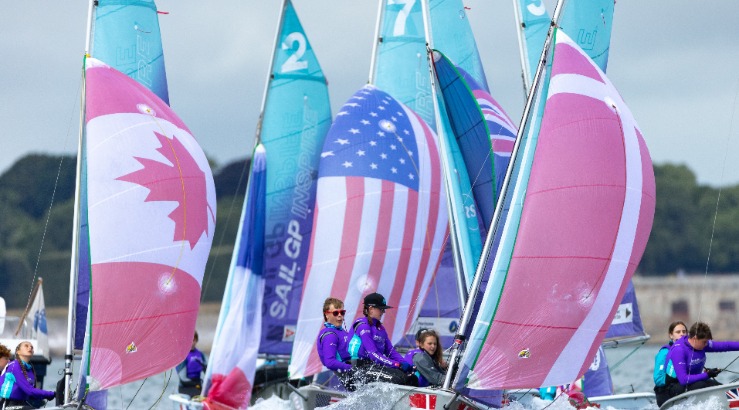 Front-row seats
Saturday 30 July saw some great sailing from the Feva fleet. They spent an hour-and-a-half racing just south of Drake Island when the SailGP competitors were practising, and then they did their sail-by, in a long line with all the kites up, providing a spectacular sight from Plymouth Hoe.
They repeated that on Sunday, and also got front-row seats for the friendly race between the GBR and NZL F50 teams featuring the Duchess of Cambridge. Their excitement increased even more when they had a tour of the technical village, meeting lots of the teams and getting signed caps. Their official prizegiving took place on the Hoe in front of about 1000 very appreciative people in the stands.
And if that wasn't enough, Harrison Hicks and his partner Katie Dilloway from Horizons Children's Charity were delighted to present the SailGP prize to the winning New Zealand team.
SailGP Inspire
Further inspiration for the Feva sailors came from a team of under-21s who had been given a special opportunity through the SailGP Inspire Racing pathway. They had been training in, and then racing, WASZP foiling boats on the official racecourse. Five of them were from the south-west:
Bettine Harris, Bristol Corinthian Yacht Club
Drew Barnes, Christchurch Sailing Club
Toby Bloomfield, Paignton Sailing Club
Duncan Gregor, Castle Cove Sailing Club
Eve Kennedy, Parkstone Yacht Club
Duncan West, RYA Regional Performance Manager South and South West said: "It was so good working with the youngsters over the two weekends to involve them in the SailGP Inspire programme. Thanks to all the clubs that provided boats, and to SeaRegs, Hooe Point Sailing Club and the RYA for the use of their RIBs."
Many of the Feva sailors' mums commented on how much the youngsters have been inspired by the weekend to improve and build on their sailing skills – and how much they wanted to try WASZPs too!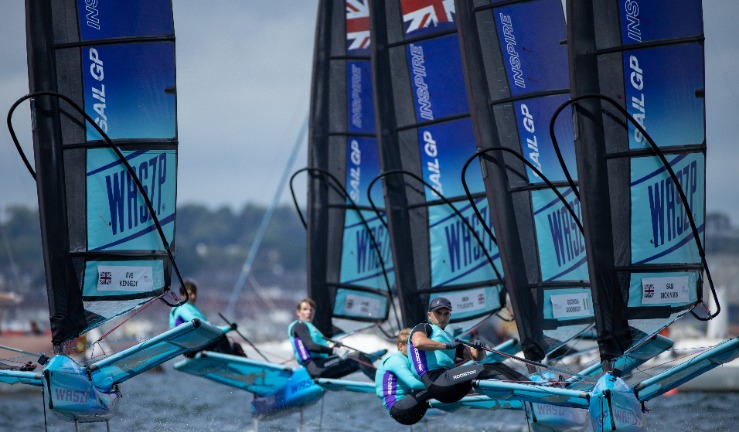 Results of RS Feva racing
1 Nicola Richards and Louis Hiscocks from Mount Batten Centre (paired with Spain)
2 Errin Doody and William Boalch from Plym Yacht Club (paired with New Zealand)
3 Maddie Jinks and Dan Moulding from Plymouth Youth Sailing (teamed with GB)
A final word from one of the many parents who watch with bated breath and excitement as their children raced on the SailGP course: "Close racing. Well done to all who competed. I'm sure they've been fully inspired! I know their parents have been. Thank you to everyone involved in giving the children this fabulous opportunity. It's been amazing and we are very grateful. They'll be a few tired sailors tonight."
Inspired by SailGP and want to learn to foil? It couldn't be easier. Check out our top tips for taking your first flights or take a foiling course at an RYA training centre near you.