The latest in race management technology is to be showcased at the 2023 RYA Youth Nationals as instrumentation provider Vakaros is welcomed on board as Official Event Partner.
In what will be the first use of the company's RaceSense system in Europe, race officials will be using its state-of-the-art technology on the startline for selected fleets throughout the regatta (10-14 April 2023).
Vakaros Atlas 2 units on board the competitors' boats will link with the RaceSense software on the committee and pin end boats to track racers, count down to the starting gun and provide instant notification to both race management and racers via their Atlas 2 units when they've been found to have false-started (OCS).
The high-octane Nacra 15 fleet will predominantly use the system during the regatta, which will also be deployed for selected classes in their 10-boat medal races on Friday 14 April, allowing the tracking to be shared online as the races develop and final podium spots are decided.
RaceSense has already been used successfully at numerous regattas in the United States, including the Key West Cup, M32 Winter Series and the Bacardi Cup, with Atlas 2 units used regularly as training aids by a number of Olympic classes sailors.
Cutting Edge
"Our pinnacle youth event is the perfect platform for the European debut of Vakaros' innovative solution," said RYA Racing Services Manager & Youth Nationals Event Director Niall McLeod.
"We're excited to test the new system and be at the cutting-edge of technical developments in the sport which will ultimately help the RYA to provide better support and advice to clubs, racing events and racers at all levels."
Doug Wake, Vakaros Marketing Director, added: "The RYA is producing many of the top youth sailors in the world: we're just excited to help provide a higher level of race management at all levels of the sports, especially youth sailing."
In addition to the RaceSense software, race management elsewhere at the event will be trialling robotic marks and GPS course-setting technology to help set races up more accurately, efficiently and sustainably.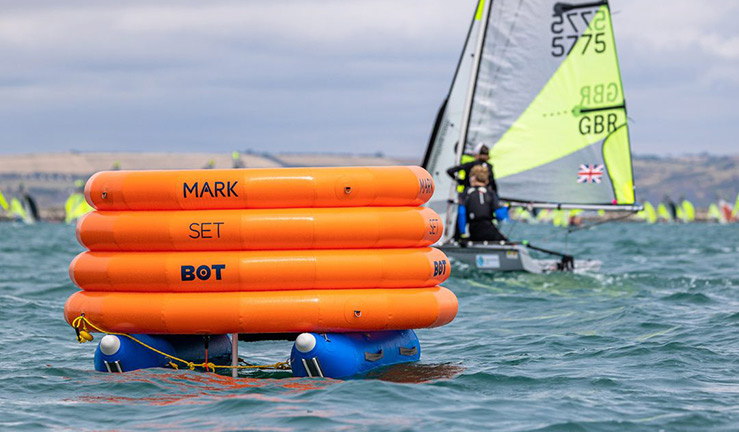 Used worldwide at SailGP, TP52 and RC44 events, the self-propelled buoys from MarkSetBot will be used on the 29er course area and utilise GPS to zero in on a specific location, holding their position until instructed to move.
Race management teams can reposition them via a simple mobile interface, leading to a more environmentally-friendly solution with less need for volunteers, mark-laying boats or potentially damaging anchors on the sea bed.
RYA Affiliated Clubs wishing to observe the race management technology in action at the Youth Nationals to understand how it might benefit their events are welcome to get in touch via racing.events@rya.org.uk
Follow all the action via the event website.