Boat insurance might not be the most exciting aspect of boat ownership, but it's certainly an important factor. Whether your passion lies in sailing classic yachts or skippering ocean-going motorboats, you'll want the peace of mind insurance can help bring.
Why do I need boat insurance?
Whilst it's not a legal requirement to have boat insurance in the UK, anything you invest time and money in is worth protecting.
If you want to keep your boat at a marina, harbour, regulated lake or even to travel abroad you will need insurance. You'll also need insurance if you want to use it on the inland waterways1 - turning insurance from a 'nice-to-have' to a necessity.
Boat insurance also provides protection should your beloved vessel suffer damage, be targeted by thieves, or involved in a public liability claim. You will have a team of experts on hand to help you process and resolve any issues so you can get back out on the water as quickly as possible.
What are the most frequent boat insurance claims?
At Bishop Skinner Marine, we have been working closely with the Royal Yachting Association (RYA) since 1987, developing a range of services to meet members' needs. As part of that development, we look closely at the claims we receive to identify any trends, and see where we can help educate sailors on protecting their vessels.
The most frequent claims we see, across all vessel types are:
Collisions
Storm damage
Striking an underwater object
Grounding
Read on for more detail.
1. Collisions
We know accidents can happen. Collisions with a third party, or other hazards such as harbour walls, piers, buoys or underwater debris can be due to a number of reasons. Whether it's during the heat of racing, or simply from a misjudged turning or a mistimed manoeuvre, a result of the boat moving too fast, or just a lapse in concentration.
These mistakes can often be made worse during the summer months when boat traffic and marina occupation is higher. Weather conditions can also be a contributing factor to collisions with third parties, from a freak gust of wind to stormy conditions.
How to help prevent:
Stay alert and be mindful of other boats at all times.
Ensure you have a thorough understanding of your vessel and marine navigation rules, including the International Regulations for Preventing Collisions at Sea (COLREGs).
Pay attention to any speed limits and sail at a safe speed that allows you time to react to other vessels or objects.
Ensure your engine and all equipment onboard is properly maintained to avoid engine failure during crucial manoeuvres.
If racing, have a thorough understanding of the Racing Rules of Sailing (RRS) and manoeuvres you can make.
Be extremely vigilant when sailing near or in shipping lanes.
Remain visible at all times, especially if sailing at dawn or dusk.
2. Storm damage
Storm damage isn't just caused by hurricanes and typhoons, the storms we experience here in the UK can still do considerable damage to boats, especially if your boat is left out in the open.
Last year, storm Arwen caused havoc across marinas and coastal communities, with varying degrees of damage reported by boat owners.2 Strong winds can also be troublesome, from blowing boats about to flipping over dinghies, that's why it's important to check wind speed, direction, surf height, tidal range and tide before setting sail.
How to help prevent:
If your boat is stored ashore in a cradle, make sure it is fit for purpose.
If your boat is in a vulnerable location, move it to a safer mooring or marina if given enough notice.
Remove sails, dodgers and canopies – anything the wind can get a hold of.
Roller furling foresails are particularly at risk of being damaged during storm conditions. Where possible you should remove these during winter months.
Use strong, thick, mooring lines and tie your vessel to as many points as possible, ensuring mooring lines and cleats are in good order.
Use additional fenders to protect your boat from bumps and knocks from other boats or the pontoon you are moored against.
Close and lock all hatches, portholes and windows, shutting all seacocks except the cockpit drain seacocks.
Find out more about protecting your boat from storm damage.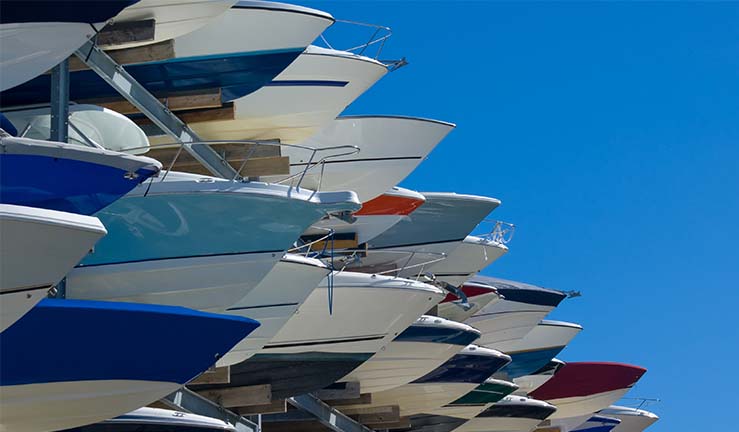 3. Striking an underwater object
One of the pitfalls of owning a boat, is that you can't always see the potential threats lurking beneath the water. This could be anything from rocks to submerged objects.
Inexperience, unfamiliar waters, failure to plan your passage or navigate safely, murky water or floating debris can all be causes for striking an underwater object. All of which can cause varying levels of damage to your boat.
How to help prevent:
Stay alert and keep a look out for buoys and stray objects.
Install a chart plotter or GPS unit and plan all passages, regardless of whether you are in familiar waters or not.
Be aware of your vessels position at all times.
Try to avoid a voyage immediately after a storm, as it can create wreckage floating above and below the water.
Sail at a safe speed that allows you time to react to unforeseen objects.
Speak to local sailors who can advise of any potential hazards when sailing in areas with which you are unfamiliar.
4. Grounding
Grounding is one of the most costly claims and can cause serious structural damage to your boat.
However it's not always the result of a reckless captain, it can also happen to the most experienced of sailors, due to poor visibility, current or tidal changes. Not securing your boat when left unattended, or overnight, can also result in grounding.
How to help prevent:
Whenever you leave your boat unattended, ensure it is adequately secured, to avoid the anchor dragging.
If you're sailing in unfamiliar waters, pay even closer attention than normal to your surroundings and watch out for tell-tale signs such as changes in the water movement or the colour of the water.
Always keep a lookout – watching for buoys and markers that indicate shallow waters or sandbars.
Use a depth sounder, which can be set to alert you of shallow water.
Protecting your investment
If you're new to the world of boating, and are keen to learn more and develop your skills, the RYA has a vast range of training courses and resources to help you get the most from your time on the water.
Find a club or training centre nearby and enjoy a taster session or sign up for a course. From navigation and seamanship, to powerboat handling or skippering a yacht - you'll build skills, confidence and enjoyment on the water.
Whilst we hope you never need to make claim, our team of experts are available 24/7, to ensure that if the unfortunate does happen, we will do our best to get you back out on the water as quickly as possible.
And as an RYA member you can benefit from a 10% discount* on your insurance policy.
Whether you need cover for a small craft, dinghy, windsurfer, motorboat, yacht or super-yacht, Bishop Skinner can help you to arrange a policy that meet your needs.
To find out more about Bishop Skinner Marine and how we can help protect your boat, visit https://www.bishopskinner.com or call us on 0800 783 8057.
Sources
1 https://www.gov.uk/owning-a-boat/insurance
2 https://marineindustrynews.co.uk/watch-storm-arwen-marinas-and-uk-coast/
*10% discount is subject to underwriter's approval to place on the Crystal Waters policy.
This is a marketing communication.
Bishop Skinner Marine is a trading name of Marsh Ltd. Marsh Ltd is authorised and regulated by the Financial Conduct Authority for General Insurance Distribution and Credit Broking (Firm Reference No. 307511). Copyright © 2022 Marsh Ltd. Registered in England and Wales Number: 1507274, Registered office: 1 Tower Place West, Tower Place, London EC3R 5BU. All rights reserved.