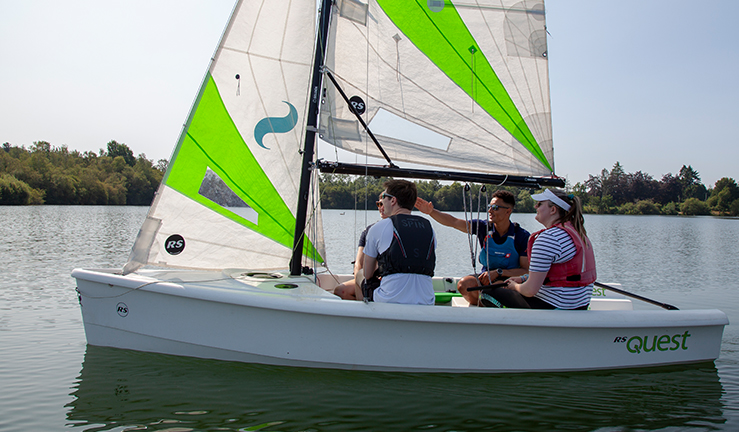 If you want to know more about getting started in sailing, you've come to the right place.
Here are our top tips to get afloat this summer…
Where it all begins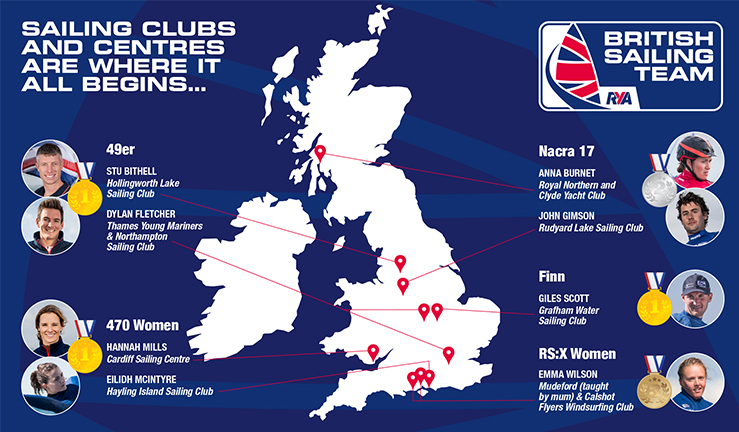 If you want to give sailing and windsurfing a go, the best place to get started is your local sailing club or training centre.
With more than 2,000 RYA affiliated clubs and recognised training centres in the UK alone, and even more overseas, there's bound to be one near you.
Located around the coast and on inland waters, you only need to look at the home sailing venues of our Olympic medallists to see just how widely spread our clubs and centres are.
Use our 'Where's my nearest' search to find your local sailing venue.
Something for everyone
From windsurfing and dinghy sailing, to larger keelboats and yachts – there are so many ways to learn to sail and enjoy time afloat.
Whether you want to potter about exploring your local stretch of water, join a sailing club full of like-minded people or get competitive on the racecourse, there really is something for everyone.
Learning in a dinghy is a great way to start sailing. Single-handers (boats sailed by one person) are a popular choice and can be the quickest way to learn due to being lightweight and easy to rig and launch.
If you don't fancy being in a boat alone, double-handers or keelboats are larger boats designed to be sailed by two or more people, making it an enjoyable way to learn with others aboard.
Once you've mastered the basics, there are plenty of opportunities to continue to develop your skills and have fun on the water. Maybe getting involved in club racing, venturing further afield dinghy cruising, or feeling the thrill of flying across the water sail or wind foiling.
Training courses and qualifications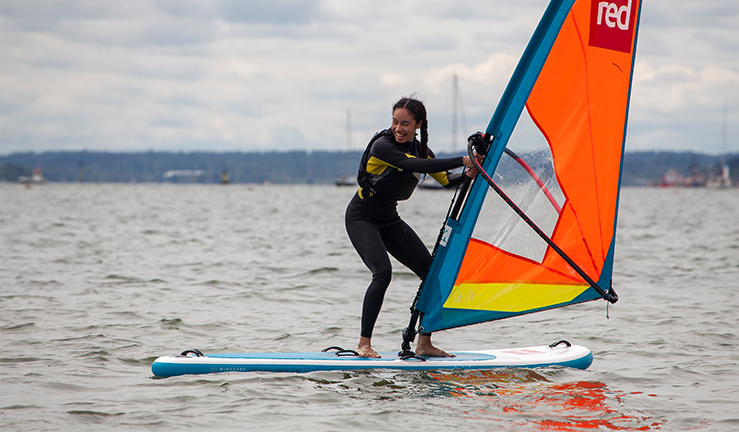 With more than 100 RYA courses to choose from, there's something for every age, ability and interest. The choice is yours.
The National and Youth Sailing and Windsurfing training schemes are perfect for anyone wanting to learn to sail or windsurf. The short courses can be run over a number of sessions, or two full days, and will see you progress quickly from beginner to expert in a controlled, safe and enjoyable environment.
Options include training at your local club or centre or booking a course to coincide with your holiday - either in the UK or overseas. As well as benefiting from the expertise of an RYA instructor, all the equipment you'll need is provided and some centres will also offer all-in-one options including accommodation and catering.
Find out more about training courses and RYA recognised training centres near you.
The club scene
Local sailing and boating clubs offer opportunities to get on the water with a range of sailing, cruising, racing, courses and events for all abilities.
Many have boats to hire or borrow for free and are also a great place to find people who may need crew. They also have youth and family weeks as well as opportunities to try other watersports like paddle boarding and kayaking.
It's no surprise that in 2020 approximately 21,000 people joined their local sailing club. Every club is different, so ask and compare to find what best suits your lifestyle and social expectations.
Affordability
Sailing can often be perceived as an expensive activity but can be very affordable, especially when compared to the cost of a gym or a football season ticket.
Clubs often have boats you can hire on a 'pay and play' basis, as well as discounts on courses for members. Best of all, there will always be plenty of people around to help you put your skills to practice.
#DiscoverSailing taster sessions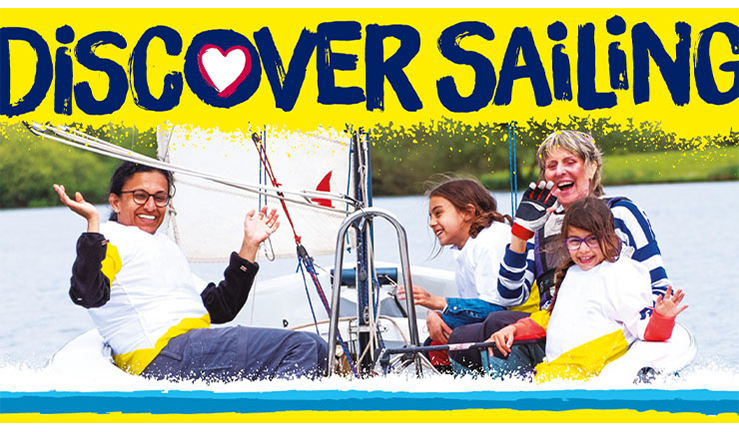 Venues across the UK are running #DiscoverSailing sessions this summer, inviting you to come and 'have a go' for very little cost or free.
You don't need any previous experience to enjoy a taster session and many venues will welcome all ages.
It's also a great opportunity to check out what your local venue has to offer including membership deals and offers on courses.
Find a Discover Sailing taster session near you.
Sailability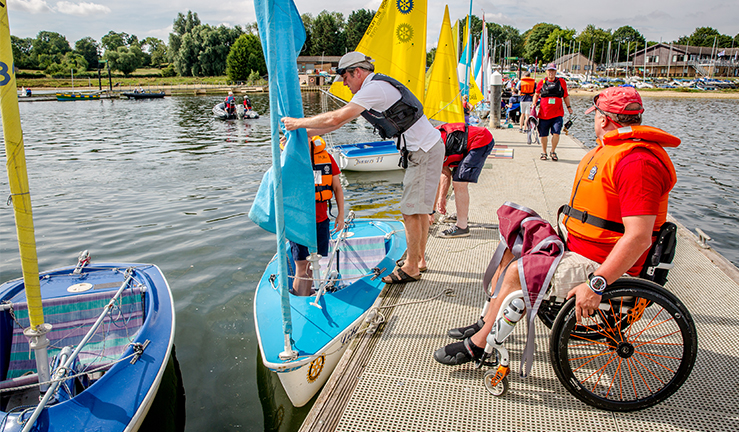 RYA Sailability offers a level playing field for disabled sailors with activities for young people, adults and groups – all at your pace and adapted to your abilities.
There are more than 200 RYA Sailability sites across the UK and further afield welcoming people with disabilities to enjoy the outdoors, feel freedom on the water, learn new skills and build confidence.
Find a Sailability group near you.
Young sailors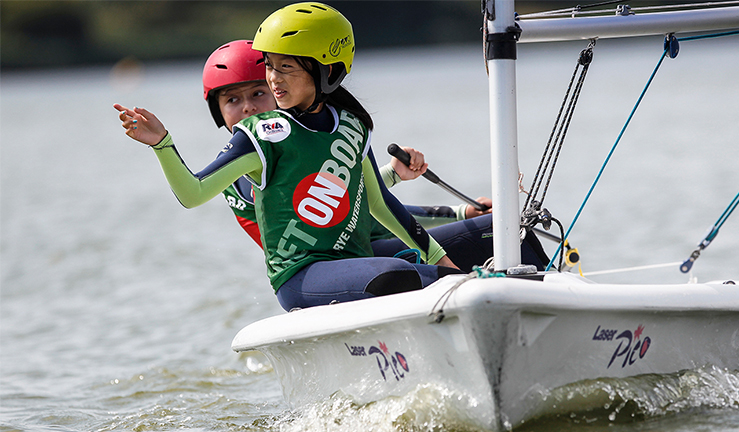 Get OnBoard!
Run through RYA recognised training centres, the RYA's OnBoard programme aims to provide safe, fun and equal access to sailing and windsurfing for anyone aged 8-18.

No experience is required and the basics can be learnt easily in a couple of weeks or over a number of sessions (usually run between the spring and autumn).
As well as making friends and having heaps of fun, children will learn to sail at affordable sessions with expert instructors and learn skills for life. Find out more about RYA OnBoard.
After school activities and holiday clubs
Taking a course at an RYA training centre is one of the quickest and easiest ways for youngsters to learn to sail or windsurf, with most centres offering courses and sessions for children from eight-years-old, sometimes younger.
Many centres offer both after school sessions and holiday clubs to fit in around other commitments. A number will accept childcare vouchers so it's worth checking what's covered.
Find out more about courses and activities for children.
Feeling the benefit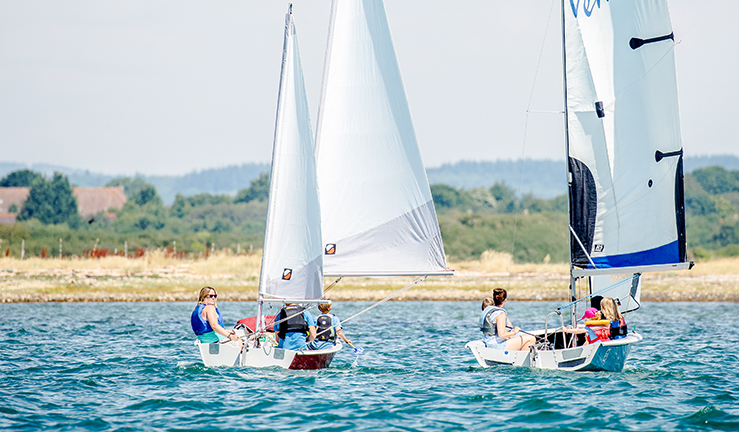 Great fun and rewarding to learn, sailing and windsurfing also offer a chance to get active and enjoy time outdoors. Being on the water has been shown to benefit both our health and wellbeing and it couldn't be easier to give it a go.
"Luckily we have a wealth of coastline, lakes and waterways for people to find a bit of escapism and benefit from the positive effects associated with being outdoors and on the water, explains Rob Clark, RYA Director of Sport Development.
"Newcomers to watersports might want to take a course locally or on holiday, while those who are experienced might like to develop their skills or try new activities like racing.
"There are so many opportunities to get away from it all."
Find out more information about getting started sailing.