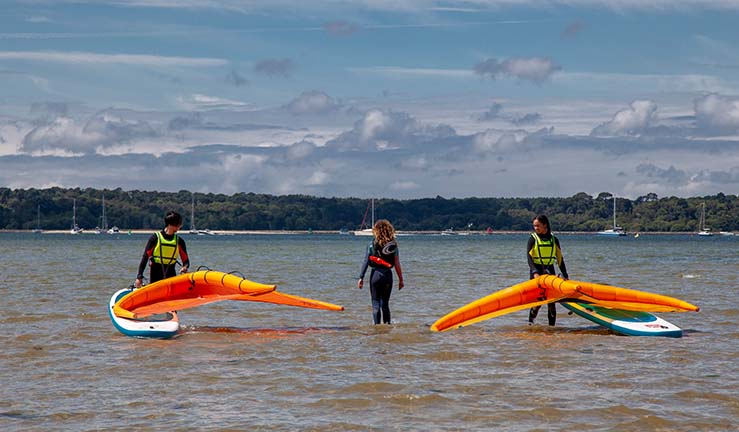 There are so many ways to get out on the water. If you've ever fancied swapping sail for power, or a board for a foil, now's the time to embrace a fresh challenge.
From motor cruising to wingfoiling, we've spoken to a range of experts about the best ways to get started, how to progress when you've already taken your first steps, and what makes their sport unique. What will you discover this year?
Dinghy racing
Courtney Bilbrough is a senior dinghy instructor and has been sailing since she was eight years old. "I joined a summer programme at the local RYA centre and got into racing," she says.
"It was a break from school stress. It's the easiest way to get involved and most centres have youth programmes."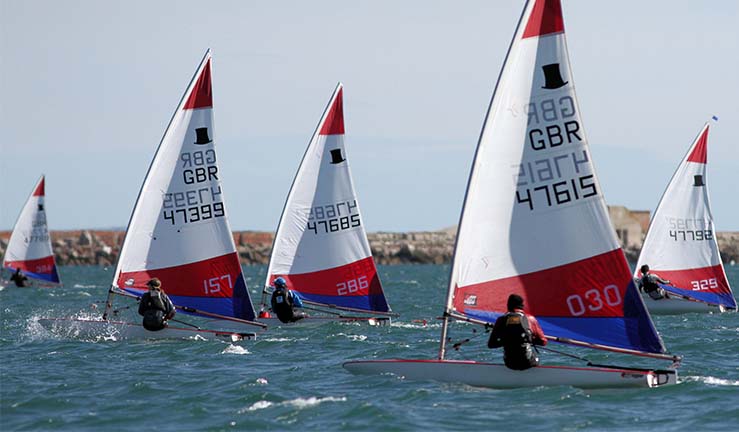 WHAT MAKES DINGHY RACING UNIQUE?
"There are lots of pathways because there are so many different kinds of boats. For example, if you want to be on your own, try a single-hander, or join someone on a double-hander."
WHY SHOULD I TRY IT?
"If you work at it, you see results. So the harder you work, the more it pays off."
WHAT TARGET SHOULD I AIM FOR?
"You can try club racing or local racing, it's still competitive but it's low cost. If you stop enjoying it, don't give up. Change something – maybe the boat, or the location. Because there are so many options you're guaranteed to find something you enjoy."
Learn more about the RYA's Dinghy Sailing training scheme and racing courses.
Personal watercraft
Candi Abbott was on an RYA watersports instructor course in Poole when she first saw people out on jetskis, and thought: 'What's that?'
"I found out about personal watercraft and went on to complete my RYA proficiency course, which rolled over into the instructor course," she explains.
That was 20 years ago, and Candi is still enthusiastic about the virtues of jetskis but explains getting started can be tricky: "They're expensive and sailing clubs don't hire them out. Thankfully, there are ways around this, the first step being to take the RYA personal watercraft course."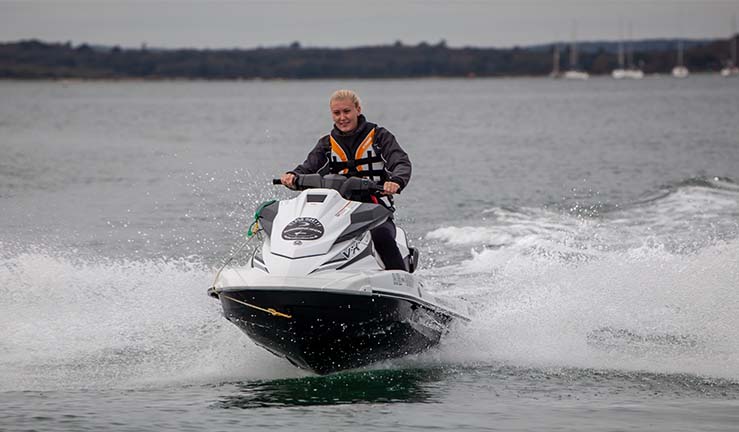 WHAT MAKES PERSONAL WATERCRAFT UNIQUE?
"You leave on a craft from a harbour, go away from the beaches and you have freedom, with very few restrictions."
WHY SHOULD I TRY IT?
"Just go out with a bunch of mates and go cruising. Go further and you'll have more fun. And fitness-wise, you get a great workout."
WHAT TARGET SHOULD I AIM FOR?
"Join a jetski club and, over six months or so, decide whether you truly like it, you're truly into it and if you can truly see yourself pulling it out of your garage every weekend to warrant the cost of buying one."
Learn more about the RYA Personal Watercraft Proficiency course and find a training centre near you.
Windfoiling
As a member of the British Sailing Team, Islay Watson is training for the 2024 Olympic windfoiling class.
"I started in windsurfing when I was 9 or 10," she explains. "I progressed to the RYA pathway, then started foiling."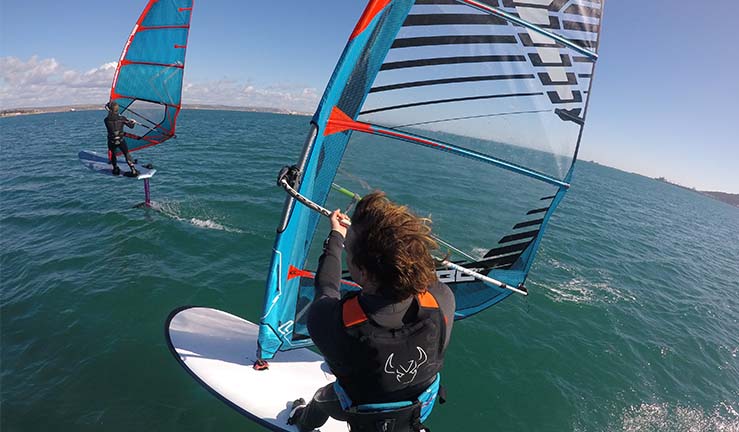 WHAT MAKES WINDFOILING UNIQUE?
"When people first see it they say, "That's crazy! How does that work?" The feeling of flying is what draws people back to it. It's challenging but quite easy to learn too."
WHY SHOULD I TRY IT?
"Once you get that first taste of flying, and then crash at the end, you always want to push it and get better."
WHAT TARGET SHOULD I AIM FOR?
"You can always make your gybe quicker and better, so push yourself in that way to improve."
Learn more about the RYA's windfoiling courses and find a training centre near you.
Windsurfing
Nick Dempsey is a much-decorated Olympian, while Tom Squires experienced his first taste of Olympic windsurfing at Tokyo 2020.
Both took to the board at an early age and agree that the best way to make progress is to enjoy the process and have fun. "I did a bit of racing, but the most important thing is to have fun, whether that's just trying to go fast or trying different performance boards," says Tom.
"Just enjoy the sport for it being exactly that – a hobby," adds Nick.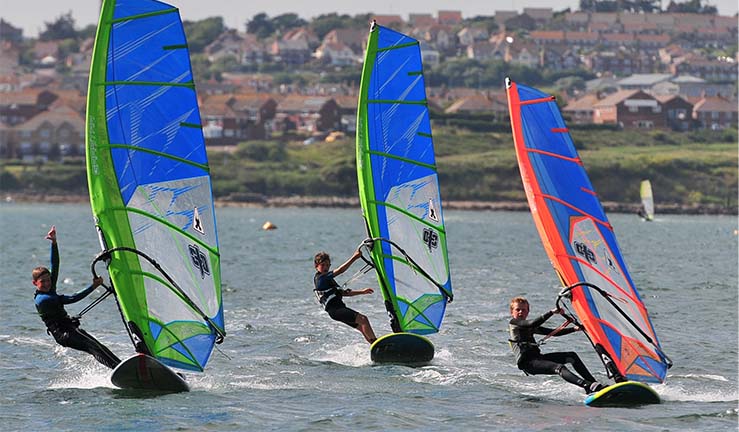 WHAT MAKES WINDSURFING UNIQUE?
NICK: "It's the freedom. If you ask my kids why they windsurf, they would say it's awesome, it's amazing and it's fast."
TOM: "You can go wherever you want. Cruise around on a lake, free your mind, forget about [the worries of] the day."
WHY SHOULD I TRY IT?
TOM: "There's this constant progression of mastering it. Windsurfing takes a lot of time to learn, compared to some sports, but it's very rewarding."
NICK: "As a kid, you go off on an adventure and it builds huge amounts of independence and confidence."
WHAT TARGET SHOULD I AIM FOR?
NICK: "Keep it as local as you can and try to spend time in the same spot. It's good for the budget, the environment and for building friendships."
Learn more about the RYA's windsurfing training scheme and find a training centre near you.
Winging
Laura Michael and Sarah Bagley are sisters who share a love of watersports. Wingsurfing and wingfoiling are just two of the disciplines they've mastered.
Getting started in wingsurfing or wingfoiling is easy, say the sisters. "Lots of centres are delivering it now," says Sarah.
"Start by booking a wingsurfing course, so you can learn to use a wing on a windsurfing board, especially if you haven't done a windsport before. Then progress to a foil – get used to it all before you invest in kit."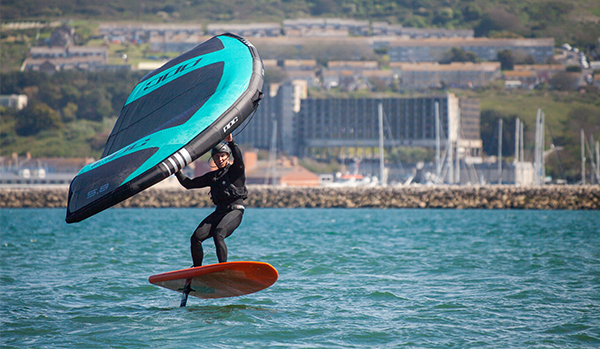 WHAT MAKES WINGING UNIQUE?
LAURA: "The element of flying, it just feels amazing. And it's much quicker to learn than windsurfing."
WHY SHOULD I TRY IT?
LAURA: "You can ride unbroken waves – you don't need amazing waves that you don't normally get in the UK, so you can literally use any conditions."
SARAH: "And there's less kit than for windsurfing, so less to pack in the car. You've got a blow-up wing that goes down into a little backpack, and your board."
WHAT TARGET SHOULD I AIM FOR?
LAURA: "Once you're up on the foil, and have got the basics, start trying to link turns, gybing, turning on the heelside."
Learn more about the RYA's new Wing scheme and find a training centre near you.
Inland waterways
Ali Selby-Nicholls grew up in the Midlands with canals as a backdrop. Her family owned a boat-hire company, with Ali's mum running the hiring and Ali looking after the training.
It's easy to get started if you'd like to venture onto the UK's network of waterways, says Ali. "Do an Inland Helmsman's course," she advises. "It's an introductory course to learn all the basics of boat handling, some rules of the road, some history about canals – you start to fuel the passion."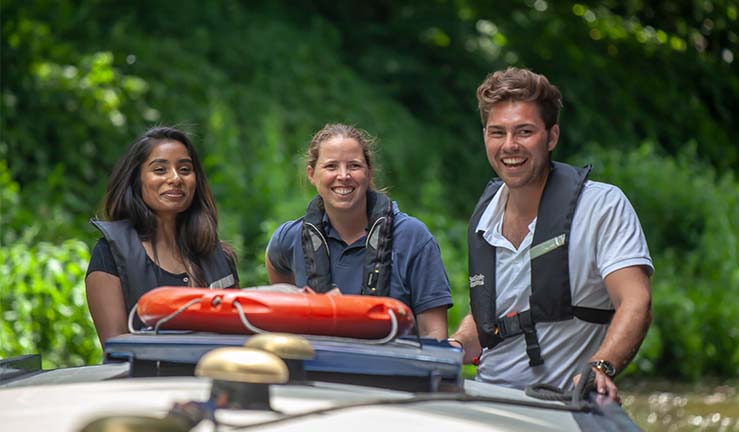 WHAT MAKES THE INLAND WATERWAYS UNIQUE?
"There's the wildlife. You're in a completely silent environment and you see so many things that you wouldn't see from noisier, faster boats."
WHY SHOULD I TRY IT?
"You've got all the history around the transport – why the canals were built, how they were built. And the engineering side of it around how locks work is fascinating to lots of people, and quite often it's that that really draws them to canals, rather than just driving a boat."
WHAT TARGET SHOULD I AIM FOR?
"Find a training centre and start having a conversation, then book yourself on a course. And then you can go on different holidays, try different bits of canal, hire boats…"
Learn more about the RYA's Inland Waterways training scheme and find a training centre near you.
Motor cruising
Lee Mosscrop's introduction to motor cruising came via a job that required him to regularly get out on the water. He's now a Yachtmaster instructor trainer, so has turned his love of boats into a career.
If you'd like to join the ranks of motor cruisers, though, you might find it a little harder than getting started in a sail-powered vessel. You're unlikely to come across sailing clubs with a motor boat to try, says Lee.
"It can be an expensive 'hobby'," he explains, "so knowing someone who has a motor boat helps. Get out on the boat with them, whether that's just enjoying the sea, or getting more involved with the driving or navigation."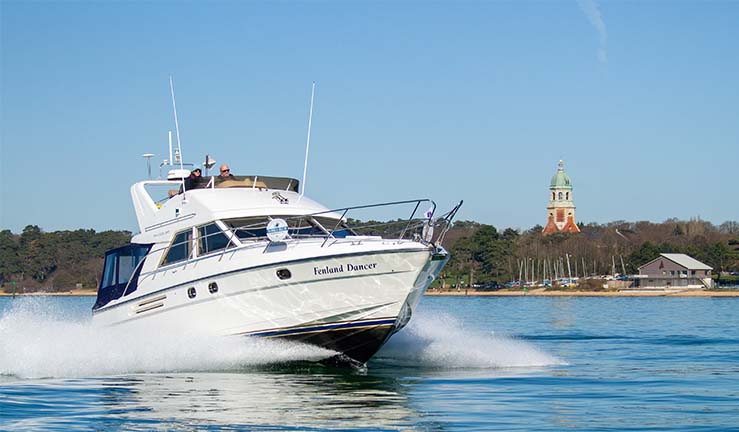 WHAT MAKES MOTOR CRUISING UNIQUE?
"It's that whole freedom of just being able to get out of the harbour quickly."
WHY SHOULD I TRY IT?
"It's a skill that can help you travel and go to new places quickly, and without too much training."
WHAT TARGET SHOULD I AIM FOR?
"Feeling safe and confident on the water through training, and experiencing your skills on the water."
Learn more about the RYA's Motor Cruising training scheme and find a training centre near you.
Sail cruising
Rod Smith is a Yachtmaster Instructor Trainer who hails from Glasgow. For anyone keen to get into sail cruising, Rod recommends taking an RYA course. "It opens your eyes to what you need to know to be safe and feel confident," he explains.
"Try Start Yachting or Competent Crew, then decide where to stop – maybe at Competent Crew, or move on to some theory or chart work, or safety regulations, until you become a skipper."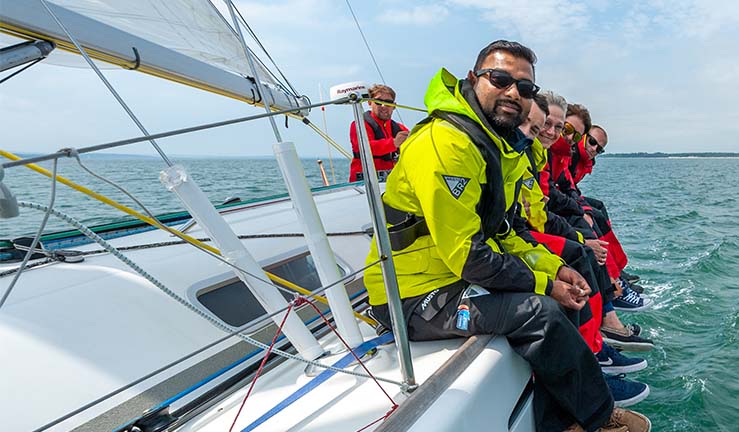 WHAT MAKE SAIL CRUISING UNIQUE?
"It's the ability to go to new places, to go on an adventure, where you'll be self-sufficient, and can sleep and cook on board."
WHY SHOULD I TRY IT?
"To enjoy that feeling of going somewhere new, the excitement of not knowing what it's going to be like when you get there."
WHAT TARGET SHOULD I AIM FOR?
"Day Skipper – it's a good challenge and will make you useful to others as crew or leader."
Learn more about the RYA's Sail Cruising training scheme and find a training centre near you.
Get inspired
For more tips and inspiration, join us at the RYA Dinghy and Watersports Show this February at Farnborough International.