With growing numbers of people seeking to use club boats rather than their own, or borrowing kit because they are just starting out in the sport, it's essential for clubs to make sure their insurance provides sufficient cover.
RYA insurance partner, Gallagher, arranges cover for 85% of RYA Affiliated Clubs and expert Ben Bennett says one topic which comes up regularly is how clubs can make sure their boats are adequately covered across a variety of scenarios.
Ben has the following answers and recommends that all clubs spend time necessary to fully understand their insurance policies for club-owned boats and equipment.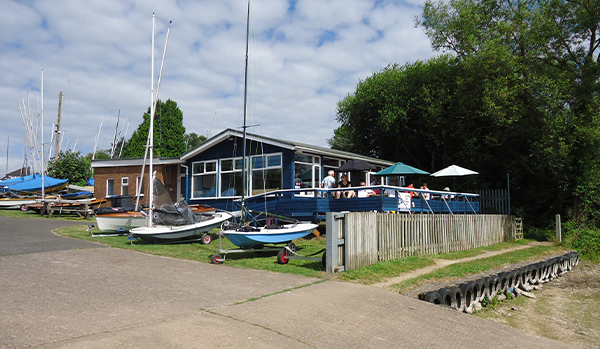 What insurance cover is provided for club boats?
Clubs should check their own policies but those insured with Gallagher are automatically covered for material loss and marine liability anywhere in the UK, inland or on the coast, and not just when in use at the home club, provided they are insured under the club policy. Any boat up to 30 feet in length is covered in transit as well. This automatic cover also extends to dinghies used in racing up to 16 feet in length. Boats greater than 16' that can be insured for racing, but only following agreement from insurers, in advance of an event.
Who is insured to sail club boats?
Gallagher cover automatically extends to allow any member of a club - including individuals, families, groups and affiliates and whether permanent or temporary - to use or hire club boats, provided this is with the consent of the club and part of a recognised and authorised club activity, including recreational sailing. The Gallagher policy also also extends to provide cover for those members who wish to take a club boat further afield for an event, with cover provided automatically for up to 30 days a year for European waters, including transit risks.
Does insurance extend to club visitors on courses or open days and the like?
Ben says: "This is a commonly asked question and at Gallagher, we would simply ask the club to ensure the individual is granted a form of temporary membership for the duration when they complete booking or registration forms, whether for an open event or indeed training - to ensure that the full extent of policy coverage is provided.
What if my club is approached by a third party organisation wanting to borrow or hire our boats?
This is also a regular question and Ben says it's important for clubs to be aware of the limitations of their policy on this particular point: "The Gallagher RYA policy specifically excludes use by third party organisations – i.e. anybody outside of the club - unless a prior agreement has been reached to extend the cover. Generally, however, in this scenario it would be the responsibility of the organisation that is loaning, borrowing or hiring boats from your club to insure them. This is usually straightforward and easy to arrange and clubs are strongly advised whenever they do loan, hire or allow a third party organisation to borrow boats or equipment, to get confirmation in writing (a simple email will suffice) - that the boat in question will be covered for the duration by that organisation's own insurance.
What if my club needs to borrow, loan or hire additional boats during the year?
Gallagher offer two solutions here. The first option is to have a blanket extension of your cover which allows the club to loan, borrow or hire boats from others, within parameters that are set in advance, typically based on the number of times in the year you might do that and the maximum value of kit that you want to have covered at any one time. This cover would be part and parcel of your annual policy, which is particularly useful for clubs that might want to do this regularly, e.g. more than half a dozen times a year.
For clubs needing to borrow, loan or hire boats less frequently, say once or twice times a year, it is probably more cost effective to arrange the necessary insurance on an ad hoc basis, as and when needed, for a relatively small additional premium each time.
What if your club is offered boats on loan by an external organisation?
Ben advises: "Clubs will always need to verify the position with the organisation loaning the boat. For, example the RYA provides cover automatically when it loans boats to Recognised Training Centres but other organisations may not have the same approach, and may require you to insure the boats on your own policy. In this situation, the boat/s can be added temporarily or permanently to your club policy and Gallagher would simply endorse the policy at that stage to note the name of the other organisation (as the interested party) to avoid any ambiguity in the event of a claim."
If in any doubt, do check your insurance
Ben concludes: "To summarise, it's really vital that clubs recognise and understand the limitations of their own insurance arrangements, rather than make assumptions, and if there are any doubts whatsoever about the extent of the cover, we would encourage clubs to speak to their provider and we at Gallagher would be delighted to hear from any existing clients, at any time."
For more information on the Gallagher RYA Combined Insurance Policy
For further questions or advice regarding insurance, contact Gallagher at
T: 0800 062 2309
E: rya@ajg.com
or the RYA Legal Team by emailing legal@rya.org.uk
These are brief product descriptions only. Please refer to the policy documentation paying particular attention to the terms and conditions, exclusions, warranties, subjectivities, excesses and any endorsements.
Royal Yachting Association is an Introducer Appointed Representative of Arthur J. Gallagher Insurance Brokers Limited which is authorised and regulated by the Financial Conduct Authority. Registered Office: Spectrum Building 7th Floor, 55 Blythswood Street, Glasgow, G2 7AT. Registered in Scotland. Company Number: SC108909. FP955-2021. Exp. 15.7.2021