RYA Affiliated Clubs Conference
We are now starting to plan the content for both the Affiliated Clubs Conference and Club Development Sessions programme and we would really value your help with ideas for how we ensure these events remain useful and relevant to clubs. This is your opportunity to feed in the ideas that you have always wanted to learn more about so that you can improve the offering your club gives to its members or potential members.There is no such thing as a bad idea at this stage, together we will find the information and ideas that you are looking for. Let us know what you think!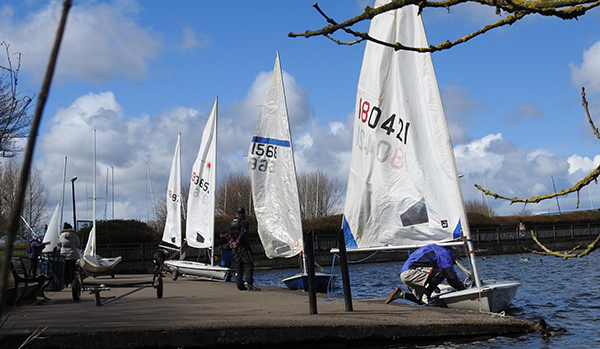 Courses for clubs & instructors
It's been great to see the enthusiasm for instructor training, including the hugely successful courses over the last month hosted by Ripon SC and Yorkshire Dales SC, which have resulted in 10 additional RYA Dinghy Senior Instructors and eight new RYA Windsurfing Instructors for the region! We also have six new Race Coach Level 2s after five young sailors and a keen parent took a course at Pennine SC arranged in memory of coach and PSC member Martin Boatman.
If you're keen to encourage your instructors and volunteers to develop their skills, look out for more courses over the coming weeks. We will have lots of training opportunities – including Aspiring Powerboat Trainer, Instructor Development Days and an RYA Dinghy Instructor Course in June/July – which are all either bookable or coming soon via our online RYA North East Instructor Courses hub.
Training centre inspections
All RYA Training Centres at clubs and venues across the RYA North East region have now been sent details of their allocated inspector for 2021. It would be much appreciated if you could contact your inspector to book their visit to your centre if you haven't already done so.
Discover Sailing
A number of clubs are hosting or looking forward to hosting Discover Sailing open days or sessions to encourage people to return to the water in 2021 or give sailing and windsurfing a go.
It is not too late for your club to benefit from these RYA campaigns. All the information you need is available in Club Zone and if you are holding an event, you may want to tag @RYANorthEast on social media so we can help share any news for you.
We have a series of webinars in June designed to provide support on different aspects relating to running clubs, including taxation and marketing, with more to follow. For more details and to book, visit RYA North East Club Development Sessions.
Would you like to be a race official?
The RYA is making bursaries available to fund courses for at least 20 aspiring race officials in 2021, with applications invited from anyone wishing to become either a Race Officer, Judge, Umpire, Mark Layer or RYA Measurer.
Applications are particularly welcome from women and under-35s and can be submitted via a form at this link. It's a really good opportunity to develop skills in the region to support racing and high profile events so please do have a think about applying!
And finally…
Our RYA North East photography competition over the last month fittingly saw a number of entries highlighting clubs returning to the water following the end of lockdown three.
Congratulations to Neil McInnes for his candid shot of sailors returning to Yeadon SC tarn following what felt like the longest and bleakest lockdown of them all! A Helly Hansen kit bag will be on its way to Neil and we look forward to putting Yeadon SC in the spotlight.
To keep up to date with all the latest news from the region, follow @RYANorthEast on Facebook and/or Twitter. We also have a Facebook group for RYA North East Instructors and Coaches.
Until next time,
Sam.