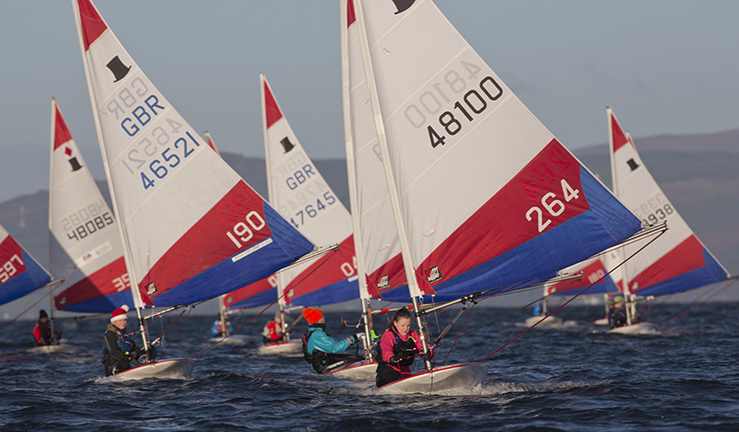 A fun wintery and competitive series of races midway through the performance programme. Tinsel always optional.
Racing for Junior and Youth Classes with Optimist, Topper, ILCA, Feva, Techno 293 and iQFOiL Classes.
Entry closed on Sun 26 November.
Official Noticeboard
Results are available via Sailwave
Please read the Notice of Race for information ahead of the event.
Registration 8.30-10am at Largs SC on Sat 2 Dec and competitors briefing at 10.30am.
First warning signal not before 11:55 on Sat 2 Dec
The Sailing Instruction's are available as a PDF and also below in full to make them more accessible.

There are two course diagrams:
Alpha Courses - Optimist Topper and ILCA
Bravo Courses - Feva Techno and iQFOiL
We hope not to have to need, but a hearing request form is available for any protests that may occur. Completed hearing forms can be emailed to performance@ryascotland.org.uk




RYA Scotland

Winter Champs
2/3 Dec 2023
Largs Sailing Club (LSC), Largs, KA30 8EZ
SAILING INSTRUCTIONS
The Organising Authority is RYA Scotland in conjunction with LSC
The notation '[NP]' in a rule means that a boat may not protest another boat for breaking that rule. This changes RRS 60.1(a).

1

RULES

The Event will be governed by the Rules as defined in the Racing Rules of Sailing (RRS).

The prescriptions of the RYA available at

www.rya.org.uk/racing/rules

will apply.

RYA Racing Charter available at

www.rya.org.uk/racing/rules/racing-charter

will apply.

2

CHANGES TO SAILING INSTRUCTIONS

Any change to the sailing instructions will be posted not less than one hour before the first start of the day it will take effect, except that any change to the schedule of races will be posted by 2000 on the day before it will take effect.

3

COMMUNICATIONS WITH COMPETITORS

The online official noticeboard is located at the event website at:

https://www.rya.org.uk/gbni/scotland/events/winter-championships

There will be no physical notice board.

[DP] From the first warning signal until the end of the last race of the day, except in an emergency, a boat shall not make voice or data transmissions and shall not receive voice or data communication that is not available to all boats.

4

CODE OF CONDUCT

[DP] Competitors and support persons shall comply with reasonable requests from race officials.

5

SIGNALS MADE ASHORE

Signals made ashore will be made from the flagpole on the north-west corner of the balcony at LSC.

When flag AP is displayed ashore, '1 minute' is replaced with 'not less than 30 minutes' in Race Signals AP.

Boats and boards will not be permitted to launch until flag D is displayed ashore.

6

SCHEDULE OF RACES

Class

Total Number
of Races

No of Races Scheduled Each day

Max No of Races per Day

Optimist

Topper

ILCA

Techno

iQFOiL

Feva

24

12

12

The scheduled time of the first warning signal on Saturday is not before 1155, and on Sunday not before 1025.

To alert boats that a race or sequence of races will begin soon, the orange starting line flag will be displayed with one sound at least five minutes before the first warning signal is made.

On the last scheduled day of racing no warning signal will be made after 15:00.

7

CLASS FLAGS

The Class flags are as follows:

| | |
| --- | --- |
| Class | Flag |
| Optimist | O |
| Topper | T |
| ILCA | V |
| Techno | G |
| iQFOiL | J |
| Feva | F |
| 29er | K |

8

RACING AREAS

The racing areas are in the Largs channel (see diagram). Classes will race on 2 separate race areas as shown in the table.

Race Area

Class

Alpha

Optimist

Topper

ILCA

Bravo

Techno

iQFOiL

Feva

9

COURSES

The diagram(s) in SI Addendum 1 show the course(s), including the approximate angles between legs, the order in which marks are to be passed, and the side on which each mark is to be left.

The course to be sailed will be indicated by black numbers on a white background displayed on the committee vessel.

10

MARKS

Marks will be either a large yellow dumpy or yellow pillar mark.

11

OBSTRUCTIONS – Not applicable at this event.

12

THE START

Races will be started as follows, with the warning signal made 3 minutes before the starting signal:



| | | | |
| --- | --- | --- | --- |
| Minutes before starting signal | Visual signal | Sound signal | Means |
| 3 min | Class flag | One | Warning signal |
| 2 min | P, U, or Black flag | One | Preparatory signal |
| 1 min | Preparatory removed | One Long | One minute |
| Start | Class flag removed | One | Starting signal |

The starting line is between the staff or mast displaying the orange starting line flag and a pink start mark.

13

CHANGE OF THE NEXT LEG OF THE COURSE

To change the next leg of the course, the Race Committee (RC) will move the original mark or the finishing line to a new position. Minor mark moves (up to approximately 100m) may be made without signalling the change. This changes RRS 33.

14

THE FINISH

The finishing line is between the mast or staff displaying the blue finishing line flag and a blue finish mark.

The RC may award a finishing score to a boat that is still racing by displaying to her from a committee vessel (which may be in motion) flag W. A boat so notified is no longer required to sail the course, shall stop racing and shall return to the starting area, or return ashore if there is no more racing. A finishing score under this sailing instruction will be the score she would have received had she sailed the course and finished within any time limit, without gaining or losing any place. The decision by the RC to use this procedure or not to use it shall not be grounds for requesting redress. This changes RRS Rule 28.1 and RRS Rule 60.1(b).

15

PENALTY SYSTEM

The Post Race Penalty: a boat that may have broken a rule of RRS Part 2 or RRS 31 may, after finishing the race concerned and before the start of any related protest hearing, notify the RC that she accepts a Post Race Penalty – a 30% scoring penalty (SCP) calculated as stated in RRS 44.3(c), except that the minimum penalty is three places and she shall not be scored worse than the number of boats that came to the starting area.However, if the boat caused injury or serious damage or, despite taking a penalty, gained a significant advantage in the race or series by her breach her penalty shall be to retire.

When a Post Race Penalty is accepted:

Neither the boat nor a protest committee may then revoke or remove the penalty.

The boat shall not be penalized further in a protest hearing when the protest committee decides that it was appropriate to the facts found and the applicable rules.

16

TIME LIMITS AND TARGET TIMES



Class

Target Time

Race Time Limit

Finishing Window

Optimist

Topper

ILCA

Techno

iQFOiL

Feva

15min

30min

5min




The Finishing Window is the time for boats to finish after the first boat in their class sails the course and finishes. Boats failing to finish within the Finishing Window, and not subsequently retiring, penalized, or given redress, will be scored Time Limit Expired (TLE) without a hearing. A boat scored TLE shall be scored points for the finishing place one more than the points scored by the last boat that finished within the Finishing Window. This changes RRS 35, A5.1, A5.2 and A10.

Failure to meet the Target Time will not be grounds for redress. This changes RRS 62.1(a).

17

HEARING REQUESTS

The Post-Race Penalty and RYA Arbitration of the RYA Rules Disputes Procedures shall apply (for full information on the procedures, go to

www.rya.org.uk/go/rules

). The outcome of an RYA Arbitration can be referred to a protest committee, but an arbitration cannot be reopened or appealed.

The protest time limit is 60 minutes after the last boat finishes the last race of the day or the RC signals no more racing today, whichever is later. The time will be posted on the online official notice board.

Notices will be posted no later than 60 minutes after the protest time limit to inform competitors of hearings in which they are parties or named as witnesses.

18

SCORING

One race is required to be completed to constitute a series.

(a) When fewer than 4 races have been completed, a boat's series score will be the total of her race scores.

(b) When 4 or more races have been completed, a boat's series score will be the total of her race scores excluding her worst score.

(c) When 8 or more races have been completed, a boat's series score will be the total of her race scores excluding her worst two scores.

19

SAFETY REGULATIONS

All competitors shall wear a personal flotation device at all times when afloat, except briefly when changing or adjusting clothing or personal equipment. Wet/dry suits are not considered personal flotation devices. Flag Y will not be displayed.This changes RRS 40 and Race Signals 'Y'.

[NP] [DP] A boat that retires from a race shall notify the RC at the first reasonable opportunity.

[NP] [DP] CHECK-OUT AND CHECK-IN: A tally system will be used during the regatta; the tallies will be numbered rubber wristbands which should be worn on each competitor's wrist. Individual tally numbers will be allocated prior to the start of racing.

To check-out tallies shall be collected from the tally board which will normally be positioned at the top of the launch ramp. To check-in the tally should be returned to the tally board immediately on returning to shore after racing, but no later than the protest time limit.

[NP] [DP] Competitors that fail to tally correctly may be subject to protest by the RC. Any points penalty awarded shall be applied to the first completed race on the day the infringement took place.

20

REPLACEMENT OF CREW OR EQUIPMENT

Substitution of competitors will not be permitted without prior written approval of the RC.

21

EQUIPMENT AND MEASUREMENT CHECKS

[DP][NP] The OA may supply GPS Tracker units for use during the Event, Boats shall carry these GPS Tracker units whilst racing. The GPS Tracker units shall be picked up every day from the shed at the top of the launch ramp before going afloat and shall be returned to the shed no later than the end of protest time.

[DP] A boat or equipment may be inspected at any time for compliance with the class rules, notice of race and sailing instructions. The fact that race officials may conduct inspections of a boat does not reduce the responsibilities of each competitor set out in the notice of race.

[DP] When instructed by a race official on the water, a boat shall proceed to a designated area for inspection.

22

SUPPLIED BOATS – Not applicable at this event.

23

OFFICIAL VESSELS – Not applicable at this event.

24

SUPPORT TEAMS.

[DP] All support boat helms shall attend safety boat briefings.

25

TRASH DISPOSAL

Trash may be placed aboard official vessels.

26

BERTHING

[DP] Boats shall be kept in the assigned boat park for the duration of the event.

27

HAUL OUT RESTRICTIONS – Not applicable at this event.

28

DIVING EQUIPMENT AND PLASTIC POOLS – Not applicable at this event.

29

PRIZES

Prizes will be awarded at the discretion of the OA and will be awarded to sailors assuming sufficient entries are received.

30

RISK STATEMENT

Rule 3 of the Racing Rules of Sailing states: "The responsibility for a boat's decision to participate in a race or to continue racing is hers alone."

Sailing is by its nature an unpredictable sport and therefore inherently involves an element of risk. By taking part in the event, each competitor agrees and acknowledges that:

They are aware of the inherent element of risk involved in the sport and accept responsibility for the exposure of themselves, their crew and their boat to such inherent risk whilst taking part in the event;

They are responsible for the safety of themselves, their crew, their boat and their other property whether afloat or ashore;

They accept responsibility for any injury, damage or loss to the extent caused by their own actions or omissions;

Their boat is in good order, equipped to sail in the event and they are fit to participate;

The provision of a race management team, patrol boats and other officials and volunteers by the event organiser does not relieve them of their own responsibilities;

The provision of patrol boat cover is limited to such assistance, particularly in extreme weather conditions, as can be practically provided in the circumstances;

It is their responsibility to familiarise themselves with any risks specific to this venue or this event drawn to their attention in any rules and information produced for the venue or event and to attend any safety briefing held for the event.

31

INSURANCE
Each participating boat shall be insured with valid third-party liability insurance with a minimum cover of £3,000,000 per incident or the equivalent.
Addendum 1 – The Courses ALPHA COURSE ONLY
Addendum 1 – The Courses BRAVO COURSE ONLY