Keeping the conversation open and ensuring that sustainable period products are available where people go sailing or windsurfing is an easy first step to take in reducing the barriers to females getting on the water and also reducing the anxiety around going sailing and boating during your period.
25% of girls in the UK admitted to avoiding or skipping sporting activity when menstruating, while 89% of people felt less anxious when free sanitary products were available. Official reports from Plan International UK have also found that 71% of 14-21 year olds felt embarrassed buying period products.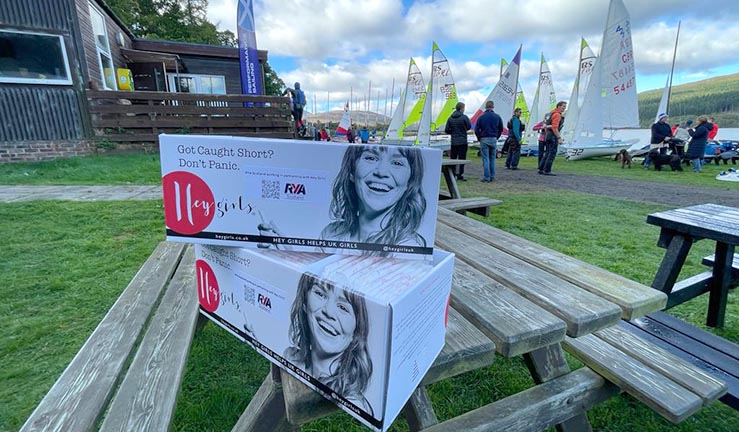 The partnership with Hey Girls is another way of ensuring that the people within the boating community find our sport completely accessible with Places and Communities that make everyone feel welcome, ready to enjoy getting on the water and remove as many anxieties they have as possible.
Whether you are heading to the sailing club straight from work or going down to your local centre after school, free products in these places mean you don't need to worry about being caught out or forgetting to bring your own products with you. You can still get on the water and enjoy yourself!
Sustainability is also key, so the environmental impact of period products is a serious consideration and one of the reasons why partnering with Hey Girls has been important given the environmental credentials of their products and packaging. It is vital that everyone plays their part in using and disposing of these products responsibly.
On the 15th of August 2022, Scotland became the first country to make period products free for all, and under The Period Products (Free Provision) (Scotland) Act 2021 local authorities and education providers will have a legal duty to make free period products available to anyone who needs to use them. The act is now in force you venue can help.
Hey Girls are an award winning social enterprise that are tackling period poverty across the UK. They create plant based sanitary products in all shapes and sizes, they have saved over 9 million plastic bags from landfill via these products.
We hope some of the products end up at your venue, from now and going forward we encourage all our clubs and centres to buy and stock sustainable period products, like Hey Girls, at their venues to create a safe environment for women and girls and to break down any potential barriers to their engagement within boating.
Equally in buying one product, Hey Girls donates one –which helps tackle period poverty across the UK, with RYA Scotland having donated more than 2000 products through this partnership.
If you would like to get involved, please contact development@ryascotland.org.uk or check out the Hey Girls website to place an order!