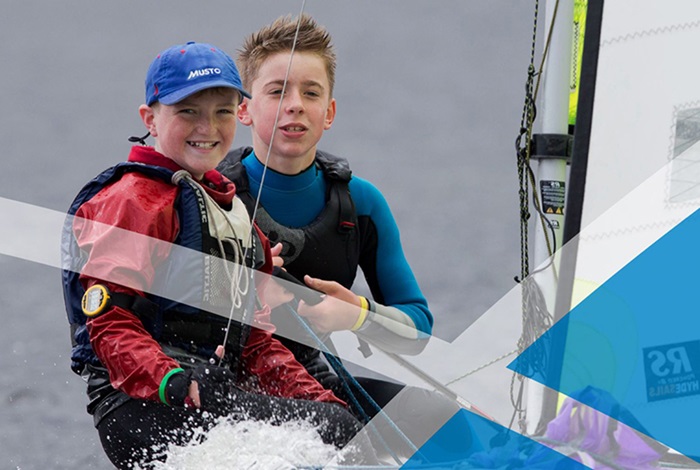 "The RYA Scotland Academy and Performance Programme is a chance to discover sailing against a wider field, race and train against the best in Scotland. An opportunity to make new friends, have fun, hone your skills and keep sailing through the winter".
Please click on the link below for Academy training dates on the programme for 2023-24 and to apply.
RYA Scotland Class Academies - Booking by Bookwhen
The RYA Scotland Academy programme is designed to support sailors who are starting or continuing their racing journey to develop their skills within a fun training environment. The Academy programme starts in September and finishes at the end of March, enabling sailors to train together from across Scotland in an environment that offers challenge, fun and friendship. By running our programme during the winter months this enables all of the sailors to participate more actively in home club racing/training during the summer months.
Sailors do need their own boat/board for Academies and will need to bring them to the club/centre they have signed up for within the programme.
What does the Academy programme look like?

The Academy programme is available to the following pathway classes, Optimist, Topper, Windsurf, Feva, ILCA and 29er, open to all sailors regardless of age. Academies are entry level to those who are completely new to racing and although we do not require sailors to have their RYA Stages we do strongly recommend they are competent out on the water. (i.e. can sail strongly upwind, sail round a triangle course in medium/strong winds and right a capsize with little assistance). The Academies that are offered throughout the winter training block are Regional Academies (RA's) and National Academies (NA's).
Regional Academies

Regional Academies (RA's) consist of a one-day club based coaching session for junior classes. This regional model encourages new and current sailors to train at their local club throughout the winter, experiencing an Academy set up at their home club. This enables sailors to also take part in club activity during the weekend across the training cycle. These sessions are aimed at supporting current sailors within the programme and new sailors joining the pathway.
Timings usually run from 10am – 4pm and cost is £30 per sailor.

National Academies

National Academies (NA's) are a dedicated national training weekend for both junior and youth classes. The weekend is an opportunity to train with other sailors from various regions and gain experience in a bigger fleet with our Academy coaches.

Timings usually run from 9am – 5pm and cost is £75 per sailor for a weekend.
Giant Academy 2023
The RYA Scotland Giant Academy is a new event for young sailors in the junior and youth classes, designed to encourage sailors of all racing abilities onto the water and beyond.
Classes invited are Optimist, Topper, Techno293, Feva, ILCA, 29er and IQ Foil.
Keen to find out what the action at the Academies will be like?
Come for a fun filled weekend on the water and meet the coaches - start your journey today!
In addition, we have a great opportunity for the: Adults/Carers/Support "staff"
With an exciting weekend of workshops for our supporters to join the conversation.
Winter training - What does it look like for the coming winter.

Young coach training - Enabling the next generation of coaches.

Mark Laying CPD

Race Officials - Ever wondered how it all works on committee boat

Nutrition for everyone

Lifestyle insights - young people and sport
New for this winter - Academy Discount
We have an opportunity for you to get signed up for all the academies and get one free!! Two discount options are available
1 - Pay as you go, attend 5 and get the final one free!
2 - Want to confirm your dates and pay it all up front (with Payment options) then get in touch with the team, and we can set you up.

RYA Scotland Performance Team

It is important that any sailors who wish to progress onto the RYA Scotland Performance team frequently attend Academies so our coaches can see the sailors development throughout the programme. It is also essential that sailors train outside of organised RYA Scotland activity. Whether this is independent sailing at your home club, club racing or participating in club activity, getting out on the water is key for the sailors development within their sailing journey. If you have any questions or would like to find out more about Performance please contact performance@ryascotland.org.uk
Where can I get more information? Check out our sway form below.

RYA Scotland Performance Programme (office.com)


FAQ's

How do I sign up and what happens next? – To sign up to Academies all of our training dates are published on the bookwhen system which can be found here. All bookings close 12 days prior (at midnight) before the first training session. It Is important we have 12 days available in order to organise logistics of the programme for all six classes. When you sign up you will automatically receive a confirmation email (please check your junk box for this). Our head coach should be in touch at least 4 days prior to the first session. The coach will contact you via email/whatsapp with plans for the session and inform you of any other additional information. If you find the session you wish to book on is fully booked there is the option of a waiting list on BookWhen. Should any cancellations come through our system, anyone on the waiting list will automatically be emailed if a space is available.

What is your refund policy? - You may cancel your booking through Bookwhen up to 12 days before the event and receive a full refund. There may also be the option to transfer your booking to an alternative event. Requests to cancel within this 12 day period should be sent to admin@ryascotland.org.uk stating the reason for your request. No refunds will be made within this period unless there are exceptional circumstances, given the logistics of organising coaches and ribs and adhering to safety ratios. Please also contact us if you require to cancel due to Covid reasons. Occasionally it is necessary for RYA Scotland to cancel an event that we have organised. In these circumstances we will offer a full refund of the event fee paid. We will make every effort to process a refund as soon as possible, but individuals should allow up to 21 working days for refunds to reach them.

Who do I contact if there is change of plans? - Please contact Performance team directly if it is regarding a booking. If it is an emergency on the day or you cannot make training you must contact your coach directly.

What should I bring to training? - It is essential your sailor has the correct sailing gear and lots of layers to keep warm especially during the winter. Training during the winter block can be very cold so we recommend lots of layers, hat, buff, sailing gloves, racing watch (if applicable) rash vests, coats and wet gear. Some coaches may also ask the sailors to bring gym kit. Please bring your own food, hot drink/water, if you have a dry bag for your boat it is a good idea to pack a drink and snack for on the water. Don't forget towels and a change of clothes, again layers are crucial!

If you have any other questions or would like to have a chat about Academies please contact the Performance Team via email.