The development of Marine Conservation Zones (MCZs) in England, and Marine Protected Areas in UK waters, has generated all sorts of points for debate. Of particular interest to the RYA are the discussions around anchoring pressure and the provision of moorings.
Anchoring is an essential part of boating, whether you are stopping for lunch or sheltering from stormy conditions. It is important for recreational boaters to be aware of protected seabed habitats around the coastline and ensure best practice is adopted to help minimise any impacts anchoring activities can have on these sensitive habitats.
Traditional swing moorings can also cause significant damage to seabed habitats as the chains sweep around the mooring block or anchor, creating a dead zone.
So, whether you choose to anchor or moor your boat, some seabed habitats may be sensitive to these activities. There are many simple things you can do to both prevent damage to your boat and reduce your impact on the environment too.
Since July 2019, the RYA and The Green Blue along with other organisations have partnered with Natural England as part of a four year EU LIFE funded project known as LIFE Recreation ReMEDIES Project.
Are there ways that boaters can minimise the impact of anchoring and mooring on sensitive seabed plants and animals?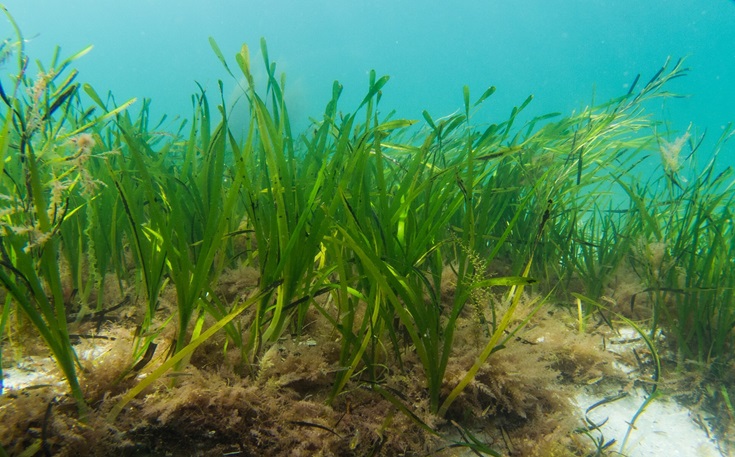 How do I anchor with care?
For latest information, and a leaflet on anchoring and mooring, please click through to The Green Blue, our partner site, which has further details: Anchoring with Care
Make sure that anchoring causes as little damage as possible to the seabed by following four simple steps:
Choose an anchorage away from the most sensitive areas wherever possible (e.g. away from seagrass, reefs, shellfish beds, maerl beds, etc.).
Deploy your anchor correctly to avoid drag:

Use the appropriate length of chain and warp. The correct length can help to reduce scouring of the seabed.
If your anchor is dragging, raise it and re-anchor.
If it continues to drag, choose a different anchorage.

Even if you think the anchor is holding well, check it periodically to make sure it is not dragging
Raise your anchor correctly when leaving:

Check to see how the boat is lying.
If the boat is pulling back away from the anchor, you may need to slowly motor towards the anchor as the crew pulls in the slack and raises the anchor.
Good crew communication is essential to avoid overrunning and fouling the prop.
Bring the anchor and line on-board, and stow it away ready for immediate redeployment.
What else can boaters do to help?
It is also important to plan your approach with care to avoid damaging your boat, your pride and the seabed!
Know your depth and draft - smaller craft can reach shallower areas.
Check the tides - if in doubt slow down and use extra caution when boating on a low tide.
If you run into a seagrass flat, you will leave a sediment trail behind your boat, making the water murky and probably cutting seagrass fronds or roots. Stop immediately and lift your engine. Paddle away until clear. Never use your engine to force your way through, it will damage the seagrass and your engine!
If you run aground on seagrass, wait for the tide to lift you off again. Excessive use of the throttle in an effort to shift the boat will cause significant damage to the seagrass.