Check boats, equipment and clothing for living plants and animals. Pay particular attention to areas that are damp or hard to inspect.
Clean and wash all equipment, thoroughly with freshwater and anti-foul boats annually. Remove visible fouling and put in the bin, not back in the water.
Dry responsibly! When recovering a boat, trailer, dinghy, Personal Water Craft or RIB, drain water from every part and all equipment that can hold water, including any water that collects in bilges, before leaving the site. Clothing and equipment should be thoroughly dried for as long as possible before it is used elsewhere.
You may have taken your boat to a club or site already actively dealing with these problems and may therefore be well versed in the "Check, Clean, Dry" process. If you haven't, or even if you rarely take your boat away from your club, it is good advice to have all boats, checked, cleaned and dried before getting back on the water.

RYA checklist
The risk of spreading invasive species can be limited by following some simple guidance:
On the Water

Avoid sailing or motoring through water plants and weed if possible. This can chop up plants and can spread them further. If caught up on the hull or propeller, invasive alien species can be transferred to another area.
If the boat is on the water but not in use and stationary for a period of time, if possible, raise propellers out of the water to minimize the risk of species entering the engine. Use your boat regularly to prevent biofouling of the hull and engine.
If an anchor has been used, wash off both the anchor and chain before stowing.

After Use
Once the boat is on shore, remove all visible plant and animal material and put in the bin.
Use freshwater to wash down all parts of the boat that have been in contact with the water (including outboard, trailer and trolley/vehicle tyres). Pay attention to any crevices.
Drain all water from the boat, including bilges.
Flush the engine with clean fresh water before leaving the site using appropriate equipment, flush muffs or in accordance with manufacturer's recommendations. Allow the water to drain completely from the engine in a vertical down position.
Wash and dry all equipment, clothing and footwear. Drying for as long as possible is important because species can survive in damp conditions for up to two weeks.
Boat storage on land
Store boats and outboard engines in a location where any run-off does not drain into a waterbody (e.g. drains, gullies or rivers).
Return any engines to their vertical down position to drain.Use the general waste bin to dispose of any plant or animal material found in prop bags or other equipment.
Antifouling
An appropriate anti-fouling coating system and good maintenance are the best way of preventing biofouling accumulation, which therefore minimises the risk of spread.
Lifting boats from the water, scrubbing and antifouling hulls annually keeps boat hulls clean, and has environmental benefits including both preventing the spread of non-native species and also improving fuel efficiency, however it is toxic to aquatic life.
Boat owners can play a vital role in preventing concentrated scrapings from entering the water by choosing a marine facility that uses a wash-down system that captures run off and by following the Green Blue's best practice advice.
Static structures
Any structures or equipment such as pontoons, piles and buoys which have been submerged in water for a time also pose a higher risk of spreading invasive species and so extra care should be taken when moving or working with them.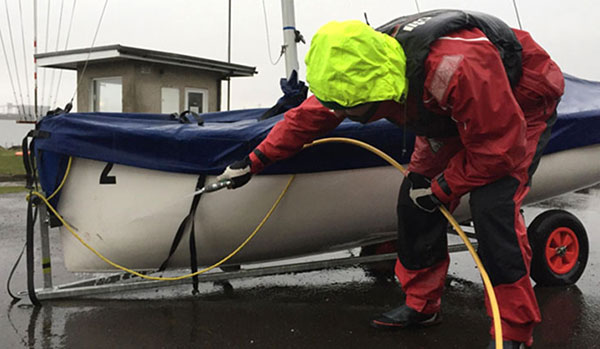 What is the RYA doing about it?
The GB Non-native Species Secretariat has responsibility for helping to coordinate the approach to invasive non-native species in Great Britain. They are responsible to a Programme Board which represents the relevant governments and agencies of England, Scotland and Wales.

Our work on INNS is underpinned by a strategic framework within which the actions of government departments, their related bodies and key stakeholders are coordinated. The RYA has contributed to the implementation of the strategy through our work in raising awareness of biosecurity with our members and through the work of The Green Blue.

The new EU Regulation on Invasive Alien Species came into force on 1st January 2015. The legislation seeks to address the problem of IAS across Europe through prevention, early warning, rapid response, and management.

A list of IAS of Union concern, drawn up with Member States using risk assessments and scientific evidence, came into force in August 2016, and has had subsequent updates. Member States are required to address these species by preventing them from being introduced, kept, sold, transported, reproduced or released. Member States will also have to put in place appropriate measures to tackle new invasions or established populations of the listed species. The regulation also establishes a surveillance system for early detection and measures for rapid eradication.

The RYA is working closely with the European Commission and the UK Government to minimise the impact that this regulation has on recreational boaters and ensure that any restrictions are proportionate, evidence based and enforceable.

The RYA was commissioned by the Council of Europe to develop a European Code of Practice on Recreational Boating and Invasive Alien Species to ensure that we are playing our part to stop the spread across Europe. It was adopted by the Bern Convention in November 2016.