This dataset is a powerful tool used by the RYA on behalf of its members to help identify and protect areas of importance to recreational boaters, to advise on new development proposals, and in discussions over navigational safety. It is important that recreational boating activity is given due consideration by the Government when it balances competing interests in commercial, environmental and leisure sectors around the UK coast.
The Coastal Atlas dataset is commercially available to developers and other interested parties as a digital download, under a licence fee agreement. If you would be interested in acquiring a licence to use the Coastal Atlas, please contact environment@rya.org.uk for more information and a schedule of costs.
The Royal Yachting Association (RYA) UK Coastal Atlas of Recreational Boating is a GIS dataset of recreational boating activity around the UK, comprising spatial data including indicators of intensity of use and general boating areas, as well as the locations of clubs, training centres, and marinas.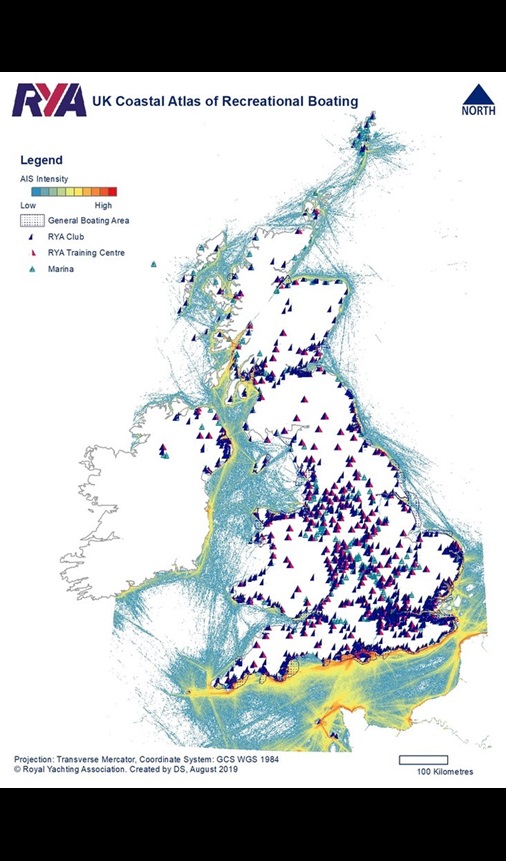 Background
The RYA has been collecting recreational boating information since 2004, gaining a detailed picture of the areas most used for general boating, racing and passage-making in the UK, and the distribution of clubs, training centres and marinas. This helps the RYA to understand which areas are most important to the sport and our members so that we can work to protect them. The information gathered also effectively demonstrates the relative density of sailing activity around the UK. The first dataset was released in 2005, with updates in 2008 and 2012. A new version with substantial changes to the data format was released in 2016, with the most recent update released in 2019.
The data has proved to be vital when representing recreational boating interests: it is taken into account when new developments are proposed along the coast and offshore, and ensures we have a seat at the table for discussions about navigational safety. The Atlas is used by central government, local authorities, marine licensing authorities, and renewable energy developers, to name a few. It has previously been shared with the general lighthouse authorities and the Maritime and Coastguard Agency (MCA) to help improve the safety of recreational boaters at sea and is used to inform marine planning processes.
The latest edition
The latest edition of our dataset, updated in September 2019, expands on the 'heat map' format, based on Automatic Identification System (AIS) data, which was first used in the 2016 Coastal Atlas update. This approach is based on tangible passages and accurately portrays the behaviour of recreational vessels regardless of differing weather conditions, providing a robust picture of UK boating activity along the British coastline and beyond.
The AIS heat map approach, indicating a range from light to heavy vessel activity, provides a very useful data source for those considering recreational boating activity when mapping proposed offshore developments and areas for conservation. The data improves on our previous datasets, where vessel activity was indicated by individual lines, so recreational activity is no longer represented as confined to distinct routes with no activity in the gaps between lines.

The AIS data generally provides good coverage of the UK's coastal waters. There are however some data gaps, particularly in estuaries: this part of the dataset is limited in that it only represents vessels that carry AIS transponders, which may exclude a large proportion of small recreational craft that use the areas close inshore. In areas where there is no AIS data coverage, we recognise this does not mean no recreational craft visit the area. For this reason we also provide a further dataset of general boating areas, using data supplied by RYA clubs and other sources, based in particular on 2015 RYA club survey data.
For more information on the Coastal Access, including licencing enquiries, please contact environment@rya.org.uk