RYA OnBoard is a hugely successful grass roots programme which seeks to make sailing and windsurfing easier to access for young people. The programme has helped introduce over 1,000,000 young people across the country to sailing and windsurfing.
Sea Cadets – Welsh Harp
Caitlin Vinicombe, Chief Instructor at the Sea Cadets Welsh Harp Boat Station, writes: "Sea Cadets is part of a youth organisation which aims to get as many young people out on the water as possible. Our centre has the ability to introduce water sports to children who may otherwise be unable to have that opportunity elsewhere. By supporting young people to get out on the water we can encourage more than just learning to sail. From the life skills like problem solving which come along with the sport to meeting likeminded people.
"We felt our aims as a charity can only be enhanced by becoming an OnBoard centre. It made sense to join as we are already providing the first taste of sailing and windsurfing to many of the cadets in our local area and to some school groups. It will allow us to continue this in the next year and encourage taster days for local units.
"This year's highlights have included some brand-new boats, including RS21's. They have facilitated more people on the water and some of our more experienced sailors being able to try a new aspect of the sport. We have also seen an uptake in our Active Sailing days, which have aimed to get young people out on the water and learn some new skills and have some fun."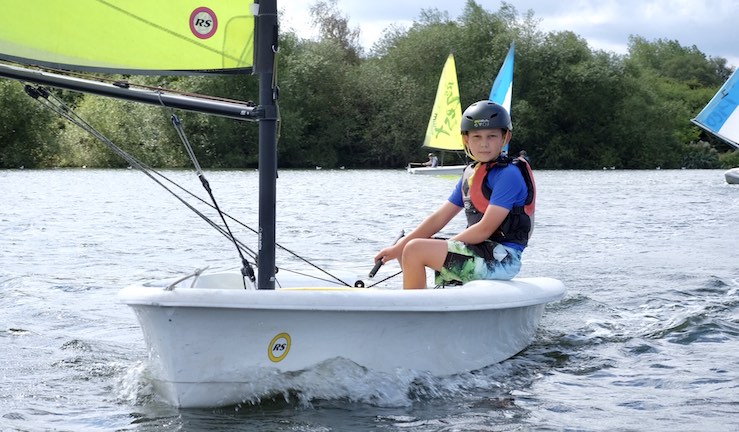 Bough Beech Sailing Club
Elliot Marks at Bough Beech tells us: "I have recently taken on the role of RYA Training Principal and Chief Instructor at Bough Beech so was looking for a way to encourage our volunteer and youth participation at the club. Whilst sailing with Kent Schools and the National Schools Sailing Association I have seen the benefits that OnBoard has given young sailors at other clubs in the area.
"I will be organising regular session starting in March next year to enable our junior members to enjoy being out on their water having fun. This whilst introducing them to new aspects of sailing so their confidence will grow to give them the skills to sail independently at Bough Beech and further afield."

From the RYA
Hannah Cockle, RYA OnBoard Operations Officer, comments; "We're so pleased to welcome these three new providers to the OnBoard programme. Getting out on the water has such a huge array of benefits that stretch far beyond learning how to sail or windsurf. Young people can expect to develop their communication and teamwork skills, as well as improving their confidence, independence, and resilience. We look forward to working with the Cadets and the local community in the future."
Following our region's successful OnBoard Development Day at Queen Mary SC on 12 November we're planning OnBoard resources sessions and will put further information on our Facebook and Twitter feeds shortly.
If you're not already involved find out more about OnBoard and the endless possibilities children's sailing and windsurfing can bring.
Find out more about Sea Cadets – Welsh Harp, Bough Beech Sailing Club and Surrey Docks Watersports Centre