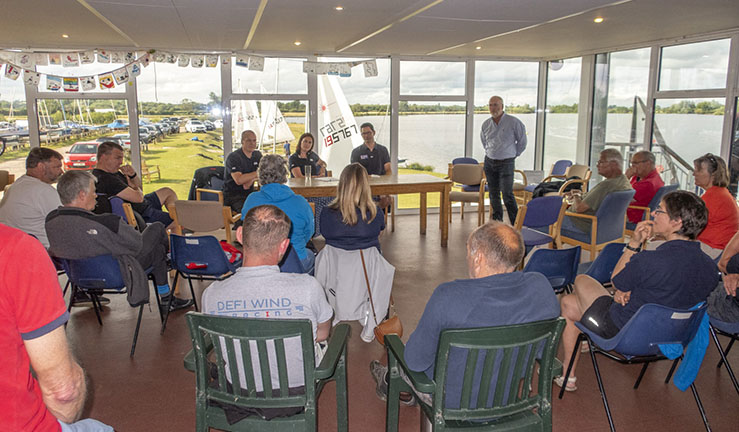 RYA Chief Executive Sara Sutcliffe was welcomed by three Midlands clubs this month during a tour of the region.
Exploring the successes and challenges experienced by different clubs, Sara visited Notts County SC, Rutland SC and Wanlip SC (20-21 June 2023).
The visits coincided with the launch of the RYA's Together on Water vision for the future of sailing and boating, which was among the topics discussed ahead of the official launch.
Evening sailing at Notts County
At Notts County SC, Sara gave a short talk about the long term direction for the sport, with members then having an opportunity to ask questions and share their views.
This was followed by an opportunity for Sara to get on the water to see the start of a light wind Tuesday evening race, with sailing secretary John Sears, treasurer Ross Ryan and RYA Midlands regional team volunteer Imogeen Denton.
Ross said: "It was great to have the opportunity to discuss the future direction of the sport and some of the challenges we face as a large volunteer club wanting to be very inclusive across our local community. Introducing people of all ages to the joys of water sports, we work closely with the RYA regional team and they bring ideas and support in helping us plot our way forward."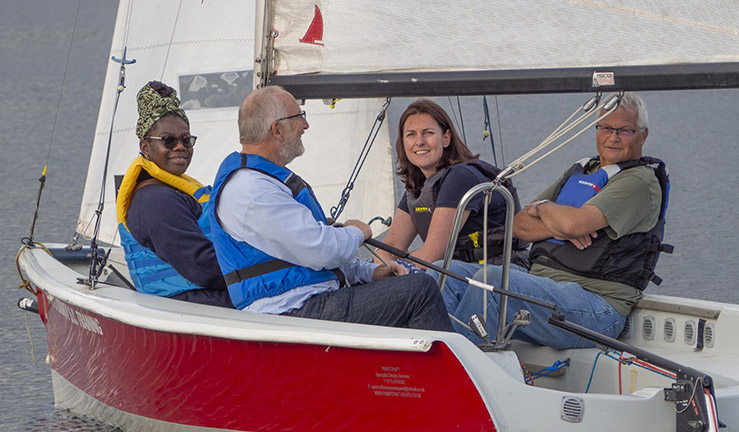 A tour at Rutland SC
At Rutland SC, Sara was given a tour of the site and heard about the club's journey towards greater sustainability, including its architect-designed refurbishment plans.
These will include new cladding, better insulation and an air source heat pump. The club has also installed 76 solar panels on the roof, which is resulting in a significant reduction in electricity costs.
Commodore Nick Neve said: "Sara was able to meet many of our council members and volunteers, all of whom have lots of energy and enthusiasm to get things done, and we really enjoyed the opportunity to show Sara around the club and share our exciting ideas for the future."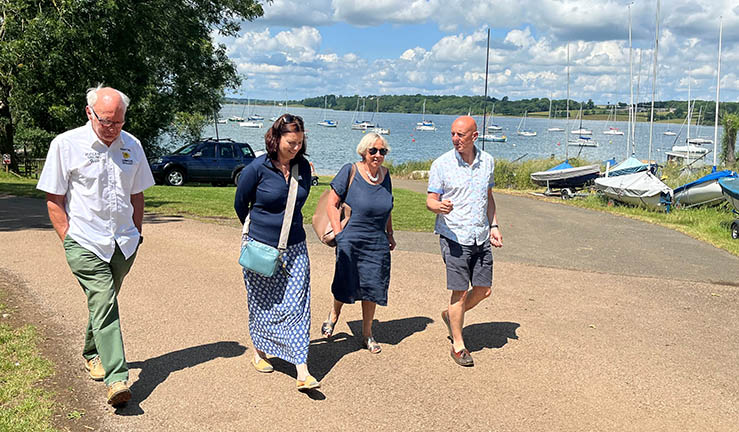 Afternoon tea at Wanlip
A visit to Wanlip SC in Leicestershire then enabled Sara to find out more about one of the region's smallest clubs and enjoy an afternoon cream tea.
Commodore Richard Harris said: "We took Sara out on a safety boat so she could enjoy our beautiful location and wildlife and see the size of our water, which is just 10 acres and would fit into Whitwell Bay at Rutland.
"We're probably one of the smallest clubs in the Midlands, and we talked about how we could attract youngsters to sailing, and encourage some of our older members to return following the pandemic.
"Sara was able to tell us about the new Together on Water strategy and how that may help us to reach out to new members. It was a relaxed and enjoyable afternoon and really informative."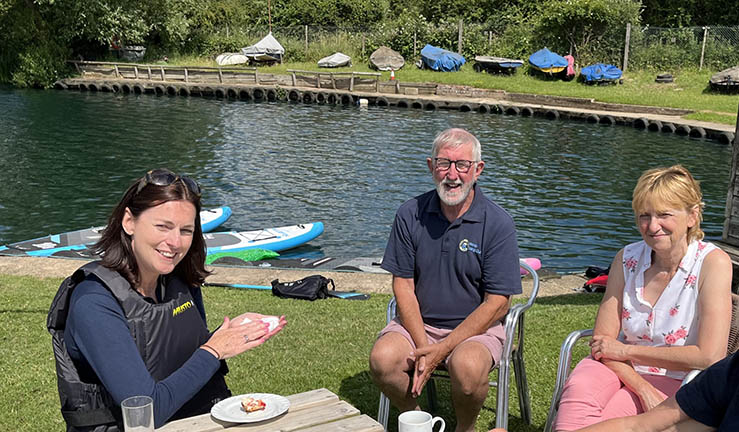 Together on Water
Among those joining the tour along the way were RYA Midlands Regional Development Officer Ben Hodgson, Regional Performance Manager Tim Hall, and Regional Team chair Judy Lambourne.
Sara said: "It was a real pleasure to visit three different clubs in the Midlands, all of whom are proactive about what they do and committed to reaching out to their communities.
"It was a good opportunity to hear about their experiences and hopes for the future, and to talk about the RYA's new Together on Water strategy, which will set out how we can inspire and connect with more people than ever before. A big thank you to all of the Midlands clubs who generously gave their time to welcome me."