Calling all Volunteers..

RYA Scotland exists to support and promote sailing and boating for everyone. We do that through dedicated staff members, a team of talented and experienced coaches and trainers but most significantly through an incredible community of volunteers. These volunteers contribute their time, experience and ideas week in and week out, giving back to the sport and feeling the positive impact they are making. We are looking to bring more volunteers onboard with us to contribute to the groups that shape our work and priorities. Please consider putting yourself forward.

Join a sub-committee
Our sub-committees are the beating heart of our organisation. They bring together representative participants of our sport in groups which consider important aspects of our activity. Whether it is the intense experience of Performance, the more leisurely pursuit of Cruising in our beautiful waters or the joy of seeing greater Participation in the many clubs and organisations – there is a sub-committee to get involved with. These committees are not stand-alone talk shops, they engage directly with the RYA Scotland staff and have direct links into the RYA Scotland Board.

For more information browse through our Information Pack

Join the Board
The RYA Scotland Board is fundamental to our governance. It is a key body for setting the values and strategy of the organisation. The Board is comprised of a number of knowledgeable non-executive directors who bring specialist skills and experience. We are fortunate to have a committed group of Board members and we are wishing to grow that group with the appointment of a Director for Cruising and General Purposes and an Independent Director who has no special connection to the sport but who sees the value of a healthy and active sailing and boating community in Scotland.
For more information browse through our Information Pack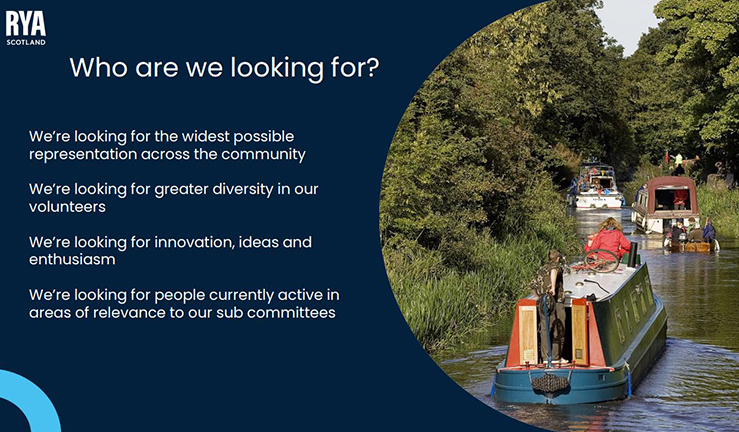 RYA Scotland is committed to equality of opportunity.
RYA Scotland is passionate about equality, diversity and inclusion. We value very highly the benefits of having different points of view and experiences on our Board and our sub-committees. Accordingly, we hope to receive applications from a wide range of talented people irrespective of their sex, age, gender identity, disability, sexual orientation, race (including colour, nationality, ethnic or national origin), religion or philosophical belief, marital or partnership relationship or pregnancy or maternity status or caring responsibilities.
To Apply
Closing date for applications is midday 8th January 2024.
Contact details for applications are in the Information Packs and on our volunteers page.