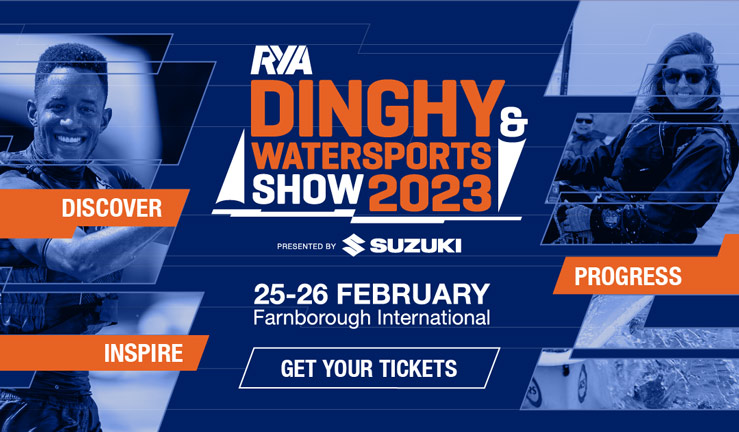 Tickets are now on sale for the 2023 RYA Dinghy & Watersports Show presented by Suzuki and RYA members can take advantage of a complimentary ticket* worth £21 for one or both days of the event.
Taking place on 25-26 February at Farnborough International, the ever-popular show is home to dinghy sailing, windsurfing, winging & foiling and paddleboarding and offers everything you need to kick start your season on the water.
"We're delighted to be bringing the watersports community together and dedicating a show to having a great time afloat. Join us for a weekend of interactive family fun, live coaching, displays and demos, hundreds of boats plus the biggest names in retail all under one roof," said Rob Clark, RYA Director of Sport Development.
Discover, Inspire, Progress
Whether you're looking for boats, boards, tech, holidays, must-have clothing or accessories, the RYA Dinghy & Watersports Show remains the place to discover the latest developments in the industry first-hand. Take advantage of not to be missed boat show bargains with over 100 exhibitors including Rooster, OTC, Pinnell and Bax, RS Sailing, Sailingfast and Suzuki Marine.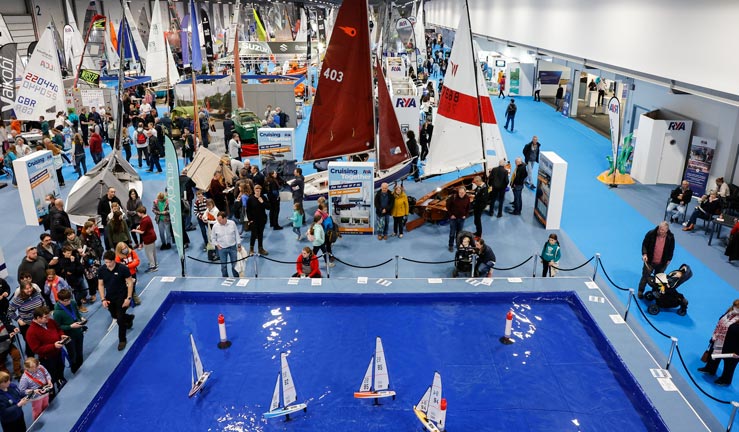 Escape the cold and get inspired with world-class coaches, watersports experts, adventurers and medallists sharing their inspirational advice and experiences throughout the weekend.
Want to start sailing, foiling or wingfoiling? Head to the new 'Beginners Zone' where you'll find everything you need to know from courses and kit to boats, boards and clubs. You can also speak to our friendly experts about the opportunities available locally to you.
Day out for the whole family
'Experience the thrill of being on the water with activities for all ages including the 'On the Water' VR sailing experience, simulators, activity pool and treasure hunt. There's also plenty of chances to rub shoulders and get selfies with sailing superstars and champions across the sport.
"We're excited to welcome sailing and watersports fans from across the globe back to Farnborough International, including our many RYA members who we hope will take advantage of this year's exclusive free ticket.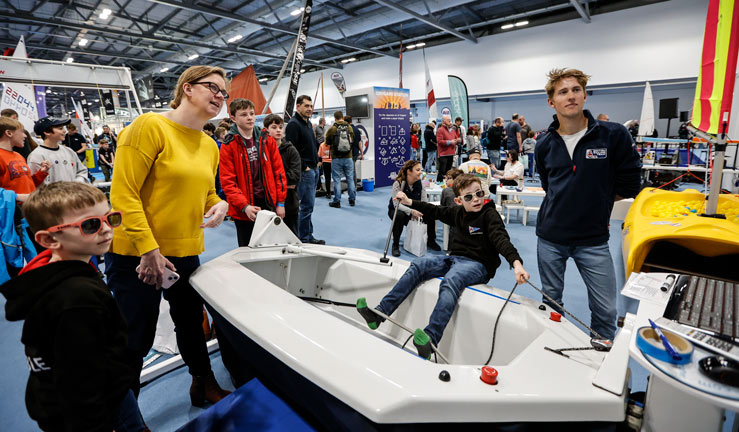 "Whether you come to improve your skills, catch up with old friends or inspire the younger members of the family, we look forward to seeing you in February – thanks to the support of our sponsors and media partners, Suzuki, Sailing Today with Yachts&Yachting, Windsurf and YachtsandYachting.com," Rob concludes.
Tickets are on sale now and children (15 and under) go free all weekend with any adult ticket.
*Due to the capacity of the venue, there are a limited number of complimentary tickets available for RYA members. These tickets are allocated on a first come first served basis.
Find out more about the show and check out the highlights from 2022. Or follow us on Facebook, and Instagram to stay up to date with the latest news and information.
A limited number of exhibitor spaces remain for the 2023 show. Find out more about our information for exhibitors and reserve your space.