Sport England grants have been awarded via the RYA for rural community projects in the North East which will enable more children to get on the water this summer.
Coquet Shorebase Trust in Northumberland and Teesdale Sailing and Watersports Club will both be working with local groups to deliver sessions after receiving awards from the Together Fund.
The Together Fund is a continuation of the Sport England Tackling Inequalities Fund, launched during the pandemic in 2020 to help clubs and community organisations work with priority audiences to support the recovery and growth of physical activity.
Removing barriers
Coquet Shorebase Trust has been awarded £3,240 and will be working with Amble Youth Project to provide free sailing and windsurfing opportunities for 32 children aged 11+ during school holidays.
Eight children at a time will attend weekly sessions over four weeks, working towards RYA Stage 1 and 2 certificates. To further remove any barriers to participation, the programme includes free transport for the five-mile journey from Amble to Coquet Shorebase and meals are included.
Free membership of the Trust's Cadet Division will then be available for a year to support those who would like to continue sailing and windsurfing and developing their skills.
Tim Stuart, Manager at Coquet Shorebase Trust, said: "Hopefully some will be enthusiastic and enjoy getting on the water and want to progress. The aim is to create some long-term interest."
Weather conditions permitting, the first sessions are due to take place at Easter.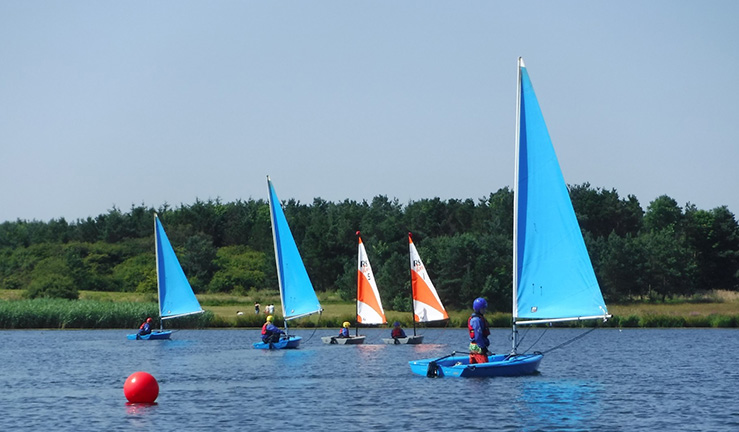 Supporting communities
Teesdale Sailing & Watersports Club has been awarded £5,075 for a project with Upper Teesdale Agricultural Support Services (UTASS), a charity working with farmers and rural communities across the Durham Dales.
The project will begin in June and aims to engage 34 children and young people aged 10-18 with sailing and kayaking, offering six-week blocks of Wednesday evening sessions.
With long working hours in summer for farmers and difficulties accessing public transport, the grant includes funding for UTASS to provide return minibus transport from home each week.
The project will also give UTASS group membership of Teesdale SWC for a year, so participants can continue sailing or paddling after their course and attend the club's OnBoard sessions for children and teenagers in the school summer holidays.
Richard Hewitt, chief instructor at Teesdale SWC, said: "We've been working with UTASS for around a decade, offering a Wednesday evening sail and barbecue at the club once a year, and we now have an opportunity to do more. This project will enable us to teach children how to sail, rather than just take them for a sail, and also learn paddling."
The project includes funding for the club to buy three sit-on kayaks and for a UTASS youth worker to take a British Canoeing course to become a qualified paddle sport leader, with the aim of supporting ongoing opportunities into the future.

Building partnerships
Rebecca Melville from the Youth Support Team at UTASS, said: "Many of the young people who come to UTASS don't have the chance to attend regular activities as their families are either busy on the farm or can't justify the travel time to get to different places up and down the dale. Being able to run group sessions with the sailing club will mean everything is organised and we can get as many young people as possible there together. The kids just love trying new things so we're sure there'll be lots of enthusiasm!"
UTASS Youth Team Leader Gina Richardson said the annual visit to the club was always a highlight of the year: "The fun, the varied activities and the surroundings are beautiful. This type of activity isn't available everywhere and we are very grateful to have the opportunity to take part and learn some new skills whilst having a blast! We like to make a night of it, bringing everyone together at the end for a thank you BBQ. I think the club volunteers enjoy it almost as much as we do!"
In feedback from the 2022 visit, one young person summed up: "We love the sailing trips to Grassholme, we get to go on an adventure with our friends and it's great fun." Other comments included: "It's just an amazing time - every time!" And reflecting the aims of this year's Sport England-funded project to provide regular sessions: "Last summer was the first time I tried sailing, I'd love to do it more!"

Apply for funding
Teesdale Sailing & Watersports Club was supported in its application for funding by RYA OnBoard Operations Officer Hannah Cockle, both remotely and also in person at the RYA North East Affiliated Clubs Conference at Catterick in November 2022.
Following on from previous rounds of funding, the RYA has been awarded a further £195,000 of National Lottery money to help clubs, centres and other partners in England to tackle inequalities by working with local communities to find new ways of helping people be active.
This latest investment from the Sport England Together Fund is for projects which can be delivered by the end of September 2023 and the deadline for applications is 07 March 2023.
For further information about who and what can be funded, check out our six-step guide to the process from project idea to completion, and visit RYA Club & Centre Support – Together Fund.