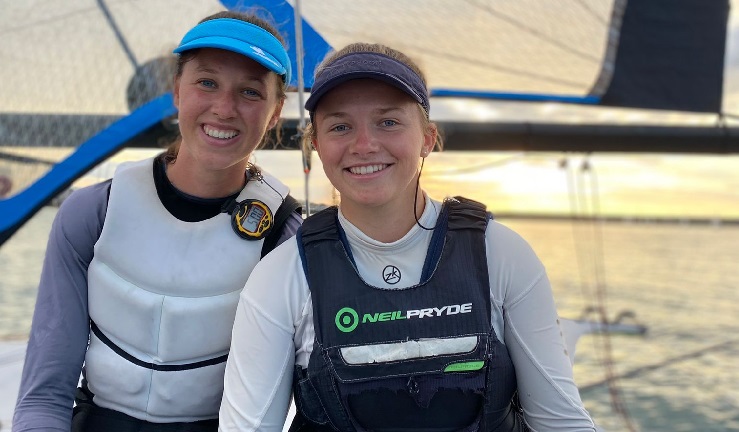 With competitive racing and up and down the leader board, over 100 teams came to show their skill and compare their progress to their peers as they transition from Youth to Senior racing.
The NI sailors were each in different pairings with sailors from Tralee and Dublin.
Erin McIlwaine from Newcastle Sailing Club launched her 49erFX campaign last Spring with Ellie Cunnane and has been training both abroad and in Dublin throughout the summer.
Despite entering two previous events this year the Junior worlds become their first real test as previous events were either cancelled or so windy half the fleet didn't compete.
Ellen Barbour from County Antrim Yacht Club is fresh into the class after transitioning from the ILCA 6 this summer and teamed up with Elysia O'Leary. Elysia has been sailing the boat for a while now but was on the lookout for a crew to campaign with. Ellen, a competitive ILCA Sailor in her own right was also looking for new options in the sport and created the ideal pairing.
Both teams had a steep learning curve to put all their training into practice among a large fleet of very talented sailors from across the globe. Erin and Ellie ultimately came up short on Gold fleet despite posting to back-to-back race wins and showing signs of great future potential.
Ellen has had just two months experience using a trapeze and sailing with a new partner and this was very much a training exercise rather than a results-based event. The goal was to take part and asses the big areas the team need to work on and learn more about how the top teams get the boats around the course.
| | | |
| --- | --- | --- |
| 49er FX Youth Worlds | | Travemunder Woche, Germany |
| Erin McIlwaine | 29th | 20th All female (Two race Wins) |
| Ellen Barbour | 42nd | 27th all Female |
Erin says:' "Overall, it was a very enjoyable event, racing in some mixed and tricky conditions. Unfortunately, we made some weak decisions at the start of the week that ultimately left us just outside the gold fleet. Winning two out of three races in the final series confirmed that we were sailing well and can now focus our efforts on the Senior World Championships in The Hague."
Ellen comments: ''Having never trapezed before and only being in the boat for two months we went in knowing mistakes would be made and it would be a great learning experience. We had a few good race results which we are happy with and we have come away with a clear idea of what we need to work on in the coming month'."