Nominations are now open for the 2023 RYA Volunteer Awards, recognising all those who have contributed to the sport and made an impact in their communities.
The prestigious awards are bestowed every year to volunteers who have stood out in demonstrating undoubted passion, commitment and dedication to the sport and had a positive impact and influence on others' experience within the sport.
The annual awards recognise and say 'thank you' to volunteers – with recipients nominated by their sailing clubs, class associations and members of the boating community.
Volunteers are vital
Commenting on the importance of volunteering, Anne Spalding, Commodore at Waldringfield Sailing Club in Suffolk, said: "Every member of our club does three duties a year – in race management, safety boat, galley or bar – and we couldn't run without them. Some people give a lot more than that, often in background roles such as Secretary or Bosun or building maintenance, which are all essential in keeping the club going. Volunteering in these different ways makes Waldringfield the wonderful sailing club that it is.
"At any club, there are lots of different tasks that need doing so whatever you can offer is great. If you can make a difference and you are part of people having fun... what's not to like?"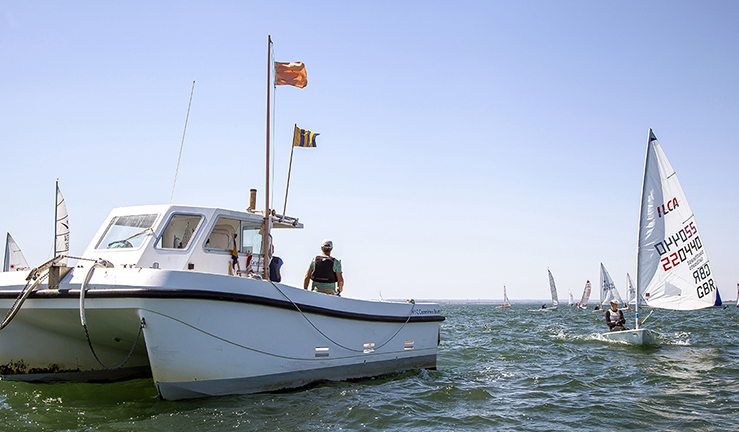 Exceptional commitment and dedication
The RYA Volunteer Awards are divided into five categories:
Community Awards
Presented to individuals for their commitment and services to boating at club or grassroots level and are awarded across three categories:
Lifetime Commitment
Outstanding Contribution
Young Volunteer
Francis Elkin Award
Presented to an individual who has enabled people with disabilities to become involved in sailing.
Honor Preston Award
Presented to an individual who has worked towards increasing the inclusivity of boating, in particular female participation.
Family Award
Presented to a family group deserving of recognition for the impact they have made both as individuals and a family.
RYA Awards
Awarded for commitment and services to boating and the RYA at a National level and at a Regional level.
Every contribution counts
RYA Club and Volunteer Support Officer, Cat Ferguson, said: "We're delighted to announce that nominations are now open for the 2023 RYA Volunteer Awards, recognising and celebrating the tremendous hard work that goes into making the UK's sailing clubs so successful.
"Do you know a hardworking volunteer who really makes a difference in helping others get on the water? Whether it's mowing the lawn, making those all-important cups of tea, helming the safety boat, running events or just getting stuck in wherever needed – it all counts".
"An RYA Volunteer Award is the perfect way to say thank you. With lots of categories to choose from, the awards recognise the impactful contribution made by volunteers throughout the UK. Not only rewarding the longest-standing volunteers but also families, committed youngsters and most importantly, those that have had an impact."
Make your nomination before 2 May 2023 by 5pm.
Find out more about the guidelines for nominating.