Photo from left to right, Crispin Farrant, George Parkin, Cllr Paul Osborne, Caroline Wylson, Cllr Lizzie Hacking and Mike Bone.
RHS Chair Caroline Wylson takes up the story:
Just before Christmas, on a stormy wet day, RHS took delivery of a brand-new RS Venture Connect. With Christmas looming it was decided to leave the 'unwrapping' and rigging of the dinghy until early in the new year.
On 20 January, on a brighter sunnier day, RHS volunteers set about preparing the dinghy for some shake down sails.
We were delighted to welcome the Ward Councillors for Eastern Rother, Cllr Lizzie Hacking and Cllr Paul Osborne. Rother District Council Community Grants (RDCCG) have helped to make this purchase possible by providing funding of £8,685 towards the project. A huge thank you to RDCCG.
Cllr Paul Osborne said: "Cllr Hacking and I are pleased to support the Rye Harbour based Sailability charity in achieving their goal of providing a new dingy to take people with disabilities out sailing. This resource will support sailors from across the Rother district and we are more than pleased to assist in the receipt of funding from Rother District Councils' Community Grant Scheme".
In addition, the Little Cheyne Court Wind Farm Fund gave £2,500 and Icklesham Parish Council £500. The remaining funds needed to purchase the dinghy, which cost in total £17,370 were raised by the hard work of RHS volunteers who organised talks, a film night, a quiz night, the sale of Christmas cards, took stands at village fetes, put on a fabulous evening of opera and were given an extremely generous, anonymous, individual donation of £1,000, which really helped to get us over the line with the fund raising!
A very big thank you to our volunteers, sailors, the local community and businesses who have been outstanding in their amazing support of the charity.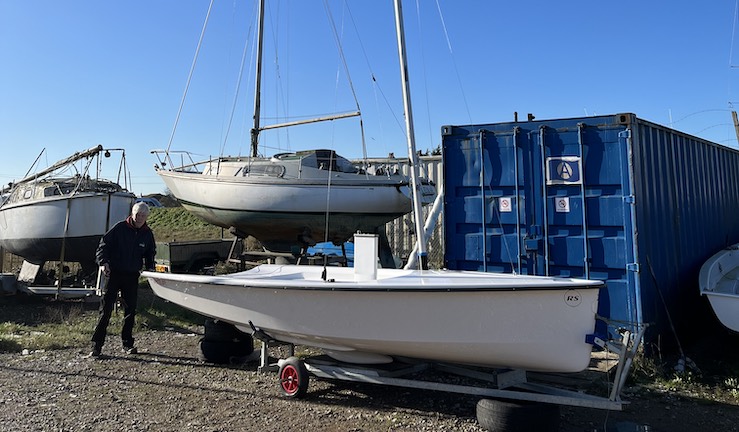 RHS takes people with disabilities sailing in dinghies at Rye Harbour. If you would like to know more or feel that you would like to join a fun and enthusiastic team of volunteers please e-mail RHS or visit the website
Find out more about boating for disabled people with RYA Sailability
Looking for funding? Visit RYA funding opportunities